My experience with online shopping: Groupon Review
Categories
Branding
I have bought deals from Groupon. Apart from one where the restaurant initially refused to honor the coupon after giving a reservation on phone, all others have gone really smoothly. But what about shopping? Does it make sense to shop from Groupon, do they even have the delivery network, why not buy from one of the established ecommerce sites instead?
Price. Ecommerce companies hate it but customers in India have shown zero brand loyalty. Online shopping is decided by who offers cheapest rates and it is the reason why none of the ecommerce companies have turned a profit yet. Keeping in tune with our national ethos, I fell for the buy one get one deal that Groupon was offering on perfumes.
Here is how it went.
Payment:
I was ordering the first time from Groupon. I had bought deals, so I did not think twice about using the credit card. There is no cash on delivery option, btw. You can pay via internet bankings, credit, debit card or Paytm and Mobikwik wallets. Choose your advance payment method.

Order confirmation
There is no delivery tracking in Groupon. Being coupon guys, it seems they have not completely become ecommerce guys yet. So, the order was confirmed, I got a mail to the same effect but I could not log in and see the status of the shipment.
I had placed the order on October 13th, 2014. I wanted a change in delivery address, I wrote to support on the same day and that was quickly fixed. Then, I waited for 13 days for the delivery to be made. I trusted Groupon not to cheat and did not worry about it until it was too late.
On 28th October, I wrote to them about the delay. They apologized that it was festival season (Durga puja ) and the order will be delivered soon. On 30th, I got a response that the delivery has been dispatched via Bluedart and I should receive it soon.
I wrote back on November 5th that no delivery had been made. On Nov 10th, I got my Bluedart tracking id and the product was delivered two days later. But by then the product was delivered. I had received it on 6th. So, 23 days. But it was delivered.
Packaging
The packaging was standard, carton, bubble wrap. Very safe.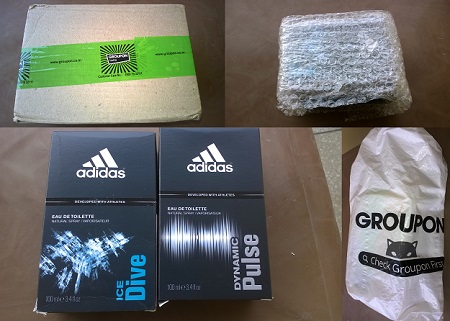 Overall experience
The delivery was delayed, but their response from the support account was fast enough. However, I am not sure how many people will wait patiently for 23 days.
Any special mentions
The perfumes were nice and a good deal, afterall.
You can also read my Zovi Review, Myntra Review and Pepperfry review, Fabfurnish review, Flipkart review, Snapdeal review