DISCLAIMER: The length of the about us page has nothing to do with the vanity of the blogger involved. 
 Om Routray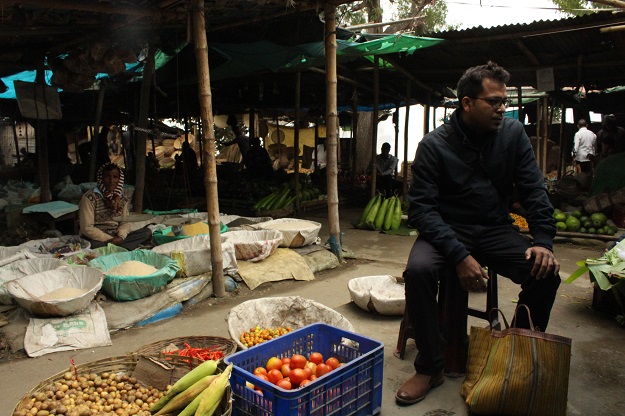 Let me guess – you read the blog, sufficiently impressed, you want to find out who is the genius behind all this. Or, closer to truth, you were intrigued by the scatterbrain that the blog seems to be and are here to investigate what was wrong with my childhood.
Either way, all you get is my version of the truth. Currently, this is the version I like most:
I started writing as soon as I went to school and realised verbal communication was not my forte. However, I started blogging four years back. What took so long? My basic outlook in life – don't do what everyone else is doing.
That's how I missed watching Saving Private Ryan in theater. I was rooting for Thin Red Line. And I missed Harry Potter (never mind), Lord of the Rings (big mistake) and 300 (what the hell was I thinking!). I was watching what others were not – Eternal Sunshine of a Spotless Mind, Memento, City of God and lots of other experimental videos.
In terms of reading, I discovered Gabriel Garcia Marquez, Jose Saramago and Latin America long before my friends did. I gave the rest of the world a miss. I read my first comic book during the last year of my graduation. I was reading A History of the world, Sophie's World and Hitchhikers Guide to the Galaxy, Biography of Swami Vivekananda, Did Man Create God (an Oriya book) and a cart load of non-fiction. Now, I go begging for X-men, buy torn old pieces of Robert Ludlum and Sidney Sheldon in Darya Ganj and watch stupid Japanese cartoon till three in the morning.
I was doing corporate blogging in 2005. I made a presentation to a room full of ace bloggers at the first blogging unconference (yes, it used to be cool then) in India. I was telling them how to drive more traffic to their blogs. However, it didn't strike me I could have my own blog until the internet was flooded with reports that blogging is dead, deader, deadest and still more dead.
It stuck me now that people are getting off it, I can get onto it (so much for my lessons in swimming against the current). So, here I am. Staying up nights to pursue what is officially dead.
By the way, the reason behind the name of the blog has nothing to do with biology or anatomy. It's purely a matter of spirit.
If you think there is something that you can't go to sleep without telling me, please write to me at theyoungbigmouth@gmail.com
Thank you for the visit. And, if you are wondering why there no photos of me, it's simple. I don't have jaw extending looks to bias your opinion about my writing. But then how many good writers have you seen who also look good?