South Indian holes in the walls in Delhi
Categories
Food
I have long been planning on doing a long post on the invasion of South Indian hole in the walls in Delhi. For years, I could count the number of good South Indian restaurants in Delhi on my fingertips, including the multi cuisine restaurants in Delhi that offered even dosas. Gladly, that has changed. It has changed at the top, it has also changed at the bottom.
Once, there was only Swagath. Today, there is a Zambar, Toddy Shop, Carnatic Café, Kausstabh that specialized in South Indian food, I won't make the effort of listing multi-cuisine restaurants. The ones that I want to talk about are the small 3-4 men operations where a wonderful dosa is priced at around 50 bucks.
Anna's
There is this small little shop in Lajpat Nagar 1 with 3 tables in a row. They specalise in deliveries mostly. You can have a masala dosa for 50 rupees and the other variations are prices upwards. The sambhar is spicy, the vadas are big and soft and everything is made right in front of you. Not a place to take your date to, but you can have a lovely meal if the date understands. I have been there numerous times and the food has never been bad.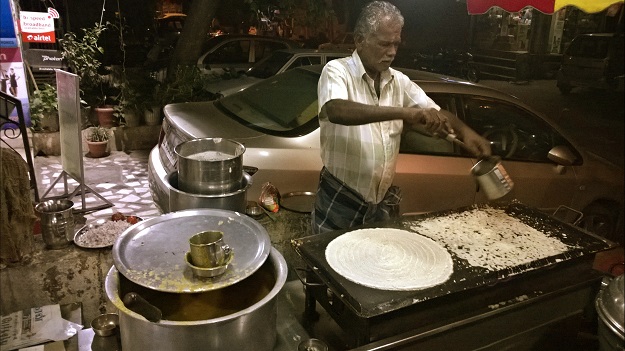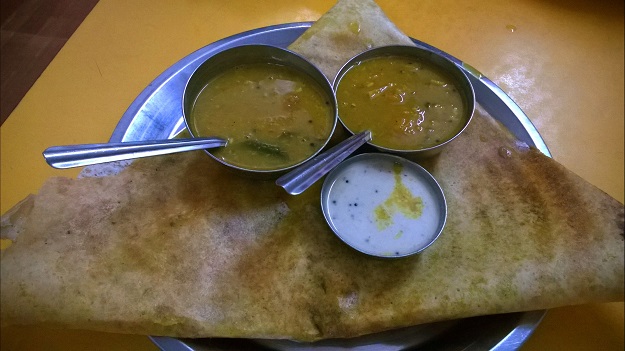 Muttu South Indian Anna, Amar Colony
I spotted this one on of our late night trips to the main market in Amar Colony. They were closing, I somehow sneaked in the last order. The same safe order of a masala dosa and an upma. The sambhar came piping hot at 10.30 in the night and the heap of upma was yum as well as generous. Now, it was sometime back so I don't exactly remember, but the bill was less than 150 and I had tipped out of sheer pleasure. The seating is, again, cramped and inappropriate for a date, but you can park your car and eat inside.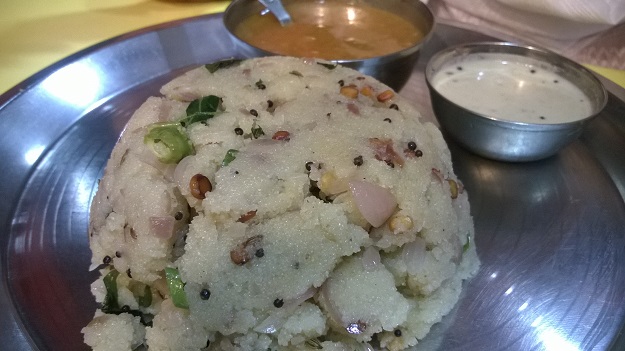 Now, the best thing about these micro set ups is that unlike many ambitious projects in the area, they have started small, remained small and remained open. I have seen so many south Indian places that open with bang, launch a multi-cuisine menu in a few days, fail at everything and shut shop six months down the line.
There is one more that I want to add to the list – Anna's 101 dosas. It serves 101 kinds of dosas but they are priced at above 100 per dosa, so can't include it in the list. Though many prefer restaurants that offer delicious multi cuisine food in Delhi, when it comes to south Indian, I prefer an outlet that specializes in only that.