My experience with online shopping: Myntra Review
Categories
Branding
Six months back, I was a happy man as men with a clear purpose in their lives are. I had thought of doing a series on Indian e-commerce sites and had ordered from eight sites. Back then, it seemed like a good number and covered all major sites. Now, so many new and impressive portals have been launched that my sample looks miserable unrepresentative.
However, I must finish what I started. Here is my next installment with reviews of Myntra and Zovi.
First up, Myntra.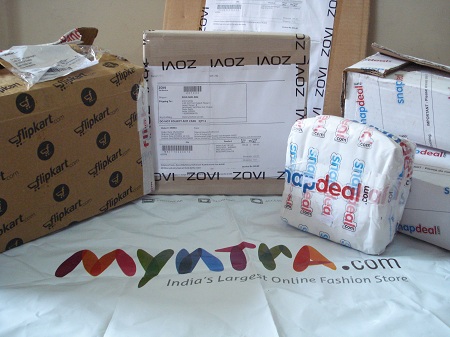 Myntra was one of the first online retail superbrands in the country. Started in 2007, it raised around $40 million and spent that money well in establishing a delivery chain, and more importantly, the brand name. In 2011, Myntra launched its first and quite stylish TV commercial which was both before and ahead of its competitors. You may remind me of Flipkart which launched its first TVC in April, much before Myntra's June date.  I am not interested in comparing the portals, but now that you started it, let's roll it out.
Flipkart was started by Sachin and Binny Bansal, Myntra was started by Mukesh Bansal. None of them are brothers and both the companies came out of Bangalore. Similarities end. Myntra is exclusively into fashion and lifestyle products. Flipkart is nearly four times more funded than Myntra and out to look for more. Average order size here is Rs. 1250 which is still lower than that of Flipkart – $35 for Flipkart against 24 for Myntra.
In fact, in terms of branding, Myntra consistently has better communication and focus in positioning than any other online store. All their ad campaigns establish their online fashion store status and the same is carried through by their celebrity style tips and blockbuster movie inspired collections etc. Even on social platforms, they have a better brand engagement than others.
You may ask if any these really matter or contribute to the shopping experience? Yes, they do. Mc. Donald's does not make the best burgers, but look at their numbers. Now, down to the scores:
Payment:
When I trust a website, I have no issues with paying by credit card. Who minds the reward points? So, that's exactly what I did and didn't repent.
Order confirmation:
They have their own shipping and tracking page within the website, so no delivery issues that I faced with Pepperfry. You place an order, get mail and phone confirmation. But the delivery boy didn't call to confirm if we home before coming, which Flipkart and Yebhi guys did.
Packaging:
I ordered a show that came in its own carton and a sealed polybag. Simple and neat, but I have no idea how clothes and other items are packed. But anything is better than the bone fatigue inducing packaging of Snapdeal.
Overall experience:
Great. I have ordered from them twice and it has been an impeccable experience both the times. One of the orders was a pair of shoes, which turned out to be one size smaller. I won't blame their measurement instructions, which are accurate. Anyhow, I requested an exchange for a bigger size which is not an option. You can only return and then buy the correct size all over again, which is what I did.
This was the first time that I had to return an online order, but the experience was absolutely hassle free.
Any special mentions:
Yes, the delivery and pick up times. I live in South Delhi, which must have been a part of the reason but they are fast. But if you see below, they were actually shipping from Bangalore and the order was delivered within a day. There is a massive ruckus about the damage that Amazon's same day delivery will cause to the retail stores in US. We are still some time away from that debate here, but Flipkart and Myntra don't do too bad in terms of hours they take to deliver.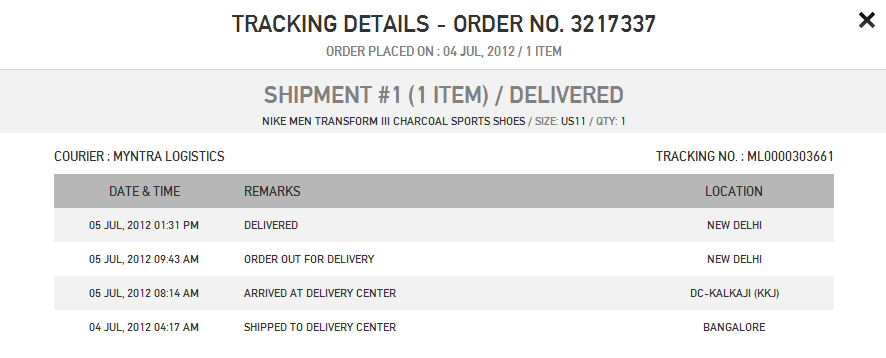 In fact, I requested a return on an order at twelve in the noon and it was picked up within four hours. They were impressively fast for both my orders. I am sure if I am being unfairly favourable here, please let me know if you had a different experience.
Myntra App Review (update on 2nd Jan,2016)
Though I love shopping via a website more, there is no way of doing that for Myntra. So, given how good the sale was, I downloaded the app and ordered a few things. The Myntra app is a fabulous, even if you don't like the small screen of apps, this is not that hard to use.
The category selection is in the top right hand drawer and the filters etc are in the bottom. The products are displayed just like they are on the website, though scrolling takes much more time. Only thing you need to do is the moment you like something, you need to wishlist it, it can be pain to look for things that you have scrolled up.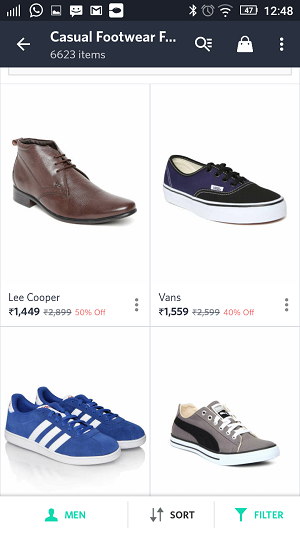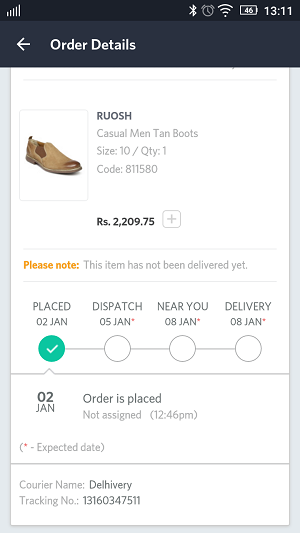 Payment is as easy as through the website, you need not worry about safety, trust me, I work for an app development company. The products were ordered with ease and the delivery status started showing within half an hour later. Let's see how the delivery goes.
Too tired to write about Zovi. That's next up…it's coming…very slowly.
Update: Zovi shipping is way faster than Myntra. See here. 
You can also read my Flipkart Snapdeal review", Myntra Review and Pepperfry review, Groupon review, Pepperfry review, Yepme review
Feeling the urge to look at more useful stuff? Head over to my Facebook or shout at me on Twitter.