The last few months of my life have been very exciting. I suddenly have a very happening nightlife. Every night, me and my wife finish up our chores, surround ourselves with bowls of snacks, connect the laptop with the TV and go shopping.
Online shopping is not a new idea in India. Times Shopping and Rediff Shopping have been offering this for a few years now. But it has become a practical idea now. Most of the shopping sites are funded today. They have the money, the set up and the understanding of the business. They are serious about their branding, quite a few spend crores on advertising and evoke the trust needed to shop on the basis of a few photographs.
Best of all, the sites are better. Almost all of them have thousands of products, pretty good photographs and easy to navigate modern websites. Check out one of the older ecommerce sites and this new one or this one and you can see why a stiff like me will so easily buy products that he can't touch.
Anyway, there is no need for me to educate you about the joys of online shopping. Now, let's get down in the trenches and get the hard work of comparing the sites done.
First up, Snapdeal.
Snapdeal.com –
Snapdeal started as a Groupon clone, a regular daily deal website. Gradually, it has evolved into a complete e-commerce store. I had bought a few deals before, so didn't think too much about ordering a few products.
Payment:
I paid by credit card. I know it will come naturally to many to choose cash on delivery.  But I was spending a nominal amount and wanted my reward points.
Order confirmation:
Once you place the order, you can jump to the my orders page and see the status for each of the products. The tracking works down to the last detail, tells you the status at every checkpoint.
Packaging:
Of all the sites I ordered from, Snapdeal had the most excessive packaging. Safe and secure, yes, but very excessive. Ten of the products I ordered the first time were sent in 3 different packages, all wrapped within a print out of the bill, bubble wrap and branding outer paper. If they can sort out the packaging and streamline the logistics, they will cut out a lot of wastage. If you think I am being a pain about the packaging, I am not the only one. Farhad Manjoo has a great post on how product packaging has improved.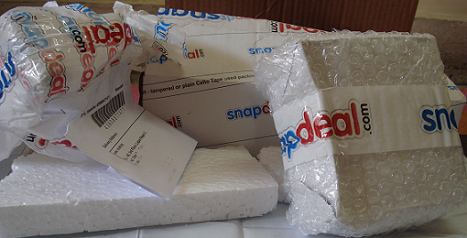 Overall experience:
My experience was really good for the ten products, but I had also ordered twelve. There was no update on the last two for more than a week. So, I wrote to them inquiring the status. I got a reply saying they were too sorry but they were too overwhelmed with the response! Is that another way of saying they were understaffed?
Two days later, I wrote back asking if there was an update. I got exactly the same mail. I waited a day and wrote back requesting them to deliver the products. Just to emphasize how serious I was, I also put in a small post script that if they were unable to deliver, I will like to be refunded. I got a single line reply that a refund has been forwarded. I kept mailing that I still wanted the product if they had it, but no luck, they had put me on an auto responder.
Any special mentions:
Nope, there were no surprises.
Update on 3rd April, 2013:
Ordered a perfume on 25th March. Snapdeal took 2 days to work out a delivery date. It was shipped 6 days later. Still waiting 8 days later. None of my orders from Snapdeal has reached on time. Conclusion: When in a hurry, give this one a miss.
Next, Flipkart.
Flipkart.com
SINCE APRIL, 2013, FLIPKART HAS BECOME A MARKETPLACE. READ REVIEWS OF SELLERS ON FLIPKART.
Definitely, the biggest e-commerce site in India. There is a Flipkart delivery guy trolling around my house my office and everywhere else I go. Like the Maruti service station ad says, you are never too far from one. They started with books and now sell almost everything.
Though they crossed 100 crore monthly sales back in June 2012, that's 25,000 orders daily, seventeen per minute. But there have been constant consternation about their bottomline and profitability. The company employs 4800 people and has delivery network in 37 cities. That ensures great service but runs up very high operational cost too. Precisely why, after raising $150 million in fourth round of funding earlier this year, they are again in the market looking for another $100 million.
That sounds like a big amount, but let me show you how big that number truly is by comparing it with other's funding:
Snapdeal: $53 million
Myntra: $39 million
Fashionandyou: 48 million
Yebhi: $30 million
If you are interested in the details, read the longer version of the Flipkart story here and here. I am interested in getting this rock around my neck of a post done and over with. So, here we go:
Payment:
Flipkart was one of the first to offer Cash on Delivery option. Initially people turned down stuff in record numbers, but they have only improved the system. Now, the delivery guy can swipe your credit/debit card right at your doorstep. As usual, I paid with my credit card on the website.
Order confirmation:
These days, all the good ecommerce sites have similar interfaces. So, there is not much to say here – you order, you go to the My Orders page and then you can track and each product's shipping status. In addition, there are phone and email updates too. No need to be impresses, these are all standard.
Service standards are not defined by who offers these facilities but who does not. For example, Myntra has an amazing delivery time but they don't call before coming, Zovi sends an SMS.
Packaging:
Appropriate. Flipkart packs stuff in standard brown paper cartons. It's safe, easy to open and no fuss. No endless duct tape and multiple layers like Snapdeal's.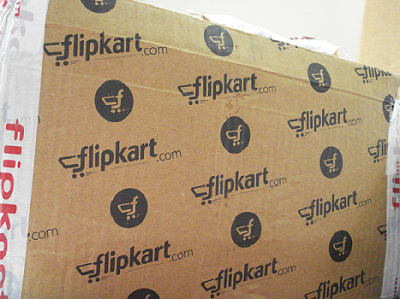 Overall experience
Flawless. Flipkart does not pride in personal touch or boast of lowest prices. It gives off an undeniable sense of efficiency. It is like a large humming machine that you have come to trust. I have used Flipkart 4-5 times in last six months and every time it is the same unerring, predictable but pleasant experience. I hope all the talk about its operational losses is crap and the business continues to stay float.
Any special mentions:
I love the gift wrapping option that they offer for just RS.30 extra. I got my sister a gift on rakhi which was wrapped and had my own personalized message on the wrapper too. Splendid.
If you are a fan or foe of Flipkart, jump into the wrestling arena in the comment section here. I have around six more sites to review and will try to do them soon.
Update on 29th December, 2012:
Placed an order on 27th. It was delivered on 28th, to my wife (as the online delivery status read). Fast, accurate and absolutely hassle free. All my orders from Flipkart have been delivered perfectly. I continue to be impressed.
Update on 16th January, 2016:
Flipkart now sends the delivery guy's number once it reaches the delivery city. It is still not a mobile number and I didn't have to call as it was delivered within 2 days but thankfully, now you have a number to call.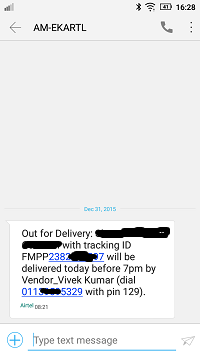 You can also read my Zovi Review, Myntra Review and Pepperfry review, Groupon review, Pepperfry review, Yepme review
Have anything important to add? Head over to my Facebook or give me a shout at Twitter.