Adham Khan Tomb & Gandhak Ki Baoli with Sohail Hashmi
Categories
Delhi
After I wrote about the Purana Qila walk with Sohail Hashmi sahab, we have done three more. I have been planning to write about them but the walks are long, filled with interesting tidbits and writing is painstaking. Anyway, this needs to be done and here is a brief narration of the awesome fun that we had and the stories we heard on the walk of Mehrauli Archaeological park.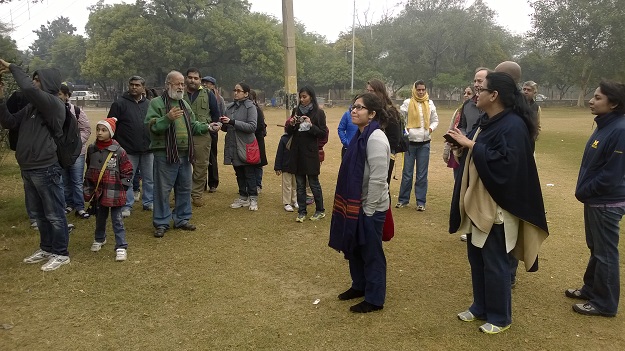 At quarter past eight on a cold January morning, we gathered around the entrance of Qutub Minar. Like students from a weekend adult education class, we were all too cheerful to have met again. Few of us had become regulars by now, a cosy Sunday club on a cold winter morning. We walked towards the Mehrauli bus depot, first time I was being walked through urban areas. We discussed the old havelis, talked about the coming upping of fancy restaurants and the history of historic Mehrauli.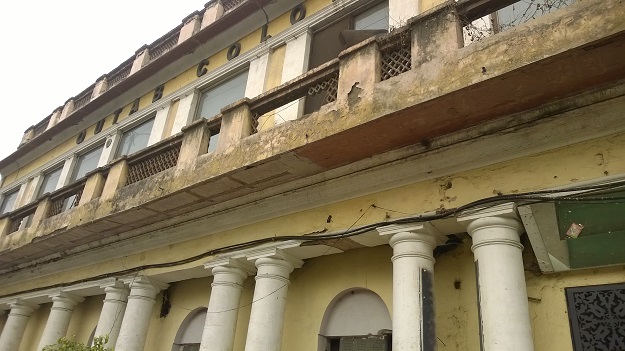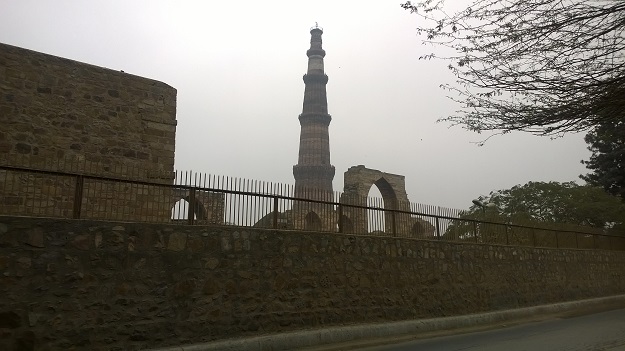 Usually I brush aside any mention of the area. It does not have the same old city appeal of Shahjahanabad. I went to the Qutub Minar after 12 years, yet another to take this walk around Mehrauli. Thanks to the walk, Mehrauli is on the top of my list now.
Tomb of Adham Khan:
Our first stop was at the tomb of Adham Khan. I have been there before. When we were young, we had done a midnight trek from Sanjay Van to Qutub Minar, walking through the ridge all night. It was just another structure to us. Sohail sahab told us a bollywooding story of how this structure came about and now that has overwritten any silly memory I had of the place. The most important thread in the narrative, and one that will be repearted many times over during the walk, was the extent to which the British abused these historical structures. For example, the grave of Adham Khan was dug up, thrown out and converted into an army office or pleasure hall. Why? Because, it was cool in the summers.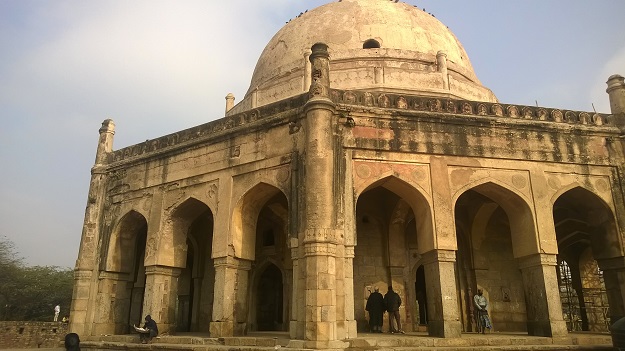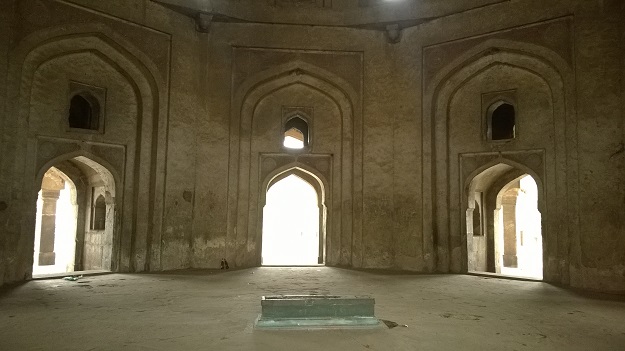 You can see the Qutub Minar from the Tomb of Adham Khan. It's not in a great condition but after what it has gone through, you will be happy it's still standing. Like the Bada Imambara in Lucknow, this structure also has Bhul Bhulaiya or labyrinths. Sohail Sahab talked about walking up around them and getting lost when he was a child. These days, all you see is a lock. There is no one to organize or oversee the labyrinths, so it stays locked.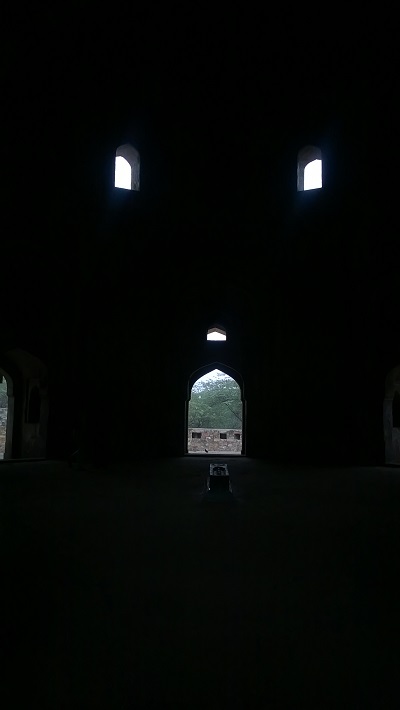 Lesson Learnt: Build your grave where people will think twice before visiting.
The unsavoury bits from history quickly gave way to the savoury ones. FIf you stand outside the tomb entrance, you can see the small little shop of Pt. Siyaram Sweets on the corner. The shop is known for phenomenal rabdi and gobhi ke samose, both of which our party raided on. We tried everything in the shop and nothing seemed to disappoint, the dal halwa and chole bhature. But the star of the shop is the rabdi, very unlike the thick overly sweet rabdi that you get around town.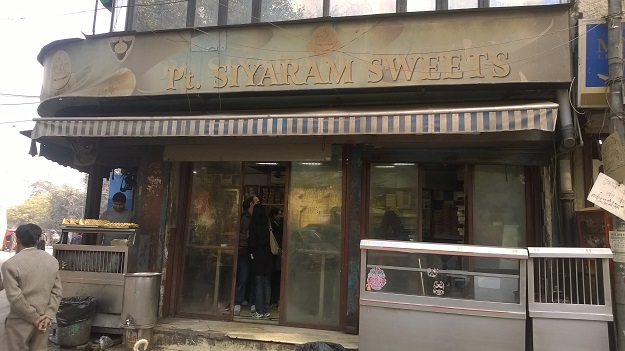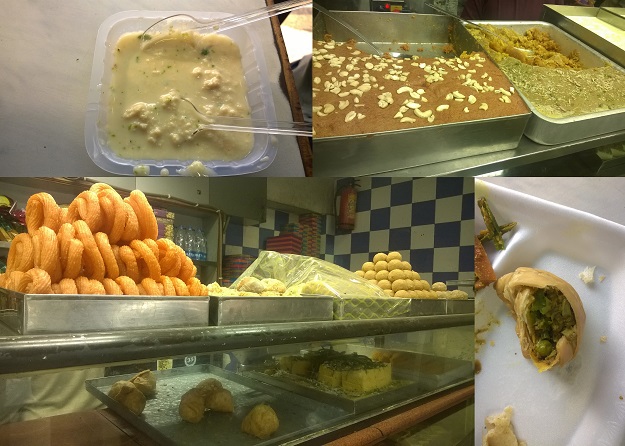 Well fed, we walked to our next stop. Gandhak ki Baoli. Gandhak is sulphur, you can guess where the name comes from. These days, the baoli is just filled with sewage from neighbourhood. It was used as a sauna a few hundred years back, we were happy to see it from afar. It's important to remember that all the baolis are connected with a well. That's where the water comes from to fill the baoli, and that is why the core architecture of baolis is similar. There is a ledge around the baoli, so you can walk to the well and look down.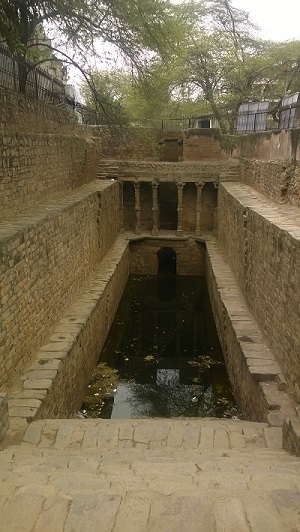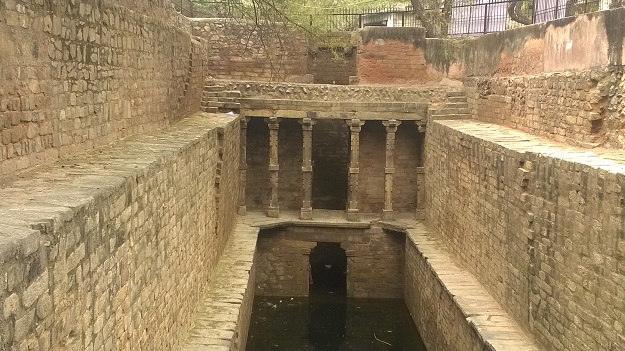 Lesson Learnt: If you have vertigo, don't go walking on ledges, no matter how wide. Give anything elevated a pass. Don't ask inch, meter, feet, just pass.