Purana Qila / Old Fort – Delhi Heritage Walks with Sohail Hashmi
Categories
Delhi
Travel. I wish we did more of that. But it takes a lot of time and money. A lot of planning and mindspace. The burden of the word has, somehow, made the action scarce. We decided to take some load off it.
This winter, we decided to see Delhi like a tourist. Not just see touristy places, but go all the way – go to tripadvisor to see the city in the list format, read outsiders' blogs, take some advice from Lonely Planet (may it's soul rest in peace), eat where tourists eat, see what tourists see and, may be, for a few nights, stay where tourists stay. It can't be that bad, if we don't like it, we can always come home.
We went to Safdarjung's tomb in the first week. A post on that later. We planned to go to the Okhla bird sanctuary the next week, but we found a better deal – Delhi Heritage Walks with Sohail Hashmi. We had met him at JNU events, heard about his walks. But as city folks do, did nothing about it. Until, one day, we found a good use of Facebook. Found his page and confirmed a walk with him.
It started on a chilly December morning, eight thirty in the morning. I should have said dawn. The walk started on time with a group of around fifteen people. Anymore and it becomes unmanageable, he said. We had gathered at the Kahir-Ul-Manzil mosque. For the next five hours, we were given a guided a tour of how Alice felt in wonderland.
It can be strangely titillating to see regular places in a new light. We had always stopped at the red light, but didn't know there was such a historic mosque there. We didn't know that the Mathura road was a busy road even in the times of Akbar. We didn't know an assassination attempt was made on him where the mosque stands.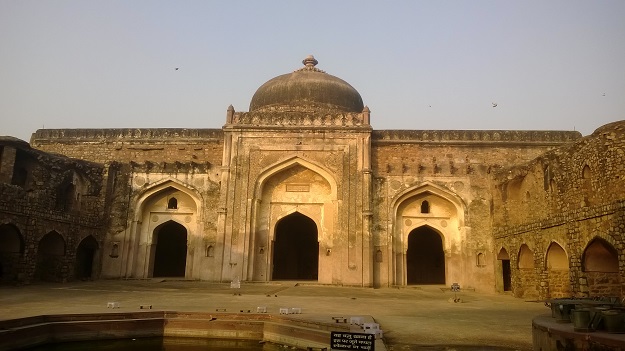 We didn't know the mosque, though Islamic, was built by local artisans. These artisans were just like the professionals of today. They didn't care for the architect or the supervisor,they drew the motifs that they had always done, Indian motifs – the kalash and the elephant etc. They had been modified and camouflaged, but they are all there. We just learnt how to look. We also learnt how to look at a wall of stone and identify which stone had been set using what technique. We Indians built temples without mortar and limestone. We saw how both the techniques were at play at the mosque and later at the Old Fort or Purana Qila.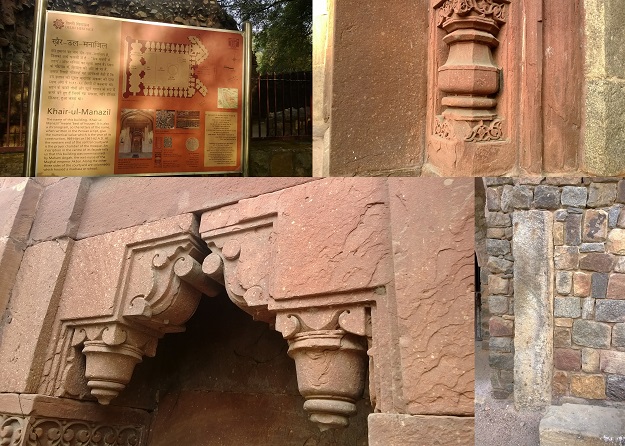 The mosque shares a wall with the Lal Darwaja that Sher Shah built. Over the next few hours, we saw how architecture didn't respect religious divide, how culture didn't bow down to religious distinction and as Sohail Hashmi said, how easily we accepted the religious categories as fundamental. Only if they taught history in schools like that, only if (as my wife blurted out) Sohail sahab were her grandfather! We would have been raised on different stories.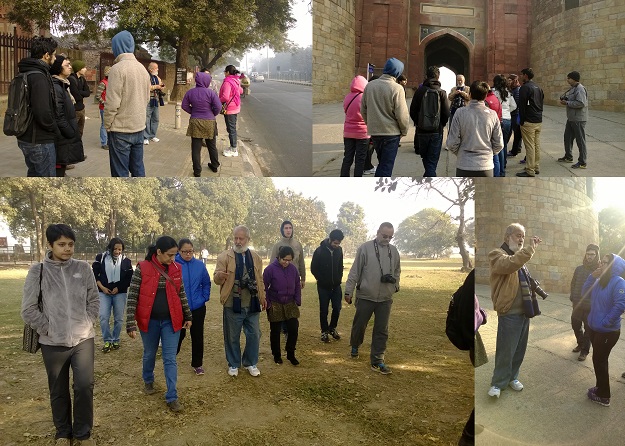 It had only been half an hour. We went for a tea break before heading into the Old Fort. It was interesting to see the sort of people Sohail sahab attracted. From history students to generally curious, young and old, desis, foreigners, desi turned foreigners – the small group had them all. I must mention that the walk is greatly influenced by the quality of people in the group. Because, rather than a guided tour that the touts have gotten us used to, Sohail sahab's walk is a history class in the field. We were fortunate to have the group we had, people raised all sorts of questions, a woman kept drawing on a paper as Sohail saab explained architectural techniques and cross checked with him afterwards.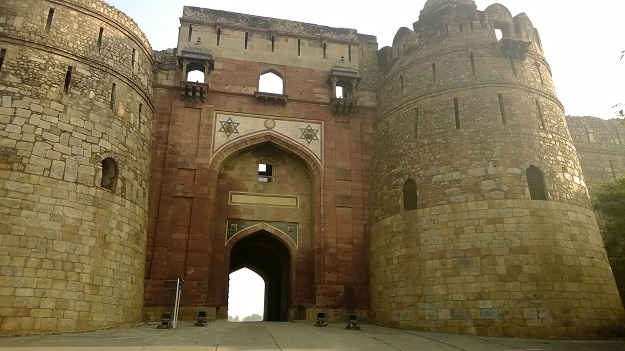 Once inside the old fort, we were given a short lesson in archaeology – where to dig, how much to dig, what is virgin alluvial soil etc etc. Were the Pandavas here? Was there any inhabitation on this little hillock five thousand years back? What crucial role did the Old Fort play in the partition? How history with an agenda is structured? How much money does the ASI raise? How are the monuments preserved and promoted in European countries, is there anything that we can borrow? Sohail sahab is a veritable mine of information. He can go off-subject, follow a tangential topic, answer questions that go in a loop but he never seemed too far from home.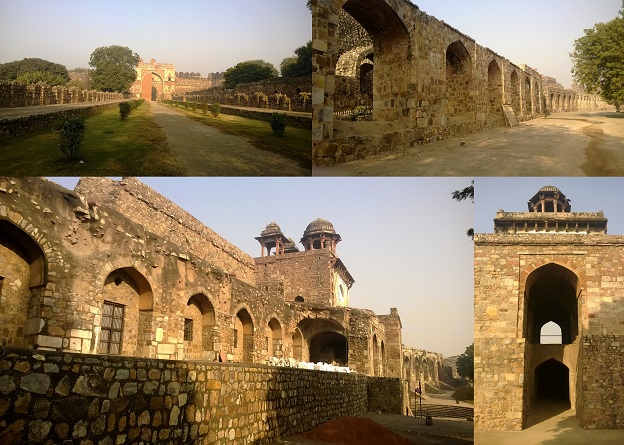 The glorious Purana Qila was a in a state of a despair. He sympathised with the ASI, said they didn't have enough money. They only get six crores per year for all the monuments that they protect in Delhi. The number could have been well above a hundred. Wasn't there any other way to make our monuments profitable apart from turning them into hotels? Why can't there be differential pricing based on which sections you wanted to see? Why was the entry fees still five rupees? That's a Jawaharlal Nehru legacy and a good one, Sohail sahab interjected.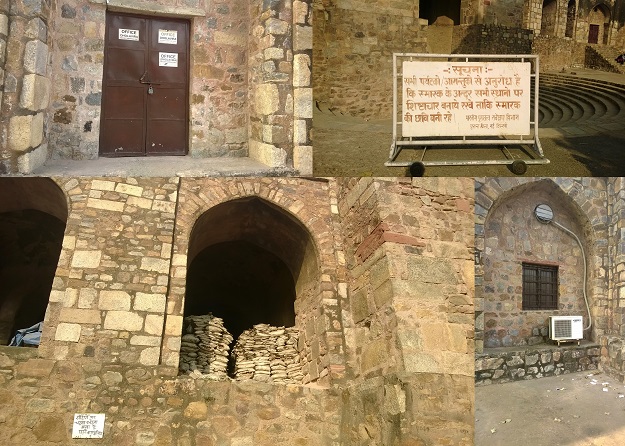 We didn't know anything about the glorious mosque that's inside the Purana Qila – Qila-i-Kuhna Mosque. Why don't people talk about it? Why don't bloggers post its photos? Why did none of my photographer friends take its picture and spread the word? For me, the mosque, massive and beautiful, was the highlight of the walk and the fort itself. The five domes, the jharokhas, the surprisingly intact stonework and the geometry of architecture that Sohail sahab could not stop talking about makes it one of my most favorite structures in the capital city.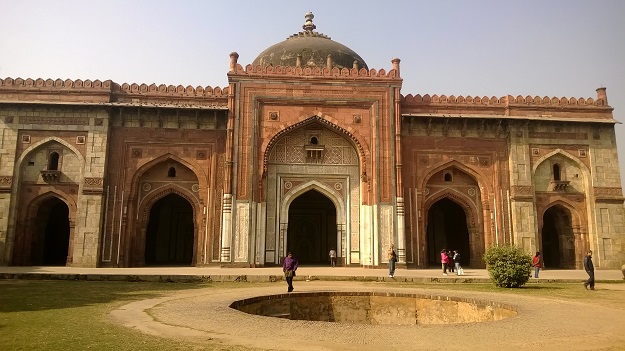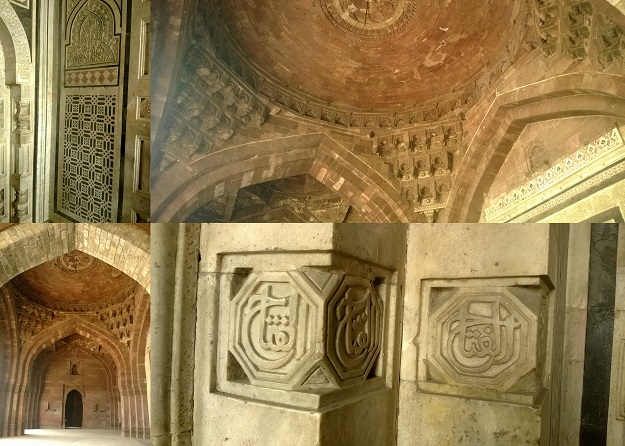 There were leftover construction material and rubble at all the critical places. You want to take a photo of the glorious wall or the arches? Try dodging those plastic gunny bags. You want to take a picture of the main gate? Remember to photoshop the wooden planks out. It didn't seem like an ideal setting for love to blossom. But it did. There were couples everywhere. May be, in love with history, but, definitely, in love with each other. I wanted to take a picture of the library from where Humayun tumbled and died. It was difficult getting a frame without some of Khajuraho creeping in from the corners.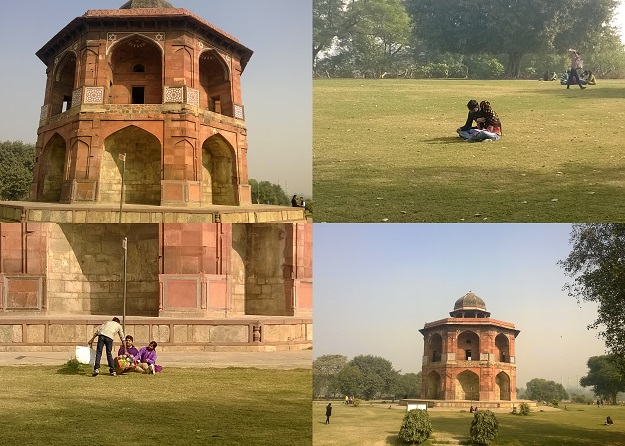 Our walk was originally meant to be over in less than three hours. It went on for five. A baoli here, a museum there, he didn't want to miss a detail. And, it is incredible when the teacher is more passionate than the pupil. Even at the end of it, he still had enough energy to carry the stragglers on his back and give another tour.
We didn't want to miss any of his other walks. Feroz Shah Kotla was next.