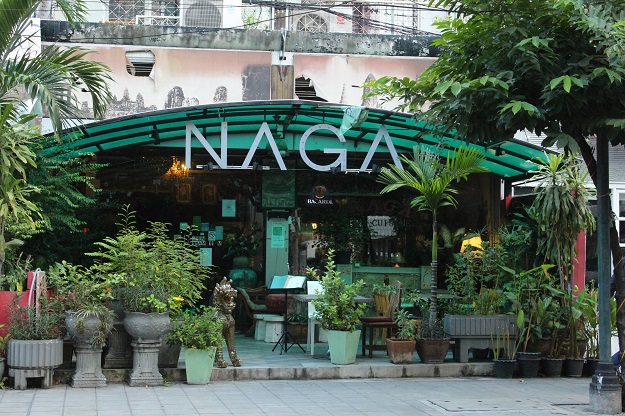 How do you eat in an unknown place? You pore over tripadvisor, ask friends and bloggers and spend days on internet planning. I did pore over the internet. But eventually, the places we ate at were places we found through just walking around.
If you can feel vibes and trust your instinct, you will end up eating well or you will have an experience anyway. To think that there is only one best way to navigate a city is stupid and you should be open to create your own experiences.
Sathorn and Shilom are amazing places to walk and are dotted with these small but niche looking places that you can drop in for a beer and a salad and no one minds. Trust your instincts, drop in, check the menu and try something. You should not need internet to eat well.
Naga Cafe looks awesome as you walk past it. It is stylish outside and quaint inside. The chairs on the tables are different, there are odd decorations. It is most probably run by a family who live on the property. I will only saw three women who took the order and the money.
The beer was around 90 baht, that's 180 rupees. The morning glory and the papaya salad included, the bill was less than 500 baht. The server asked me how spicy I wanted it and i said 'spice is good'. That was one statement in life I would well to take back. The salads were awesome and I drank the light gravy that came with the morning glory. And, the papaya salad was crunchy, nutty with peanuts, the red chilis were lethal and then there was dried shrimp. I don't like dry fish but this was ok.
This was one of many casual stops that turned out to be awesome. More coming soon.