Cardamom County, Thekkady
Categories
Travel
Kerala is god's own country but that does not make it any less confusing. So many destinations, so many resorts and so many opinions. No matter what you chose, one has to go back, again and again. But each visit has to be planned carefully, so here is a little help.
Thekkady is one of the scenic destinations in Kerala and Cardamom County is one of the places to be in Thekkady. Part of Raxa Collective and owned by Muthoot Group, it is bordered on one side by the Periyar National Park and Tiger Reserve on the other, it is a great resort to explore the lush highland forest and wetlands ecosystem from. Walking distance from the Periyar, the resort is close to spice trading communities and villages.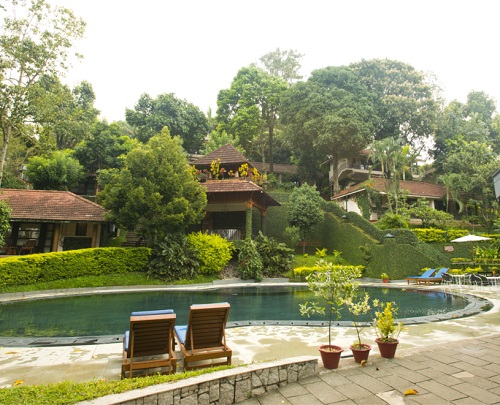 The setting apart, the resort itself is four star and sits magnificently above a small hillock with lovely cottages blending into the terraced slopes. Even then, it is not as expensive as other resorts. Each cottage has its own patio and has airy rooms. If you prefer the view, there are rooms at a higher level. Coming to food, the All Spice Restaurant has an open air terrace for the perfect setting. The food is ethnic and organic and uses farm produce from the compound. In fact, many travelers find the kitchen garden one of the most impressive parts of the resort. The fresh produce, the local botanical trees in the garden and soothing and healing to say the least.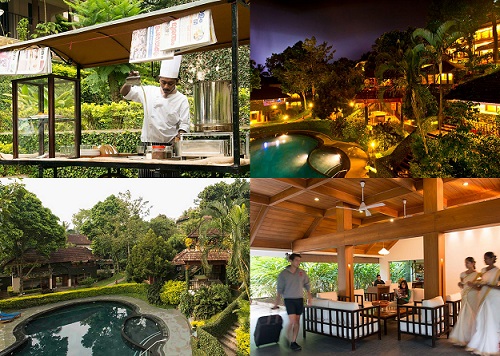 Being in Kerala, you can't be too far from an ayurveda center. Cardamom County houses Ayura, a Green Leaf certified wellness center, provides time tested stress-relieving therapies. Different from the generic spas, therapies here are designed to dissolve the aches, tensions, stresses and pressures of life. Holistic in approach, every treatment is specially designed keeping the personal need, weather and objective of the therapy. The center is managed by highly skilled team of ayurvedic experts with years of experience in resolving all sorts of ailments.
The resort is also built for fun. There is an open-air wine and beer bar, swimming pool, gym, recreation room, yoga room, library to keep you busy, no matter what your interests are. If retail is your kind of therapy, there is a cottage industry handicraft shop that you can visit without leaving the resort.
For corporate, there is a well-equipped conference hall that seats 250 persons. So no matter what the purpose of your visit is, you will surely find Cardamom County well equipped to more than meet them.