Durga Sweets Corner, Daryaganj, Old Delhi
Categories
Food
Old Delhi is filled with innumerable little gems. Probably why, no matter how much you want, as a food writer you can't escape this part of the city. Now, Durga Sweets Corner is such outlet. It has all the qualities one looks for in a classic food outlet: age, quality and character.
The outlet is actually two. Two stores on opposite sides of the road in Suiwallan, in Old Delhi. Literally, Suiwallan means the needle maker. The market, today, is choc-a-bloc with clothes stores and other knick knacks. You can reach here from the Daryaganj post office side or from the Jama Masjid side, just keep walking until you have crossed Chitli Qabar.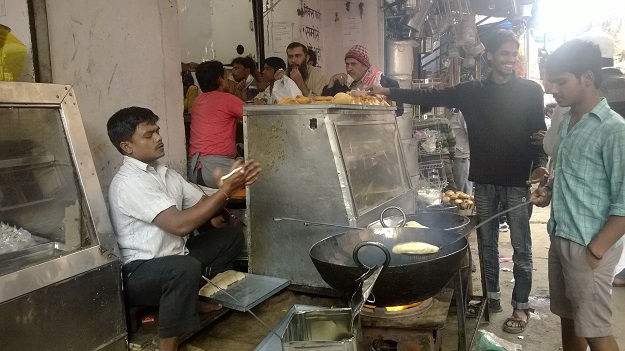 Durga Sweets Corner is more than half a century old. It used to be a famed shop and continues to be quite a well known one in the area. One of the outlets serves light snacks, such as samosa, bread pakoda, chow mien (yes, Chinese noodles!), but the most famous item on the menu is the chhole bhatura. The other outlet is for sweets, something I am hugely obsessed with but will not cover in this post.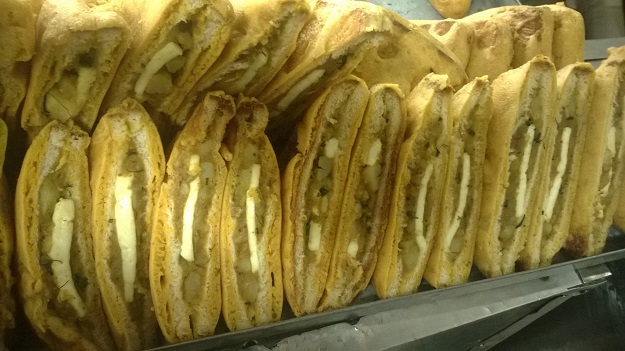 This post is about the deep fried stuff. The samosas were good, not the spicy or dry fruit kinds that you get around town. It was simple, crisp and very businesslike – the way they should be. Some cooks take their samosa too seriously and err on the generous side. Not the Durga guys, their samosa is bang on. So are the bread pakoda, may be the filling is the same. That's why both tasted accurate to me.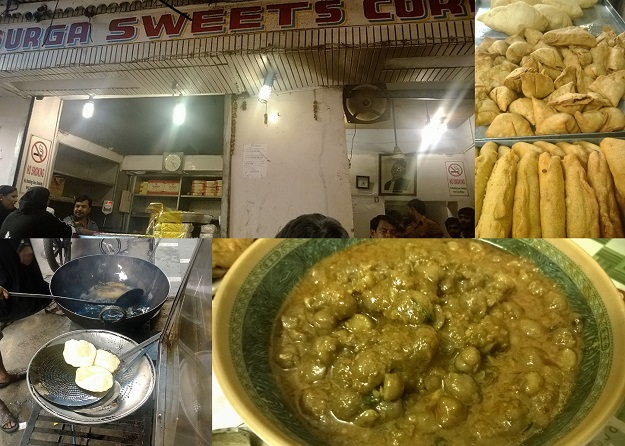 The chole bhature were different. Delhiwallahs seem to like the dark and spicy kind. Most of the famous chole bhature biggies in the city serve the dark-with-spices sort of chhole – Nagpal in Lajpat, Sita Ram Diwan Chand in Paharganj, Chache di hatti in Kamla Nagar and many more. Like my favourite Anand Ji in Lajpat Nagar, Durga Sweets Corner has the milder reddish gravy. It's not just the colour, even the texture changes with it. The darker kind is always more grainy from the spice paste whereas the reddish one is smoother due to the tomato in the gravy.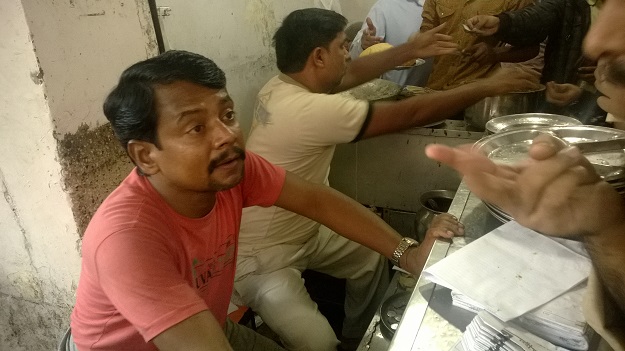 You may ask which one I prefer. I have too much of one sort, get fed up and then have too much of the other. But I have never got fed up of the red gravy kind. So, there, you have the answer.