Kabootarbazi seen up close in Jama Masjid area, Old Delhi
Categories
Delhi
Much has been written about Kabootarbazi. And, that is an utterly idiotic thing to do. Kabootarbazi of Chandni Chowk should be seen, standing from the top of a five storeyed building, against the background of Jama Masjid. Anything else is a shamless counterfeit. But, given that you were not there, here is an improvisation.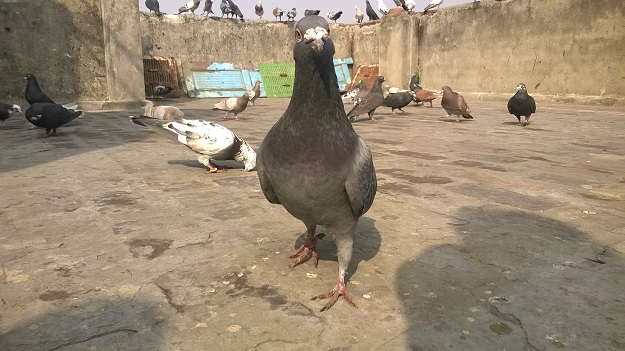 The following video was made on 26th January. The D day for Kabootarbazi, same as 15th August is the day for patangbazi. Getting to see it live is not an easy thing, you have to know the right people. We knew Sohail Hashmi. After walking throught the lanes and bylanes of Old Delhi, we came upon a not so old building. Five stories tall, the structure was characteristic of the area. Builders take over private houses, construct tall buildings and sell at a premium. Only a few two storey houses are left in the area, single floor houses which were the norm of the area are no longer there.
Anyway, most of us were left panting by the way we reached the top floor. The owner of the house laid a wooden ladder against the wall for those who were interested to still climb up another floor. Six floors up in the heart of Old Delhi. Jama Masjid on one side, the 28-storeyed MCD building on the other.
Then, someone yelled "Release the kabootars" and the krakens flew out. What followed for next twenty minutes was an endless war – between the photo mode and the video mode, between sitting down and standing up and between the photographers for place on the small roof. We learnt a few details about the shauq too. The owner of the birds told us how expensive they were – most of them cost around five hundred to two thousand as young ones. But the rare ones cost a lot more.
It's not just the acquisition, maintaining them is quite expensive too. The guy we met rattled off peeled off wheat, dry fruits and what not. I was not interested in the details of their diet, but yes, in little overcrowded residences, it must not be an easy task. On the up side, breeding and selling the birds should be quite lucrative too.
Here are the names or breeds of the birds that we learnt: Hyderabadi Jangla, Lalband, Hadodar Nakhti, Lalband Bhura, Samaz Chandna, Saada Kaala, Unnabi and Amiran Chotidar. Next time, I won't just say that bird. I will call it by its name, father's name, district and caste. Now, enjoy the Kabootarbazi photos.