Amici – Defence Colony
Categories
Food
My parents think pizza is some freak food. When I was young, my mother used to take stale bread, put leftover vegetables or curry on it and leave it on the tawa for a while. On the days we were served that as breakfast, we knew something had gone terribly wrong. May be, she is unwell, she woke up late, someone skipped dinner so there is too much leftover food – it was never good news.
Pizzas reminded her of those desperate mornings. My father could never digest the idea ingesting bread, dairy products and vegetables in one bite. They are vegetarians, so they never had to confront the horrendous idea of adding meat to that mix. In defense of pizza, they also abhor the idea of donuts.
I am not a big fan of pizza either, especially what the Domino's and Pizza Huts serve in the name of pie. Just like samosas, quite a lot is passed around as pizza but does not mean they are worth eating, let alone appreciating.
Anyhow, I have been eyeing Amici for some time now. Their corner outlet in Select City Walk has a healthy buzz and a sweet smell. However, if I order a home delivery it comes from the Defence Colony branch, which I have never seen. So, I can't say anything about the service, ambiance or remotely about the restaurant. This post is just about the pizzas that were delivered within 40-45 minutes, as they had promised.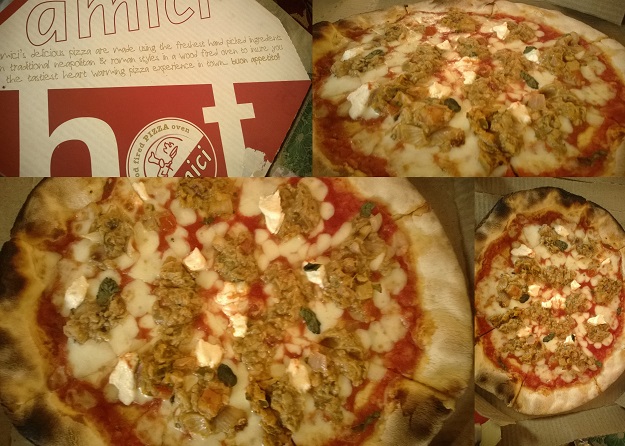 The pizzas were around priced around Rs.500 each, so a little heavier on the wallet than Domino's and Pizza Hut, not that much either. We had ordered two vegetarian pizzas ( like father like son) : Lebanese Pizza that came with roasted aubergine topping and a Starving Celebrity pizza that came with almost everything on it.
Amici has a really extensive when it comes to pies. If you are not in a hurry, it takes 20 minutes just to read the menu aloud and enjoy the sound of the ingredients in your ears. I know from experience that extensive menus are not always good news. Especially, when it comes to specialty restaurants, smaller menu is a great indicator of focus and expertise.
However, both the pizzas were good. The Lebanese Pizza was simple and had little piles of roasted aubergine on the pizza slices. There may have been something in the sauce on the paste but there were no dominant flavours and nothing overtly Lebanese about them. The crust was thin and the sides were charred, you may take that as a negative but wood fired ovens generally do that to the base.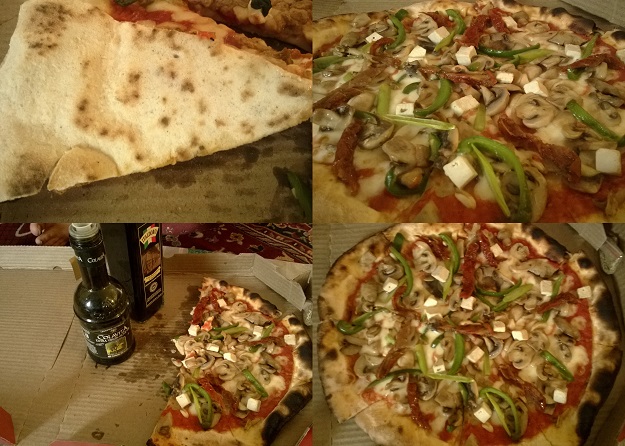 The Starving Celebrity pizza was loaded with all sorts of toppings – mushrooms, green pepper, sun dried tomatoes and paneer etc. We had opted for the Amici special crust, which was a good decision. I turned the slice over to see if it was really done in a wood over and burn marks were all there.
Was it value for money? Yes.
Will I order from them again? Of course.
Will I rather go to the restaurant this time? Definitely, yes.