In one my earlier rants about why all bloggers should go on a strike, I had mentioned how most bloggers are ready to work for food and why every blogger should go on a strike. I was ashamed of the fact at that time. Now, it sounds like a motto I can live by.
Few days back, I got the lonely perk of being a reviewer on Zomato – an invitation to one of their meet ups. The event was to be held at Pirates of the Grill in Gurgaon and it had Rocky and Mayur of Highway on My Plate as the star attractions. While I made sure to watch all their episodes, quite a few of my friends had no idea who they were! Such is the dim glow of stardom that comes from food coverage. Anyway, stoic is the path of the strong and we were all going to gather together and celebrate food, food writing, food photographing, food talking and food fighting. The photos of the event will tell you how much fun it was.
Pirates of the Grill, MG Road, Gurgaon, were the hosts. They have a buffet only restaurant, similar to Great Kebab Factory and Barbecue Nation. The kind of restaurant where you gorge on the starters, skip the main course, feel guilty about skipping main course and take revenge on the desserts.
Now, just like every other time, I underestimated the time it takes to travel from Delhi to Gurgaon and reached late. People were seated, the chief guests were seated – one had to make the hard choice of seating with Rocky or Mayur. I was standing pretty close to Mayur's table 🙂
Once seated, you declare whether you are going to be a vegetarian or a meat eater. Pirates of the Grill has two sets of coloured plates – green for the grass eaters and red for the carnivores. I got myself a red plate. And, then the procession started – Brazilian Churrasco Pineapple (the best of the lot), Chilly Paneer, Fried corn, Paneer Tikka Khada masala, Salsa Potato, Corn Shammi kebabs (which is a bad right idea right from the start) and much more. Let me try a little harder and remember  – there was that Galouti that was wrapped up as a spring roll, chicken tikka, fish on a skewer, exotic vegetables, chicken tikka, tawa mutton, and there were prawns too.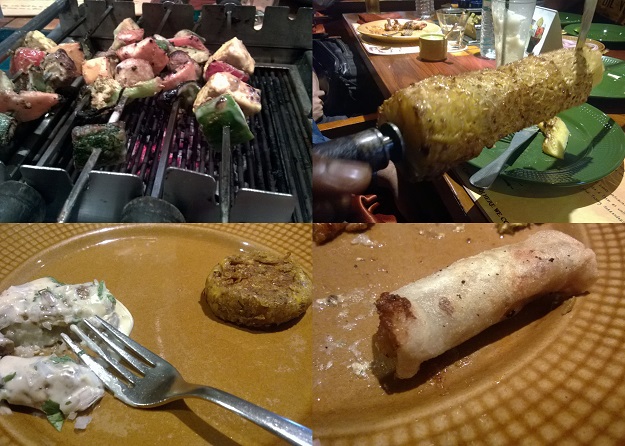 The food just kept coming. In spite of being selective, there was always a pile of food on my plate. The servers were just going round and round asking and recommending items. There was a lot of talk that went with food too. Bloggers asked Mayur about Highway on My Plate, how they decide where to eat, are the oneliners preplanned and about their future plans.
Rocky and Mayur kept switching tables and talking to all the reviewers. There were photo sessions and so much talk that the hosts had to drag everyone to the main course buffet. To be honest, there was not much appetite left but work has to be taken seriously. Pirates of the Grill had not skimped on the main course – dal makhani, compulsory paneer dish, very good Chinese noodles and gravy, kadi pakoda, pindi chhole, keema kaleji, hyderabadi mutton biryani, mutton rogan josh and  Chicken changezi I can't even remember if there was anything else.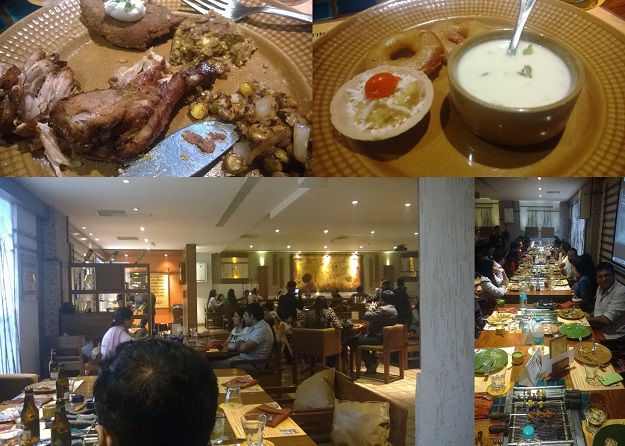 The whole main course is a delicious blur and I can't recollect any single item that I may have unconsciously injected. In no time it was time for the desserts and I only allowed one or two items at the insistence of the servers. Let me give you a partial list of the items served again: fruit truffle , Beetroot Halwa, walnut pie , melted brownie , payasam , watermelons, gulab jamuns, mud pie, yule log, Apple Jalebi and Coconut fudge. I probably had the payasam and someone had strongly recommended it and the jalebi, both of which were good.
The highpoint of the whole afternoon was the conversation and the bonhomie. The food was good, the service was attentive (may be, a little more than what a regular customer would get) and the attendees were a little reluctant to leave even after the event was formally over.