Go Indigo go – Learning Business Mantra from a successful Aviation family
Categories
Midnight City
Whoever said sky is the limit, very correctly said so. But for learning and evolving, not even sky remains the limit
Unlike my regular flying days when I am confined to my cockpit playing around with numerous glittery gadgets, managing the radio contact and circumnavigating around clouds (just a few of the several tasks we, as pilots do- yes of course I am a sincere one 🙂 ), today I was traveling as a passenger in an Indigo A320 aircraft from Delhi to Mumbai. The scheduled departure was 17:10 and we began taxing by 17:00 hrs and the flight attendant proudly announced about the pride inducing Indigo standard time and we got airborne by 17:13.
The airline's blue interiors were soothing to eyes and the aircrafts temperature management was pleasant enough to appease the human physical senses after experiencing the devastating Delhi heat.
No I have never been an Indigo fan. It has always been too cool for me. Somehow I still remain the old school Air India fan club member. Yes, the amount of leg space it offers is compared to non in India. Price wise it offers a meal for no extra cost and the ticket prices now a days remain the same as any other no frill carrier. And yes I still prefer to flown by the old world commanders whose accumulation of flying experience cannot be simply discounted for no reason. Yes I love Air India. My wife flies Air India. I have no choice but to love it (just joking, I respect it as its one of the symbols of our national pride)
But we must not ever shy off from learning from any source, new or old, dying or just born, on the ground or in the skies. If that's the attitude we can never loose a battle. Today's 2 hrs flight from Delhi to Mumbai was one of such corporate learning lessons for me.
In this post you shall see a photograph. It's a photo of the wrapper of the sandwich that I received as part of the complimentary meal (come on guys, don't confuse, nothing is complimentary in Indigo- it was paid during the time of booking itself). But this wrapper and its content is self explanatory why Indigo remained of of those profit posting airlines when all others were posting immense losses. The wrapper mentions no outer agency from where it was procured, it implies, either it is produced in house or packaged in house, in both cases suggesting cost control.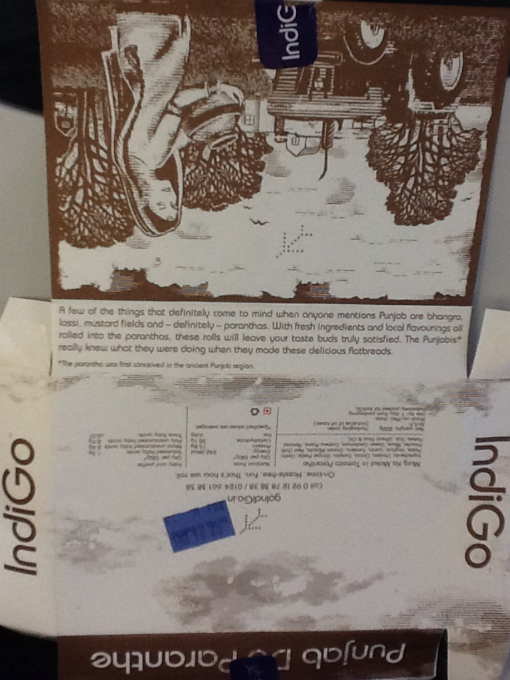 Secondly, the content on the wrap had 3 segments- easy to digest stories (Lions of Punjab- a short but interesting story), Solitude- breathing exercises suggestions to attain mental peace, thirdly a segment called Mood Food- suggestions for food that could boost your mood. And i peeped into my neighbour's meal and his wrapper had a different set of content. Similarly i saw the paratha wrap, with a wonderful Punjabi village painting (printed of course) and a small description about the relation between Punjab n Paranthas.
I am sure hardly anyone reads these write ups, at least none of my neighbours did. After hogging through their meals, they were ready to dispose of their stuff ASAP and each of them looked at the passing FAs in such a manner as if they were present as individual attendants for them (so typical of us, our line of sight begins from our head and ends at our toes). Sorry for digression, coming back to the point, I felt so mesmerised by looking at the detail on the wrap. More so I felt so praiseworthy of the management that permitted the team behind this to implement something of this sort. Yes, they chose to go beyond their mandate of providing just quality food.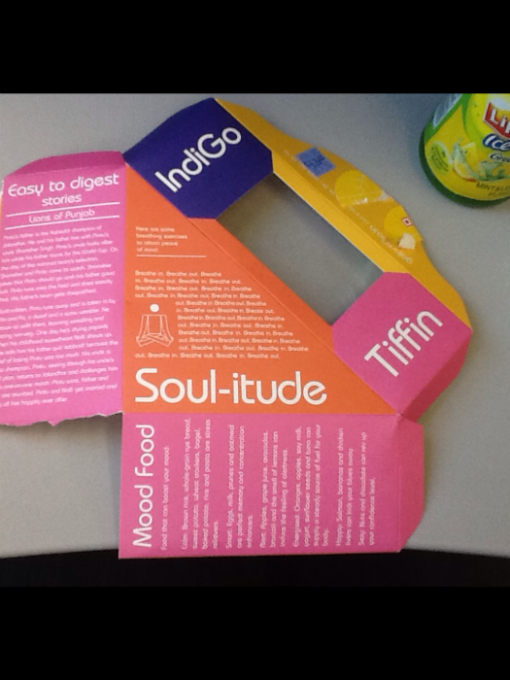 Flying, to be precise, passenger flying, is much beyond Pilots, Air Hostesses and Aircraft Engineers. Like any other business this also is a multi departmental, multi specialty business whose success is dependent between smooth coordination between different teams n the motivation level of staff constituting these teams.
What we experience when travelling Indigo is precisely this successful coordination between these teams and its motivated members. As soon as you reach the airport and you have a dependant passenger, she/he is so well taken care of. Received and assisted right up to the aircraft seat.
You have a look at their on board magazine, Hi 6E (6E is Indigo's id). Doesn't it sound like Hi Sexy, yes of course it does. Is it just a coincidence? Not a difficult guess. To the hard core feminists, it indeed is a 'gendered' connotation, but till date I've never heard of any feminist raising a flag against this coincidence of Indigo. For me, it's another example of deep, passionate thought process involved in the due process of organisation building.
Yes, I could visualise how beautiful and democratic board meetings would be happening at Indigo. In their magazine they proudly announce (which is also a way to justify ones way) that they don't believe in having differential seating and every passenger, to them is equally imp and hence they are the most democratic airline. I am not Indigo. I am just too amazed with the immense amount of thinking and implementing of those thoughts that goes in on an organisation before it becomes a success story.
Oh, I suddenly realised one more thing, we were already in a decent and approaching the terminal area. The pilots (of course ATC is also to be credited) had initiated a gentle continuous decent which would continue right till a smooth touchdown at Mumbai.
It was now time to step out of the cabin. While exiting I just read this extraordinary statement on the cockpit door, 'Flying is a serious profession. Do not carry your worries beyond this point'. Oh yes, this flight indeed made me a member of an ever increasing Indigo fan club. Happy Landing folks.