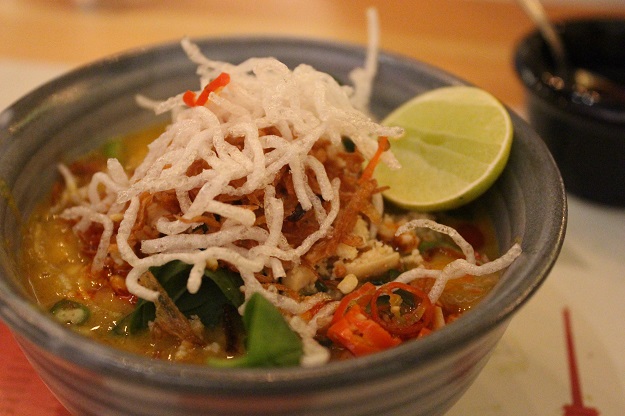 Okay, I don't think I have been so wowed by a place lately, the last I can remember was Guppy. There were three of us, three hardcore, best of the world, eaten pluto out of planethood foodies. And, all three agreed on the same. Jom Jom Malay in Ansal Plaza is how those serious about food should go about their job. In the city of Priyank Sukhijas, there is someone who is sincere.
The place is small, there is no fuss, staff is courteous and smiling but you will never see one looking when you don't want them to. There is no gimmick, apart from the mortar pestle to make fresh sambal and that is not a gimmick. We pounded all that they gave us and licked the pestle, almost.
The food plating is delightful, no shovels and mugs and bathroom accessories. Food was served in plates and drinks in glasses. The lighting is good, the music is low. You can see the food and you can talk.
We had murtabak, laksa and nasi lemek. We had iced kopi and a mango drink. We could have had a dessert but that would have meant keeling over and groaning like a pig. We saved them the trouble.
The nasi lemak is the rice with the chicken.  Apart from the shrimp pickle on the side, it is a dry dish, if you need a curry with the rice, skip this. But the fried chicken is worth trying, it is soft, flavourful and delicious and more like a besan pakoda than the KFC sort.
The laksa was brilliant. It came with a full range of accompaniments. It's sort of khao suey, given that it is a noodle in a meat broth that is found across south east Asia. But it not a khao suey.
The murtabak is a bread with meat stuffing, came with a spicy gravy and a salad. This is a must order here. We did not order any satays as I am never too excited about them. But, there was not a single dish that disappointed, was Indianised or invited us to make suggestions. And, the whole meal was around 2500. Damn, Delhi has a serious food place that is neither a cafe or a highway robbery.
P.S.- Birdie nom nom was impressive but given the loud music and the dark dark interiors in which you can't even see the colors of food, it is not an optimal food experience.