The Rolling Joint, Connaught Place
Categories
Food
Like all east Indians, I love my rolls. And, there is a huge difference between the rolls that you get in north and east India. You get the Chinese, mughlai and the full range of rolls in both the parts. The range of parathas may differ a little, Malabar paratha and pita rolls may not be that easy to get in the east. But there is one major difference that you can't ignore: potatoes.
In the east, it is easy and yummy to find a roll with potato fillings. In the north, it is almost impossible to. I had ordered rolls from Rollmaal and they were not all that great. The Malabar one was too thick but the tawa one was good (more on that in another post). The rolls at many streetside stalls are good, especially the one in Amar Colony, but nothing to write home about.
Then, one evening, after getting a oil champi and before taking a shower, I had a roll craving. We headed out to this new place in Connaught Place that a few were talking about – The Rolling Joint. In the middle lane, close to Odeon Cinema's exit, it is small place with a few chairs outside. The counter is designed to look like a truck and there is a little twist in the rolls too.
Apart from the generic chicken, soya and paneer rolls, they have Greek style gyro rolls, spiral rolls and cigar rolls etc. We ordered a Three Cheese and Jalapeno Cigar roll and a Harissa cottage cheese roll and a coffee. They didn't have potato filled rolls.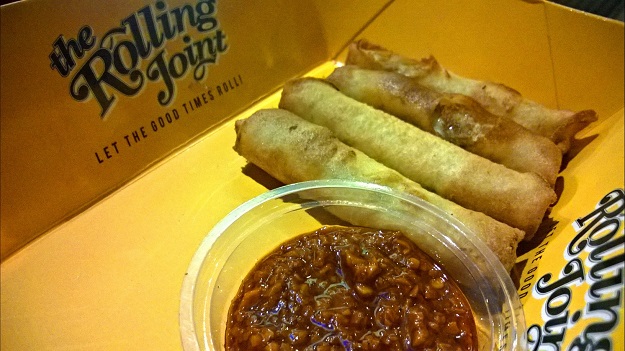 The cigar rolls were actually cigar sized. There were four of them in a plate. But the taste almost compensated. The cheese mix was nice though I could taste the jalapeno. May be, they tried to keep it mild. But it is worth a try.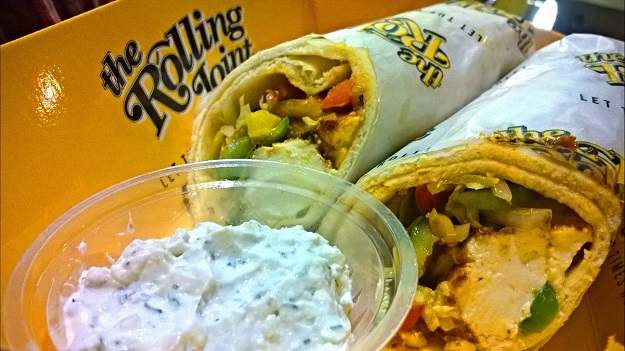 The cottage cheese roll was priced at Rs.145 and came in a pita bread roll, which was a delight. Bell peppers, jalapeno and onions were cooked over charcoal, though it didn't have a smoky flavor. It wasn't too hot and may be, you can ask for extra harissa sauce if you want it that way. I loved the roll as it was and will go back to taste the gyros.
The cold coffee came in a bottle. It looked and tasted like the DePaul one but the outlet confirmed it was their own creation. I don't have to be a cynic all the time and would love to repeat the whole order once again, soon.