The Heritage walk of Old Amritsar – Part 1
Categories
Travel
I have been to many old cities and have wondered why thousands of miles apart, they share the same characteristics. To say, they look the similar would be wrong. But there are so many common traits – Old Delhi, inner parts of Agra, old Srinagar, Lucknow and even Cuttack. There is a constant struggle between public and private space, infrastructure that's stretched to the limits due to rising population, heritage buildings next to living encroaching one and a general sense of bemusement among the residents who can only half comprehend why outsiders consider them such relics.
It will be unfair to club them all together. I can spend a lifetime writing about the peculiarities of each one of the above. Amritsar, in this context, was both similar and unique at the same time. It was similar in above mentioned aspects and different in many others.
Qila Ahluwalia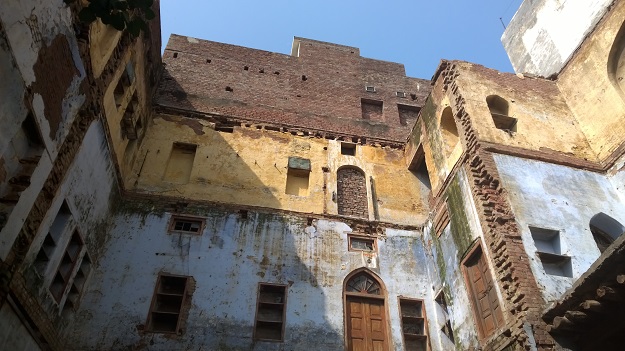 We started the walk at the Qila Ahluwalia. It does not quite look like a fortress, but it has also apart over the years. It looks more like a barrack, nevertheless. The four, and at places, five storey structure is now taken over by traders. The structure was auctioned to Marwaris during the British rule and parts have been demolished after that. Owned by traders, they live on the upper floors and the ground floors have shops. From outside, we could see rows of adjacent rooms as seen in hostels. I would have loved to see them from inside, but we didn't get the opportunity.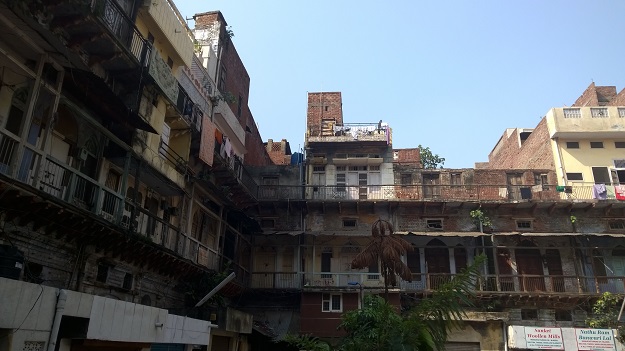 The inner lanes are in much worse shape than it looks from outside. At the rear of the building, we could see beautiful jharokas and jaali wood work on the outer balconies. Most interestingly, if you look closely, you can see beautiful yet fading paintings on panels below some of the windows. This was pointed out to me by a local who had started by very loudly expressly his displeasure at our visit.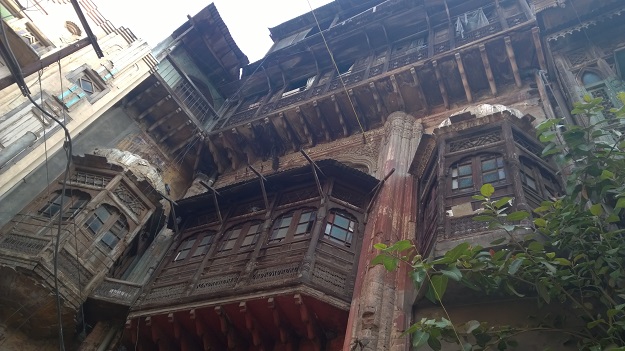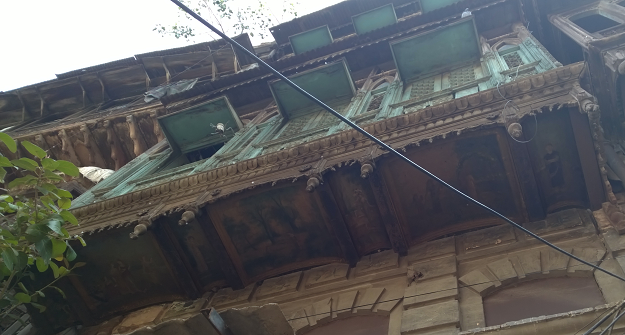 I am not sure if it can be declared as a heritage building as these are private residences. Go, see them as long as they last.
Further down the trail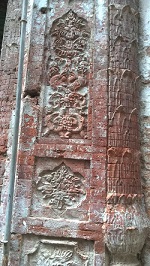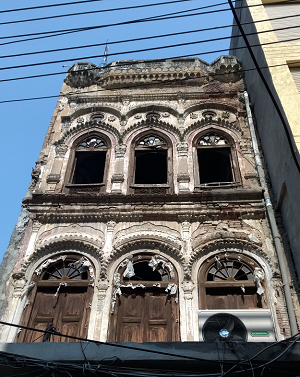 We walked past various interesting buildings and structures on the trail. Many I had seen before in old cities – carved doors, etched panels on the walls and a very very overly embellished building that continues to be abandoned and in private hands.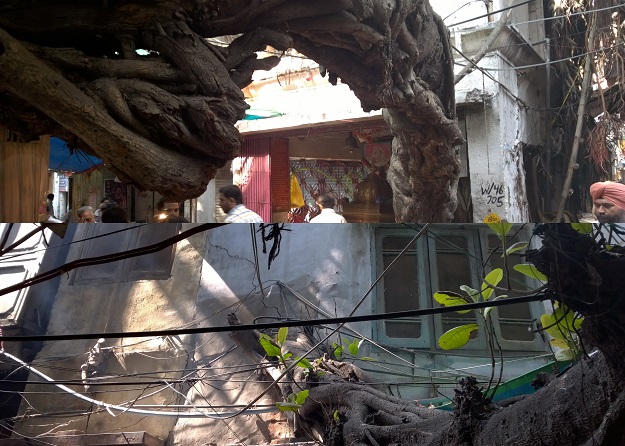 A little further down, we came upon this temple with a famous chole bhature shop next to it. We were all too well fed to try something new. However, what was unique about the temple was a tree that had risen from the platform, curved, crossed the road and entered a house on the first floor.Our guide told us the tree is older and the house was built around it. The power of sacred!
Thakurdwara Darianamal Temple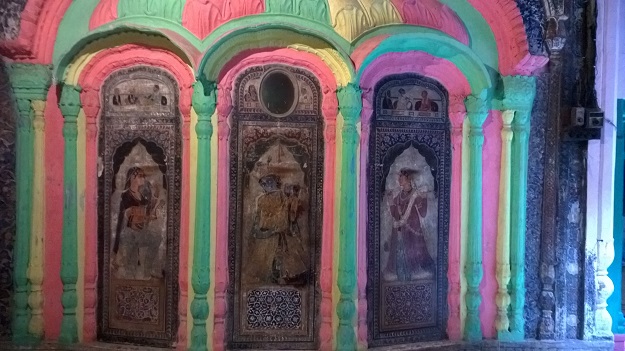 Next, we walked upto a black carved door, into a narrow courtyard, with a temple on the right, a staircase on the left and in front and some pre-historic looking windows on top of us. We walked up the stairs to a collective expressions of wows and aaahs. There walls were painted with fine art that's centuries old, but someone had decided to cover them up with gaudy strips of green and pink wall paint.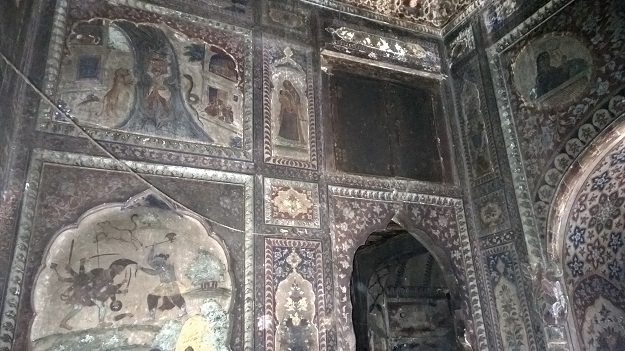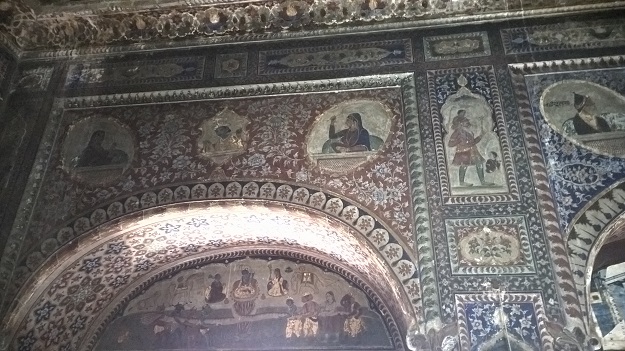 The paintings, fading and faided, covered every inch of the interiors. Mostly floral patterns, there are also depictions of royalty, Hindu gods and what seemed to be mythological beings. Sadly, I could not identify them. There were a few young men who seemed to be living there, clothes hanging from the walls and a cooking area made in a corner, under the paintings. Must have been part of the 'temple administration'. There were a row of rooms on either side, but they were locked, conveniently converted into living quarters.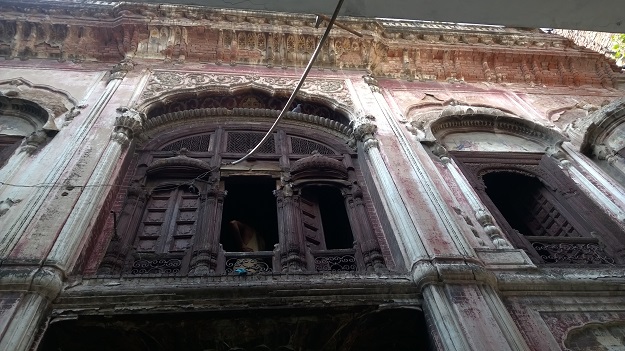 We walked out and around. The windows were beautiful from outside, patterns carved all along and combined with the dark wood, Thakurdwara Darianamal was the picture perfect ruin. But it is not a ruin yet and hopefully, it will be saved from becoming one.
There is so much more to be written about the walk that it's impossible to do justice to it in a single post. Hopefully, I will have the focus and the patience to do the follow up posts soon.