Jain Shikanji, Modinagar
Categories
Food
Shahrukh Khan is known for silly romance, but one of his most appreciated movies is Chak De. Hence, proving the theory that what you are known for is not necessary what you are best at. It's the same story with Jain Shikanji, at Modi Nagar.
If you are driving on the Delhi-Meerut highway, you will come across a thousand (gross underestimation) shikanjiwallahs, all of them claiming to be Jains. Lord Mahavira could never have foreseen that a humble summer drink will be the biggest propagator of his religion.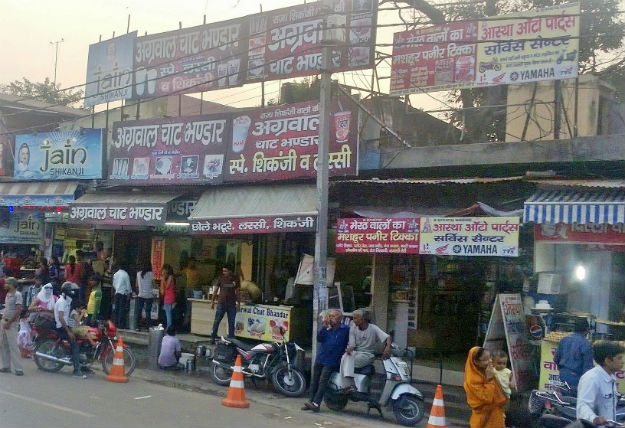 Anyway, we stopped at the original shikanjiwalla, identified by the crowd, the blue colour and the headshot of Mr. Jain in the store banner. Though we had come for the masala beverage, we fell for the alu chaat and the massive tikkis.
Even before that, the gol gappas. A few girls were throwing them with machine-like efficiency. We waited for our turn and managed to finish two plates each before another gang of girls eyed us out. That apart, the gol gappas were too good, all mint and salt, it is the Delhi style cold water version minus the saunth and the sweet.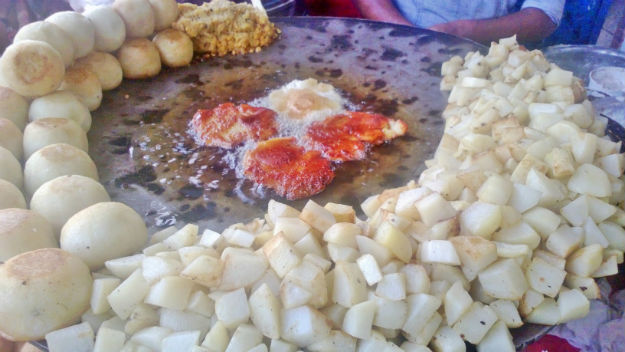 Next, we saw the huge tikkis and the potato cubes. The tikkis were good, not as good as the ones you find in Delhi, but you won't leave it half eaten either. It didn't have the ginger slices, may be, they will add some when the ginger prices drop.
There were four of us and the votes unanimously went to two unlikely heroes: the alu chaat and the paneer pakoda. The Jains have a sweet and pakoda outlet two shops down. Apart from the sweets and the deep fried stuff, they have a Kaju paan. We should have tried that, may be, next time.  Or, may be, we won't stop next time.
The most famous item on the menu, the shikanji, was a let down. It wasn't bad, that will be harsh. But, quite honestly, it had nothing that deserved the fame. Too much ice and too little mint, it was a little too chilled for average human throat too.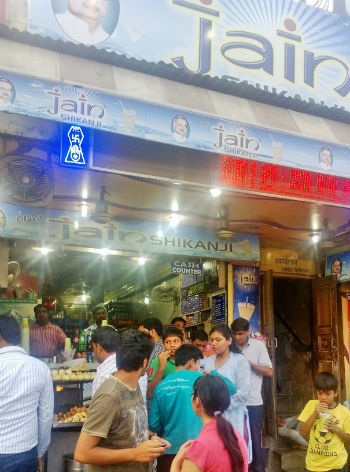 Should you stop there for the shikanji?  – No
Should you stop there, at all?  – Yes, if you didn't stop at the dhabas earlier.