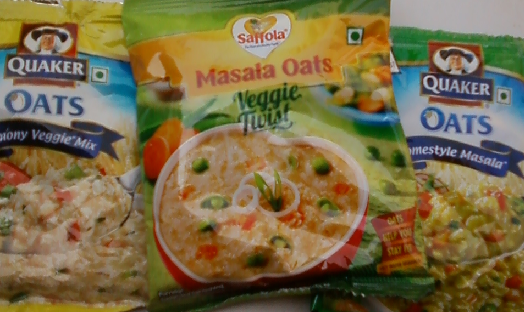 Breakfast like a champion!
I never did. Never became a champion too. But who cares. Breakfast is for weenies. Babies and animals need to stuff themselves as soon as they wake up. I planned on being neither.
Using my own will and volition, I always chose to stay in bed and wake up after the rest of the world has gone to their offices or anywhere else their mundane lives took them. I indulged in food only when my heart and stomach agreed on an appropriate time.
Then I got a job. And, I got married. Now, I know all about animals, babies and mundane lives. Someone was bullshitting about the champion part. My desi firang friends tell me how lucky I am to be in India where breakfast options are so endless. You have the Punjabi parathas, southern upma, vada and idlis, North Indian kulchas and chole bhaturas. Then, there are so many other items that no particular region can lay claim to – poha, roti bhaji, puri subji, maggi noodles etc.
Now, we have also woken up to western breakfast items, such as breads, baked beans, porridge, croissants and what not. I can buy some ten kinds of breads from my neighbourhood kirana store. Atta, whole wheat, multi grain, garlic and even focaccia, whatever I fancy, it's all there.
You will think that we never have to think of breakfast again. On the contrary, it remains the most perplexing meal of the day. Toast is too light, paratha is too heavy, idli is too bland, puri is too oily and who is going to do all that cooking in the morning.
One morning, a newspaper advertisement informed that our lives have changed forever. 2 minute oats had arrived. It does not give you any guilt, it is perfectly healthy, filling and it has the cool ring to it that all new things do. We went to the Big Apple store and bought a string of the pouches. Next morning, we were having Quaker for breakfast like a true amrikan at heart. It happened for a few days. We went to bed watching Mad Men and Modern Family and woke up to a Chicago born breakfast.
It was perfect. Masala oats was the best thing that had happened to us in a long time. We could sleep late, have proper breakfast and reach office in time. We started with the Homestyle Masala, and within a couple of days, had tried all the variants. Apart from a horrid sounding strawberry flavoured oats. A few days later, Saffola launched a similar range. They had some flavour sickness (kesar pista!!) too but were at par with Quaker.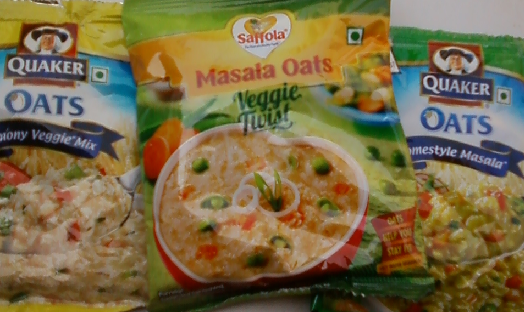 During the whole breakfast experiment, my wife underwent some unexpected transformation. Normally indifferent to the appeal of things, she was falling harder for oats than she had fallen for me. Within a week, she had called my mother, my two sisters, her brother and numerous other friends about our new find. She would call them a few days later to follow up if they had tried and liked any particular offering. If anyone had tried and didn't quite agree on all points, a flavour war would ensue. My mother should have tried the Classic Masala not the bland Veggie Twist. "Why can't she get it right," she will crib to me.
She had turned into a marketing monster. She was not on their pay rolls, she was not a wholesaler and she was not getting any incentives. But she had become an advertiser's dream. Into the second week, she was buying them herself and distributing to the old ladies in our neighbourhood. It had become a part of the gift basket when we visited our friends.
However, after two weeks of an intense love affair, a few cracks started to appear in the story. The Quaker oats were all too spicy. A As if their market research had come up with one conclusion, a very obvious one – Indians love spices. So, they just packed it in. We tried their pohas and they had the same problem too. We continued with the Saffola ones for a few days more.
But clearly the love story was over. For good. The companies were putting horrors on the shelves. A Lemony Veggie Mix? A Kesar flavour? The experiment had turned into a farce. We were intimated and put off by this new oats guy who thought it could be everything – sweet, spicy, lemony and whatever else.
The novelty had worn off. Now, a month later, we still have a few sachets rotting at the bottom of the top cabinet. Somewhere, next to the iPod Touch that we had bought on a whim. They stay hidden, so we don't have to see them and feel guilty. Or, stupid. We were neither the classic spice eating Indians nor the new Indian bitten by oatsophilia.
We were off the charts of the market researchers and oats is now off the menu for us.