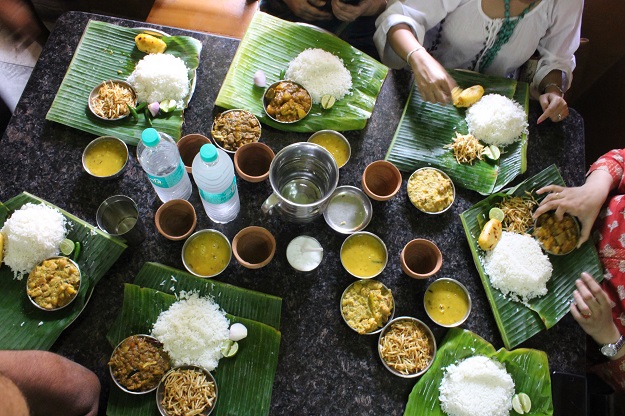 Streetfood is the sign of a city's body and mind. Streetfood tells you how safe and active a city is. It also tells you what the intentions of the city are and how it wants its citizens to behave.
Let me explain. Two years back, while walking back from the promenade in Pondicherry to our hotel, I and my wife were a little worried as it was well past midnight. Though there were people on the road, the streets were dark. And, then we saw a woman winding up her idli cart. The sight of her – alone, unconcerned, focused – assured us in a very basic way. If it's safe for her, it's safe for us. No matter what time of the day it is, streetfood vendors are a source of security.
It is only in modernist city planning that streetfood vendors are seen as nuisance and trouble makers. What this view does not understand is that these vendors are rarely fly by night operators. They usually occupy a space and treat it as their own. When you look at Bangkok, you see how a city can modernise without sanitising the streets, how a city can be designed around food vendors and people that loiter. It is only lately and only with the rise of modern cities that frown upon loitering that it is being seen as a political act and a basic right. Otherwise, people always loitered. That's the way it was.
But, this article is about Kolkata and how does Kolkata fare on these parameters? Before I landed in Kolkata for the first time, it seemed like a massive Benares without the religion. Or, a Mumbai minus the magic. Kolkata seemed like a grand old man who had too many stories to tell that no one was interested in anymore.  Thankfully, biases are seldom true. Only when you stop dissociating cyber cities, glass buildings and sanitised streets with development and modernity, you can be appreciative of cities that have bypassed the linearity. And, Kolkata is one such city.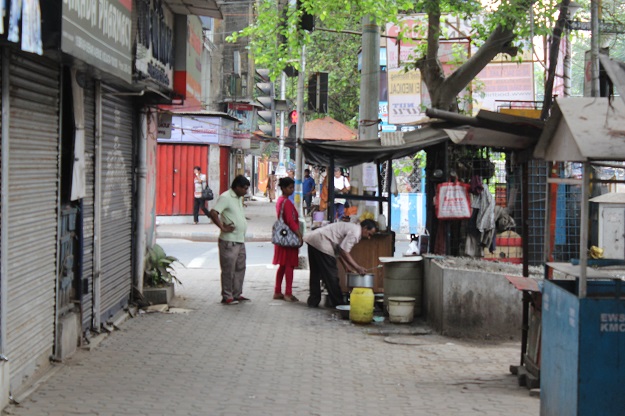 At six in the morning, we set out to take a walk on the Sarat Bose Road. The tea shops were open. One was owned by a woman. Many dhabas, if I may call them that, had already started chopping vegetable for lunch, one already had the chorchori on stove. Many seemed family run and had women in the staff. Unlike Bhubaneswar, another eastern city, there were no singaras and alu chops or vadas for breakfast. There were parathas, ghugni, chechki, one guy was making dosas and almost every plate had a boiled egg.
All these vendors sat at the corner of the streets. Most of them were semi-permanent structures and not carts. They swept and washed the area around the shops. They owned that space, the municipality did not see them as illegal occupants and the average guy got a healthy meal at a price that he can afford to pay every day.
Moreover, Kolkata does not seem to be afflicted with the disease that has taken over Bhubaneswar in the neighbouring state – Styrofoam plates and plastic spoons. Shockingly, Odisha, the state that produces massive quantities of leaf serveware and used them over the years is now tired of them. Kolkata is pleasantly still steel and leaf and earthenware.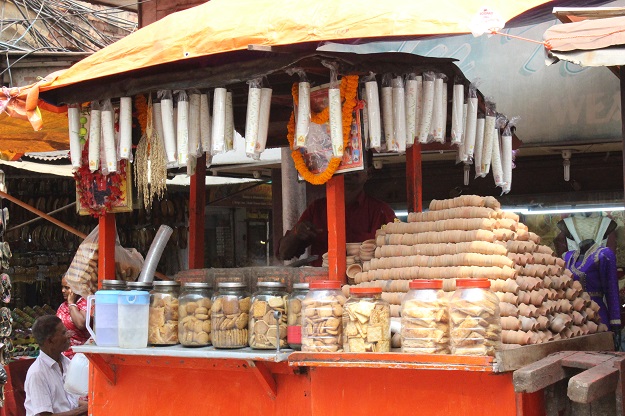 The idea that streetfood is not healthy and that you should not eat out every day is very cultural. Home cooked food is often seen as superior to and healthier than street food. Does this point to a value struggle between the local population and migrants? Or, is this a class privilege because people who have most of their meals on the streets also live on the streets? Cities like Kolkata, Chennai and Bangkok challenge these ideas.
In previous articles, I have written about affordable food, particularly streetfood, in office areas. It can tell us a lot about a city's planning, eating habits, migration patterns and more. For example, in Noida, most such places are run by couples and they serve food from the places they come from – chota samosa from Etawah, Veg Biryani from Aligarh, Fried Litti & Ghuguni from Bihar, Poha from MP and so on. On the other hand, the swanky Cyberhub in Gurgaon has no patience for streetfood. The carts are towed away, there is no vending zone to talk of and all the workers in the area cross over into the backlanes, into old Gurgaon, for their meals and snacks.
In Kolkata, office goers have access to a full range of streetfood as well as affordable food in more established places. The food is diverse, healthy and you can find something good to eat in your price range. For example, if you are in Dacres Lane, you can find anything from dosa and noodles to chicken/mutton stew and liver with toast. Both in Dacres Lane and office areas in Salt Lake City, you can have a khichuri and fish fry for lunch.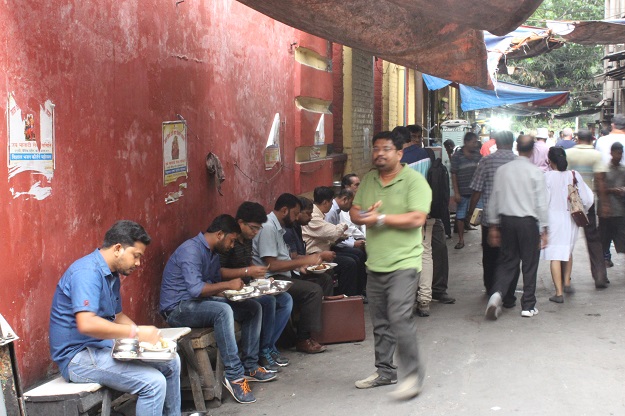 Affordable access to protein can be an indicator of a city's state of streetfood. In schools, mid-day meals, eggs have become a point of politics and not nutrition. All of the state government canteens serving subsidised food – be it Amma canteen of Tamilnadu, Indira canteen of Karnataka, Annapurna Rasoi Yojana or Ahar Yojna of Odisha – have one thing in common. They do not have anything non-vegetarian on the menu. So, where does a poor man on the street get his animal protein? In a city like Kolkata, the answer is streetfood. Eggs apart, it is not difficult to have a full meal with fish for less than fifty rupees.
When it comes to cities and feeding the working class, these government canteens and food trucks etc are new developments. How was it done before? Where did the masses eat in Calcutta of yesteryears?
Pice Hotels
In the 1940's, they went to the Pice hotels. During the 1940's and after, the working masses thronged to the pice hotels or bhater (rice) hotels for their meals. They were called so because a full rice meal there came for 1/6th of a rupee. Even in those days, it was cheap food. A basic serving was assured and those who could pay more had an a la carte menu to choose from. These were also places where those who did not cook meat at home got their access without upsetting norms.
Some eighty years later, we walked into a pice hotel which still followed the same format – Hotel Sidheswari Ashram. There is no printed menu, prices are scribbled on a whiteboard. The different kind of rice, dal, fish and curries ran into an impressive thirty eight item menu that day. You can ask for anything from that menu and you will be served within five minutes.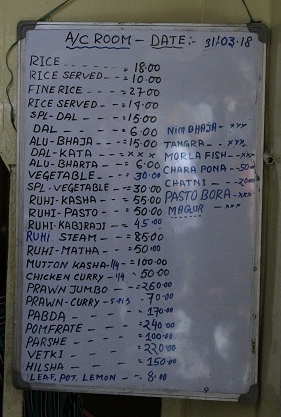 Seven of us ordered thalis that had rice, dal, potato fries, mashed potatoes, two curries and then we ordered mutton and three kinds of fish. The bill was less than seventeen hundred rupees, twenty five dollars at today's conversion rate. And, all of it came on a banana leaf with a side of lemons, green chili and salt. Just the way it was always served.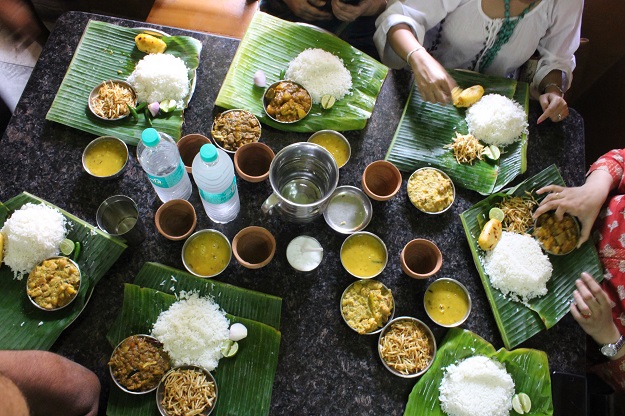 Be it streetfood or the pice hotels, which are a few steps up, it is not difficult to eat a cheap and nutritious meal in Kolkata. Respect towards tradition, food and the consumer are maintained. I often wonder if what they say about persons can also be applied to cities – you are what you eat. If yes, Kolkata not just eats well but eats it in style too.