MTR 1924, St. Marks Road, Bangalore
Categories
Food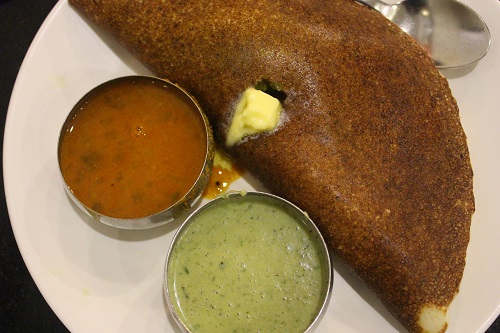 I had a list of some 15 must eats in Bangalore. A curated list as the cultured would say. A list that I had begged, bullied and whatsapped at odd hours to compile. But then, it was good to wander off the list at times, in fact, we did that a lot. This place, MTR 1924, on St Mark's Street, had mixed reviews.
Not a place to sit and chat. We chatted with a friend for close to three hours. Decent food, not as good as the original and all that. The original, near Lalbagh, was closed on Mondays, like most other good restaurants in Bangalore. Anyway, we walked to this place while it unexpectedly and pleasantly drizzled.
If you are that north Indian guy who loves the dosa starched and wants it to shatter like glass at first touch, this is not the place for you. The dosas here the thick and spongy sort that you get in Karnataka. And, we got two of those. The podi had the Axe effect. I am sure I could walk down with that podi all over me and decent members from the other gender would just have hormonal outbursts.
The benne dosa was so dark and handsome. Another of those thick dosas with a hole on it where the butter had melted. Most of us need to understand that just like biryanis, there are different sorts of dosas. Anyway, the akki roti and chow chow bhath and coffees were all good. And, it is a quiet and nice place to sit and chat, at least on weekdays.