Moradabadi Biryani, Nizamuddin
Categories
Food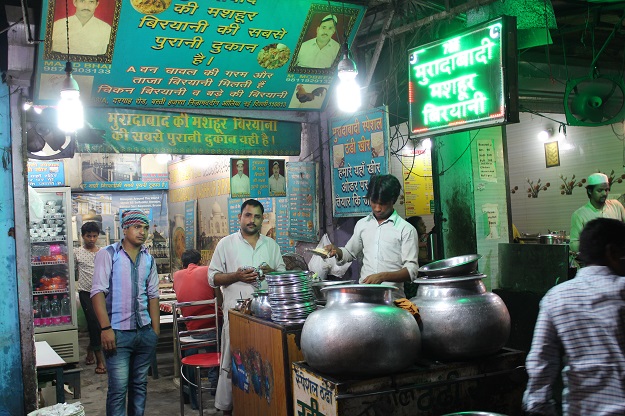 Moradabadi biryani. As someone on twitter said when I posted one of these photos – there are more people selling moradabadi biryani in Delhi than there are people in Moradabad. Now, that is a little exaggerated, but just a little. Suddenly, there are so many of them in Delhi that it seems less like a trend and more like a conspiracy.
Anyway, the distinct markers of a Moradabadi biryani are shah jeera, yellow chilli and lemon. I always had some confusion about saunf but that seems unfounded, or at least, founded in one misinformed vendor. The biryani may or may not have green chillies, quite a few in NCR cook it with the biryani but it is not an intrinsic part of it.
It was a hard to find biryani in older parts of the city. But now you can spot them in abundance. This shop in Nizamuddin claims rather relentlessly that it is the oldest and we tried it. It is not authentic as they claim it to be but is one of the better versions available in the city. There was no yellow chili but shah jeera and lemons were there. Yellow chili makes a lot of difference and lack of it can be a game changer. The biryani is light and mildly spiced but it is not as flavourful as the original one is supposed to be.
The phirni came with a sprinkling of coconut and dry fruits but not close to what you get in Old Delhi. While you are there, try the ittar shop and also the 'other' butter chicken at Kit Kare Kebab Corner. And, don't miss the amazing shammi kebabs at Ghalib Kebab Corner.