Murugan Idli Shop, T. Nagar, Chennai
Categories
Food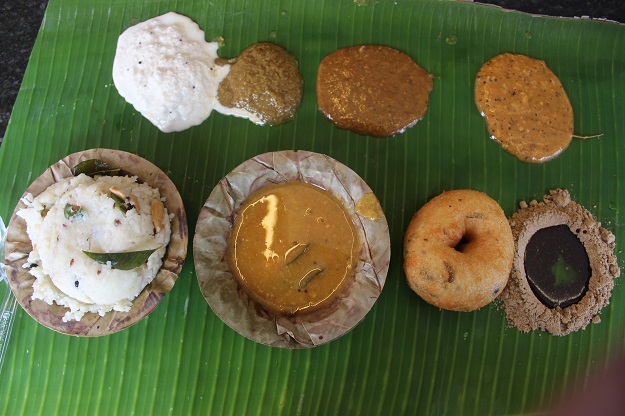 People wake up differently. Some struggle to down a toast and tea, some are hungry enough to eat the world. I wanted to eat the universe. Staying in T.Nagar, Chennai, in a small hotel opposite Grand by GRT, there were a lot of options to choose from. So, we got down, chose the green coconut over the yellow one and marched ahead towards Murugan Idli shop that a friend had recommended. I remain puzzled about the yellow one till date, some say it is from Sri Lanka, but the mystery continues.
Anyway, the friend had recommended Murugun in a spurt of energy and gone back to sleep at the impressive Sudaka. So, we had no idea what to expect. I guess I started grinning once I entered the restaurant, because the service staff were grinning at me. I had seen the tables – neatly laid out banana leaves and piles of food and people licking their elbows which were dipped in ghee. Such was the sight.
We asked for a ghee roast dosa and a Pongal. Before the orders came, they spread a banana leaf and started pouring chutneys – coconut, coriander and mint, tomato and mango. The coriander and mint & the mango chutney were massive surprises. The former being so different from the ones I have eaten that I had to ask the server.
Then, there was the ghee and podi. The server dropped a mound of podi, made a hole and poured ghee until the walls were overcome. I had to ask him to stop and wipe the ghee of the leaf and lick it. The chutney came with a massive complimentary vada. It's big enough to fill folks with small stomachs.
I don't have pictures of the ghee roast dosa, it must have vanished at lightning speed. It was not too thin, it was fragrant, it also smelt of lentil which only the best of the dosas do. The pongal was creamy, not too spicy and smelt mildly of ghee.
Breakfast for two came for around 250 bucks, that's including two filter coffees! The servers were awesome and I came back wondering why does not Delhi have a place like this? Forget how cheap it was, why not a breakfast place that has such food and service? Why in Delhi, unless you want a continental breakfast in a café, you have to stand and eat bread pakodas in an Aggarwal?
Delhi, please eat more breakfast.