Chaat on the beach, Mahabalipuram
Categories
Food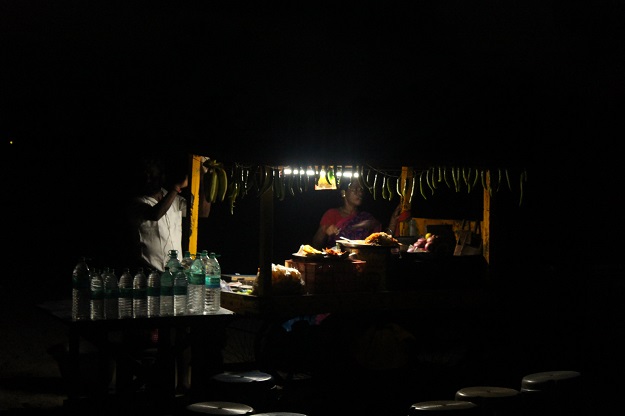 Every part of India has its own chaat. Apart from South India. I had never heard of one, never seen a photo, never seen a chaatwala on the streets, one in Nagpur but he was from UP. So, effectively, no chaats in South India.
Until, one evening in Mahabalipuram. On a pitch dark beach when it was difficult to see one's own hand, we saw a saw a circle of white light in the distance. The light was from a cart that had hanging raw bananas and long chilis. The couple were busy frying the fritters and there was a large pot of chaat simmering in the corner.
Interestingly, the chaat looked like the ones from east. A yellow pea curry with a hill of dry masala forming the ring around it, with a topping of garnish that was carrots, coconuts, onions and coriander, just like the ones in Odisha. The couple were seemingly locals, spoke neither English nor Hindi. I have no idea where they picked the chaat recipe from!
The chaat was tasty, with an unexpected crunch from namkeen that was sprinkled on top as garnish. It was not spicy as the ones in east, nor did it have any imli paani. Overall, a more sober chaat but not lacking in either taste or comfort factor. We also had a few of the chili and banana fritters. Both were quite awesome.
Why did they have the cart on a beach where not many were present after sun down? I don't know, but that evening, they were the only circle of light in a half kilometre radius and it was warm.