Taste of Korea, Le Meridien, Gurgaon
Categories
Food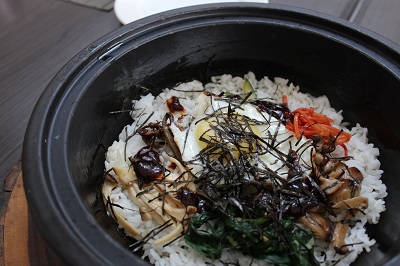 We travel the we way we eat. Some stick to known paths, known sights and some will always prefer the unknown. In both food and travel, we have become a little more experimental. Otherwise, a Korean food fest at a Gurgaon restaurant would have been a loss making idea. And, no one likes to make losses.
This is one event I didn't want to miss. Korean food fest at Latest Recipe at Le Meridien, Gurgaon. I have never had Korean food before, apart from the namesake kimchi that we get at pan Asian restaurants as a chutney. So, this was one that I was really excited about.
The menu is uniquely devided into hot cold, streetfood and desserts. The spread is part buffet and part a la carte. The cold dishes are all on ice at the counter and so are some of the hot items. The menu was quite massive, so I will talk only a few representative items that hopefully will give an idea of the experience.
There was a lot of seafood and pork. The chef said Koreans eat a lot of beef but he had to replace the beef for India. We all know how we have come to this. But this is a food post. So, here are the things that stood out for me – bibimbap, black sesame porridge, uncooked marinated crabs, nabak kimchi, seafood stir fried rice cake and spicy whelk meat.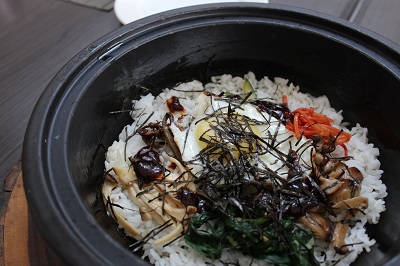 Bibimbap. The most iconic Korean dish on the menu apart from the kimchi. The Korean meal in a bowl is eaten by farmers, served to kings and is ritually eaten on new year's ever to get rid of the leftovers. It usually has beef but the chef had to replace that with lamb given the deification of the animal. Anyways, the one I had had all the other common ingredients: rice, cucumber, zucchini, mushrooms, bellflower roots, spinach, bracken fern stems, and red pepper paste. This is not to be missed. Prepared by a chef from Korea, this could be as authentic as it gets in Gurgaon.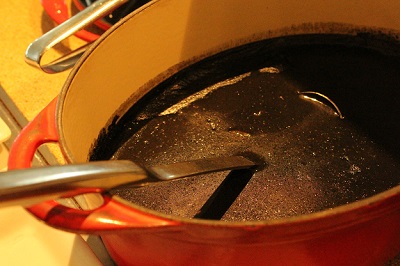 The porridge. Given how it looks and sounds, you would think it would be an acquired taste. It is not. If you love sesame, you will love this. It is slightly sweet, smells and tastes of sesame and is surprisingly mild for how it looks. I would love this both hot as a porridge and cold as a soup.

The marinated crabs. There is a spicy and a soy sauce marinated crab. I tried the spicy one, remember that we are Indians, the rest of the world's spicy can be mild for us. But my first time at eating oozy raw crab was not that unrewarding. I expected the restaurant to have crab crackers but they had none. So, all the best with your forks.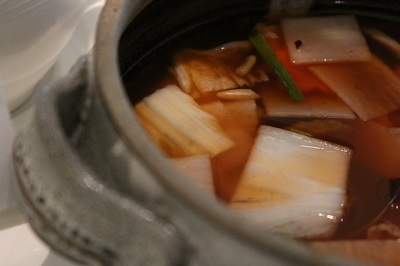 Nabak kimchi. As the chef explained in his earnest though struggling English, there are kimchis and there are water kimchis. They also have a napa cabbage kimchi, both are strong kicking sorts. You taste them and you wonder if this is horse heel on the mouth feel that foreigners get when they try our pickles. But try them to go beyond the sweetish blandish raw ideas that we have about kimchis.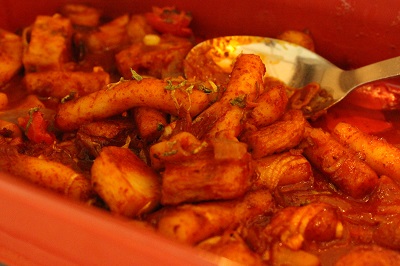 Seafood stir fried rice cake is something that could be a south Indian or an east Indian dish. Round rice cakes cooked in gravy with some seafood tossed in. Try this one just because I asked.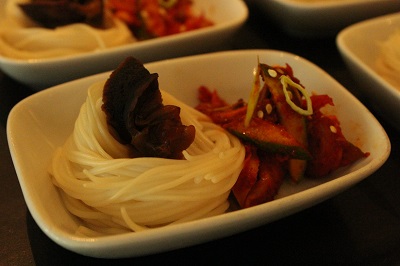 Spicy whelk meat is not spicy at all. Not to us. It come as a platter and you should try to eat all of them together. Okay, eat two in one go and try to shove the third one in and then chew. Whelk is a sea snail that should have been softer. I am not sure if the Koreans overcook it or if it was an error by the restaurant. Because, the meat was extremely chewy.
Chewy is one issue that you may feel about more than just whelk meat. There are kimchi and potato cakes that were left for too long on the counter and had become chewy. The fresh ones were delightful.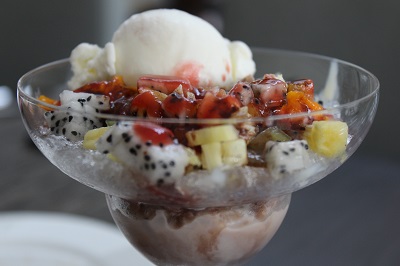 For desserts, I gorged on the sesame and pine nut puffs. I wanted to steal a few but I guess my mother has taught me well. I also had the shaved ice with beans, fruits and ice cream which, as the chef said, is quite a rage in Korea these days. Try it for the beans, I never had beans and ice cream together before.
The fest is on, find your way.