Nai ki tahiri
Categories
Food
A few years back, my agency boss and me got talking about haircuts and salons. He was surprised that I don't have a hairstylist, I don't call in advance. I walk into one of the neighbourhood places, wait for my turn and ask the guy to arrange the receding hairline anyway he wants.
It is not just the self-importance that I don't understand about hairstylists, I also don't belive that a marginally better haircut would be noticed by anyone other than my mother. And, she loves me obsessively, anyway.
I am digressing. The topic at hand is I walked into one of the barber shops today. It felt hot inside. After the blinding sunlight, when my eyes adjusted to the bulb inside, I noticed there was a stove in the corner and the nai was cooking something. He answered smilingly, almost shyly – taadi. I inquired what's taadi, seems he meant tahiri, the pulao from UP. I have had it many times, we make it home.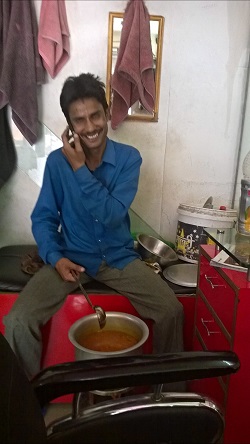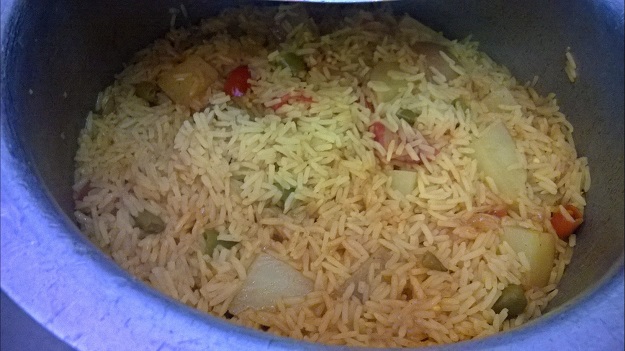 After a small chat, I found out it was aloo ki tahiri. He had learnt it in Dubai after falling on hard times etc. etc. A young bodybuilder afghan walked in the middle of the conversation, looked at the pot, asked what I had a few minutes before. He made a disappointing face after learning that it was just rice. And, that had the effect of an assault on the nai.
Nai: Hindustani chawal hai, ek baar khayega afghan bhul jayega
Afghan: mujhe pasand nahin hai
Nai: isme namak, mirch, masala, har cheez ka swaad hai, tumahre chawal jaisa nahin hai.
The afghan looked into the mirror, took a deep breath in, his tight body became a little more taut and said "afghan chawal khayega to body banaeya" and walked out.
Anyway, we got talking about the cultures, people and food habits. He narrated a story about his grandfather taking the train to Ajmer. He showed me with his hands how we Indians cut our meat small so that it cooks perfectly and falls apart from the touch of the tongue.
His grandfather got a seat next to some habshis (Africans). Grandpa took his perfectly cooked meat out, the Africans pulled a bag of raw meat. Grandpa looked at their spread and move away to eat in peace. The habshis took offence and taunted how Indians are bimaru (sickness ridden) and eat only masoor ki daal. Grandpa stared them in the eye and retorted that if his village people saw them eating they will mistake them for dogs, pulling at a piece of meat collectively.
After the last sentence of the story, the nai let out a laughter that I could record and set as a ringtone. By that time, the assistant had given a haircut which will not upset my life in any manner.