Biryani or Pulao?
Categories
Food
This is not a biryani vs. pulao debate. We will have that debate when we meet over some coffee and hockey sticks. Anyway, it just seems that statistically on more occasions I love the pulao over the biryani. The simple chana dal Qabuli from UP is cooked without meat and is one of my most favourite pulaos.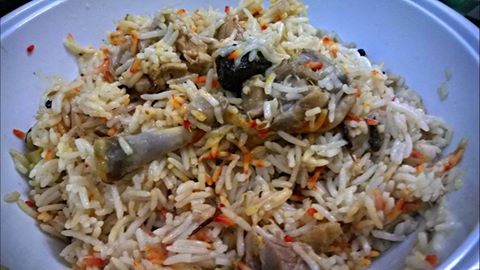 I had this other pulao in Old Delhi last night. At a home, not in a restaurant. The chicken was cooked separately in yakhni which had whole spices, onions, ginger, garlic and a pouch of saunf. The spices are strained out after a while. Then in a separate cookware, whole spices are sputtered in oil, with onions and garlic. The chicken and yakhni is added and last comes the rice that is cooked along with the meat.
There are no powdered spices in it. So, the rice is light and flavourful at the same time. The chicken falls from the bone, has the texture of boiled chicken but the taste of a mildly curried one. This just climbed the charts in my all time favourites.