Jashn-e-Rekhta – A celebration of Urdu in Delhi
Categories
Delhi
Do din se shehar ka yeh haal hai Ki jaise Dilli ke chacha Ki shaadi ho…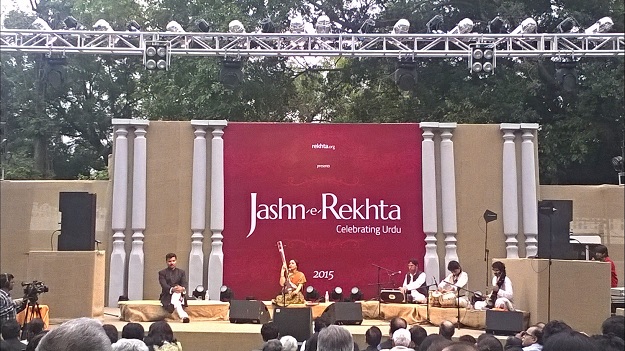 Delhi's finest turned up in their finest. Beautiful overdressed women, painfully and appropriately dressed men, lots of running around (from the lawns to the auditorium to the hall), everyone smiling at everyone else and enough euphoria in the air to intoxicate a mob. India International Center felt like marriage mandap.
Sanjiv Saraf, the founder of Rekhta, walked around like the father of the bride. Shoulders drooping, head down, a walking postcard that could be titled 'humble'. For someone who had pulled an event of such magnitude and magnificence, the man looked far too aloof and unassuming.
For those who don't know, rekhta was the name of the colloquial language before it came to be known as Urdu. The event was two days of plays, academic sessions, poetry, shayyari, mushaira, ghazal, qawaali, dastangoi, nukkad natak and what not! The organizers were surprised by the number and sort of people that turned up – young, old, poets, intellectuals, academics, tv presenters, university students, corporates, babus, minor celebrities. The pull of Urdu is still strong.
There was this young woman who had turned up in an impeccably worn saree. Gum chewing, high heels, curled hair, bold in her presence and walked with a spring in her steps. I wanted to throw a book of stereotypes at her. But she could become the mascot for the event where many stereotypes were broken and things happened that were not in keeping with the prevailing atmosphere. A Pakistani poet was cheered in the heart of Delhi, the crowd erupted every time the narrators of dastangoi said anything that seemed like a jibe directed at the current regime.
It was an event where the intellectual and the sentimental danced to a duet of cultural and spiritual. During times when terms such as secular, intellectual, liberal have become abuses, Jashn-e-rekhta was a little candle that threatens darkness.