Neung Roi – Radisson Blu Plaza, Mahipalpur, Delhi
Categories
Food
Writing about food, despite all the fun, is a very stressful task. What if your taste buds are born askew, what if you sound biased or uninitiated, what if your reader arrives on the restaurant's bad day, what if your writing is uninteresting, what about the typos, what if you lack the palate or the knowledge, what if you have no influence, what if you really gain influence and can't do justice….
Most days are about one or the other above. Then there are days when you relish being a foodie. This was was one such day. The food was awesome, the company sensational and the conversation slowly degenerated to kindergartenish depths.
At a masterclass and lunch organized by a dear friend and well known food writer Ruchira Hoon Philip, we first learnt about cooking methods from Thai Chef Yenjai Suthiwaja. But I was not there for the masterclass. So, I quickly went to sleep and woke up in time for the lunch. The dishes that were taught were now served on the table and that is only when I want to see my food.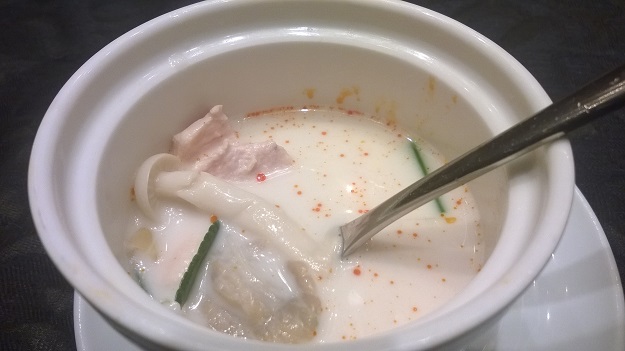 Among all the chatter among the bloggers, came the bowls of soup – Tom Kha Gai. A room full of seasoned foodies (apart from me, of course) went silent for a few minutes. We will talk about the soups, the sauces, the pomelo salads, the roasted coconut ice creams later, but this post is dedicated to those couple of minutes of silence at Neung Roi, Radisson Delhi.  The coconut milk was simple and full of fragrances and flavours at the same time.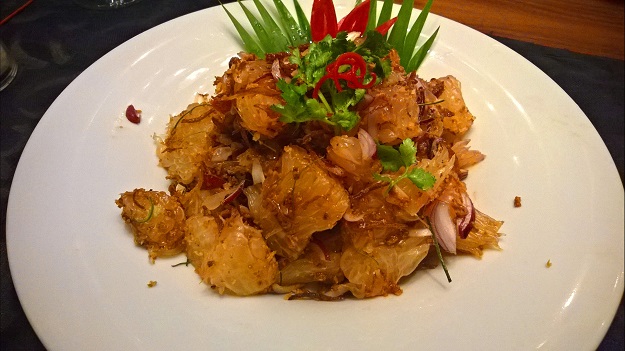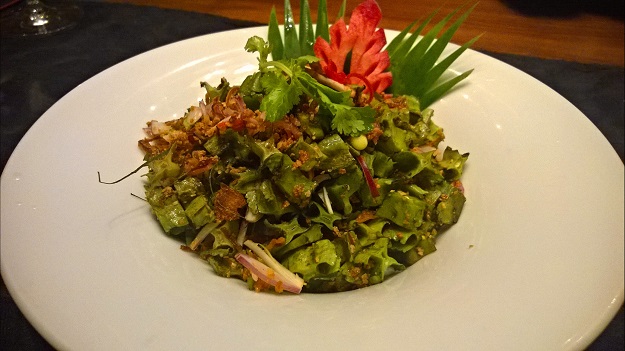 What followed were the Pomelo salad and Yam Tuea Plu or the wingbean salad. The pomelo salad was one of the highpoints of the whole meal. Sweet, sour, chili and onions in every bite…go take a guess how that would feel. The wing bean salad was green, crunchy and awesome but if you have to order one, go for the pomelo one.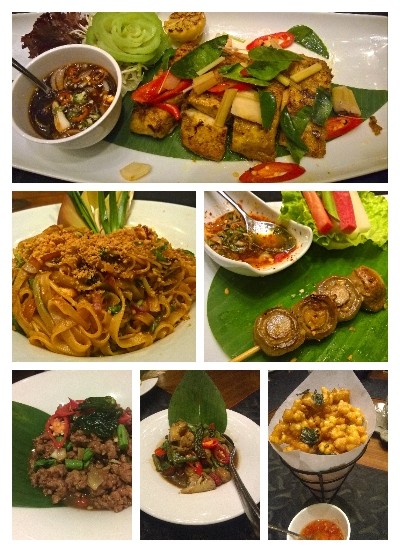 For main course, we had stir fried minced chicken with chili and hot basil (Gai Kaprow) and a fantastic grilled sea bass (Pla Yang Kamin) and much more. But in an elaborate meal like this, it is important to point out the ones that stand out. So, for main course, go for the fish.
For desserts, we had something that was stunning both visually and taste-wise. Tub Tim Krob was water chestnut in coconut jasmine syrup. The syrup had coconut milk, strawberry crush and jasmine essence – all of which came together to create something delicate yet memorable. The crunch of the chestnut was a refreshing contrast to the sweet jus.
I am sure if the fantastic time that we had has unduly biased me in favour of Neung Roi but I will stick my neck out and say this is one of the places to be for Thai food in Delhi.