Cafe Torque – Vasant Vihar
Categories
Food
Café Torque is a biker cafe, one of the few cafes in Delhi that actually claim the tag. So what is a biker café? Why should a non-biker even go there?
Like many other food concepts, biker cafes are imported from the west. In the UK, these were open all day and night, the young ones hung around coffee and music and tinkered with their bikes. Thus the concept of café racer emerged. On the other side of the Atlantic, biker cafes were not just stops along the highway but also became symbols of a sub-culture. They served a large, on-the-move, yet, homogenous group of riders. Apart from the feeling of belonging, the cafes provided reasonably priced food, rock n roll music and at times, riding paraphernalia.
Outside the West, the concept has become a theme. Same grunge theme and music, but everything else is only a tribute to the originals.why? Because, we don't have biker population large enough to sustain such cafes solely on biker customers. Most of the biker cafes, these days, are expensive, multi-cuisine places focused on theme and branding.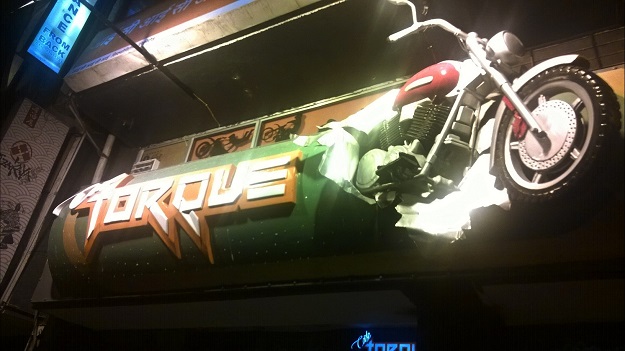 Café Torque comes from true biker café gene pool. The property is managed by the same dynamic Arun Chanda – Satyajit Mukherjee duo that manages Porterhaus. So if there is anyone in the capital who can be called a biker café specialist, that's them. As per the café, it has two floors of seating, live music on most nights and a pretty extensive menu. The last can't always be a good thing, but the limited items we tried, they didn't seem ill equipped.
The café interiors are all motor-inspired. Chains, sprockets, generic auto parts, even petrol pump nozzles as door handles and taps in the bathroom. I was specially directed to the Terminator on the first floor that you can miss in the dark. The lighting was not the best for photography but I hope you get the idea.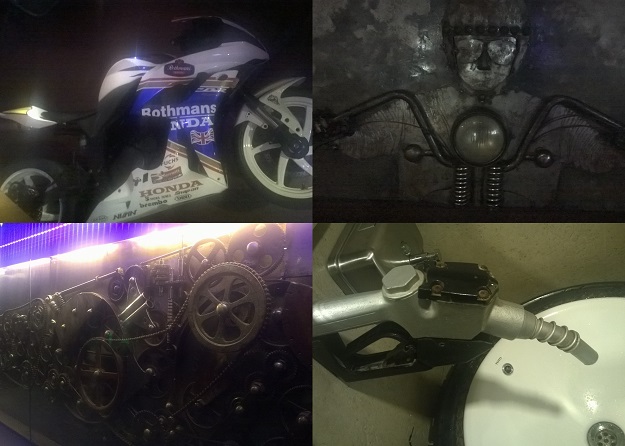 As per food, I made a small mistake. I have a pet practice. When I am invited for review, I have a round of light snacks at home. Hunger can make everything taste good and you should not be too hungry if you want to taste. It had served me well until last night. I could not try much at Café Torque. But, let's talk about what I did.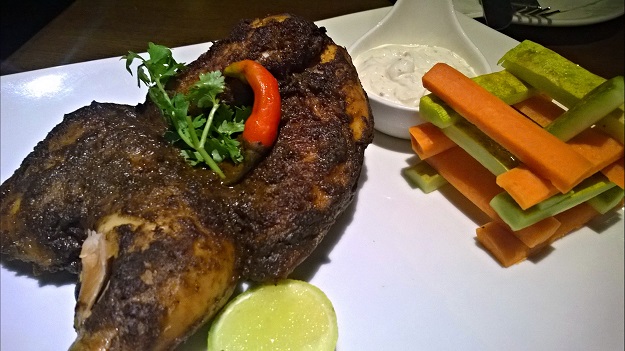 First up, we ordered a Turkish Roast Chicken that a lot other foodies were fussing about. Good for two and comes at Rs.345. Glad to see a place whose portions are not fit only for birds. I am not a huge meat meater but I could see why meat eaters love it. It was a huge chunk of chicken, good for two, wrapped outside in spices but quite kosher chicken inside. So, it can please the spice and plain chicken lover equally. The plating was neat and I loved the stack of salad in the corner.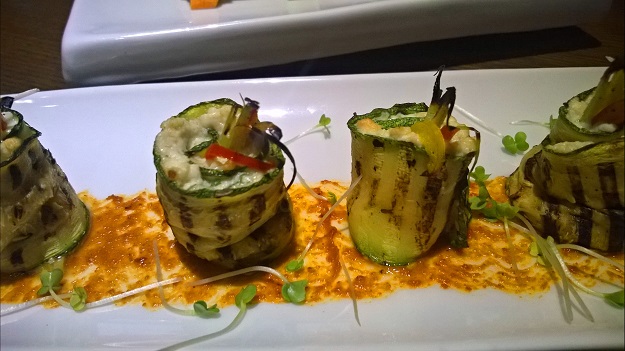 The second item we tried were the Zucchini rolls. This was the second time in recent ime that I had run into an interesting rendion of Zucchini, the first one were the fries at Diggin. These rolls were stuffed with trio of peppers and cheese. Very light and flavourful, one could go on popping them for a very long time.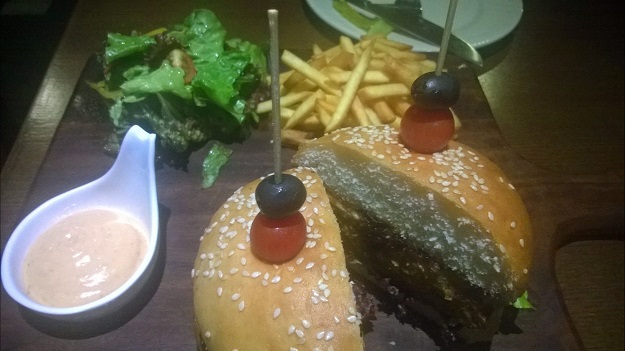 The last item we tried was the Ole Mexicana burger. The only veggie burger on the menu. Yes, sometimes, I do that. The burger was sizable and the patty was a bold one -potato, corn and bean combined with chipotle sauce, cheddar, jalapenos and olives. It had a very wholesome bite to it and wasn't the bland pile that meat eaters dread.
Apart from the food, I will be back for the live music. Complicated easy was playing the night was there but I will be interested to see their folk nights too. I didn't have enough to find something wanting in the food and does make the review look all positive. But I promise to test whole new items on my next visit.