Rajon Ki Baoli, Mehrauli Archaeological Park
Categories
Delhi
Don't look out of the window and think what a mad man will go visiting a park in this weather. We made the trip months back, I am just getting to write about it now. There are quite a few things that make Mehrauli one of the best tourist spots in Delhi. It has the most magnificent and one of the oldest structures in close proximity and given that it is not on every tourist's list yet, it is still possible to have a leisurely, hopefully lonely, walk around the complex.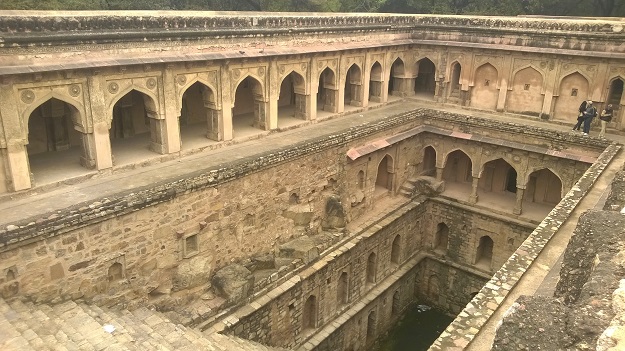 I have previously written about the Gandhak Ki Baoli, though we covered all of them the same day, I have not mustered the courage to write about them all, yet. Anyway, Rajon means masons, not kings. So, the baoli is named after the masons who were working here. On what? There is a mosque next to the baoli. But the baoli supersedes the mosque both in scale and grandeur. So, it is hard to believe that some king allowed the masons to keep working on this baoli in their own free time.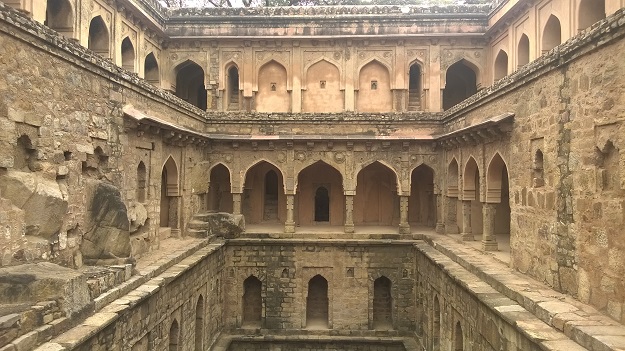 In fact, compared to any other baoli in Delhi, this is bigger and many times richer. A dedication to masons? Hardly. Self-funded part time passion project by the masons? In 16th century, even such thoughts must have been impossible to conceive. So, why is it called Rajon Ki Baoli? No idea. Every source seems to tell the same story. I will just keep searching.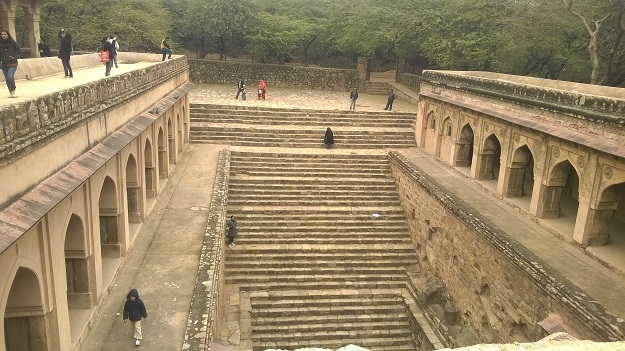 In the mean time, the confusion should not stop you from visiting the place. Built in 1516 by Daulat Khan during the times of Sikander Lodi, the baoli is three storeys deep with an additional layer at ground level and you can see the enormity of it only when you have walked really close. Like all baolis, there is a well in the back and pool in the front. The arched halls on all three sides are shaded, cool and bear calligraphic inscriptions from the Quran. Some say Allah, others I could not read.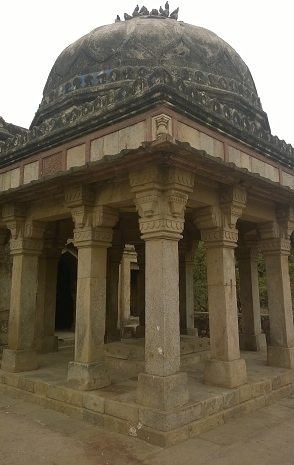 You can climb on top of the roof and realise how massive the whole structure is. You can hop over to the adjacent mosque from the roof. The mosque is small and beautiful. The Quranic inscriptions apart, there are rings of blue tiles that must have been exquisite when they were intact. Now, you can see a glimpe of them here and there and have to imagine the rest. On the walls the mosque, you will see a lot of scribbles in Persian that would have been considered vulgar graffiti if they were not so old.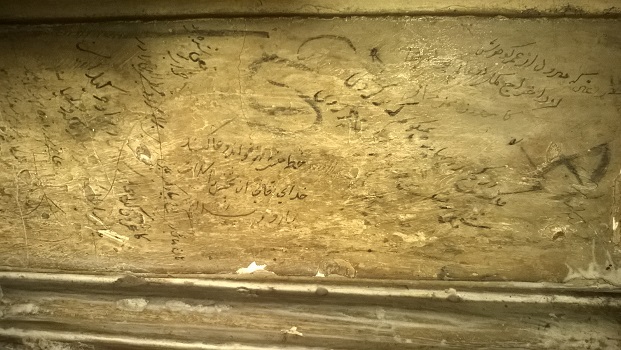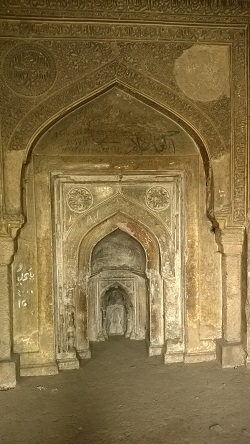 This was one of the last walks of the season before the onslaught of summer. I am more than thankful to Sohail Saheb of Delhi Heritage Walks without whom I may never have seen these corners of Delhi or would have failed to understand them, anyway.