Woodbox Café, Satyaniketan
Categories
Food
When I recollect my time in the Delhi University a decade back, there wasn't much in terms of food. Days on which dal in the hostel was a little too runny, we would pile up on a rickshaw and head out to Majnu Ka Tila (Tee Dee or Wongdhen House), Vijay Nagar (Zee's Chicken) or Kamla Nagar (Momo's Point). Hudson Lines didn't have much in terms of food then, just parathas.
These days, both the north and south campuses are choc a bloc with fun places. Woodhouse Café and Big Yellow Door are present at both the campuses and have been making a lot of noise. I really wanted to try them out. We landed at Satyaniketan a few nights back and was surprised to see it all transformed. I have not been there during last couple of years and it all seems to have changed. The roll guys are still there, the service lane has become a restaurant street of sorts.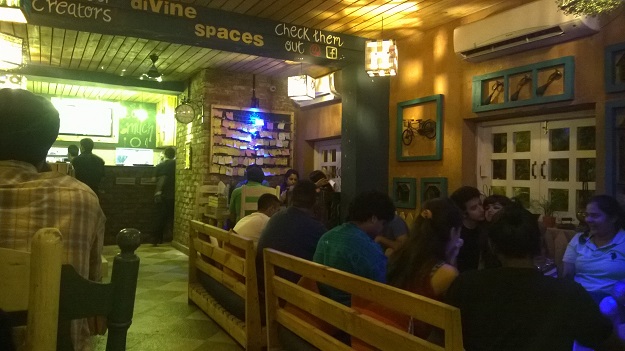 We didn't find a spot in Big Yellow Door and went to Woodbox Café instead. There was a lively crowd, smiling waiters and junk on the walls. The interiors awe you the moment you step inside, it took us a few minutes to register the details in the mood lighting. There are all sorts of wooden panels on the walls – one with a broken cassette, one with a miniature bicycle, one with spoons and a whole wall with all sorts of junk. We were curious if the café was owned by an artist or did they hire one.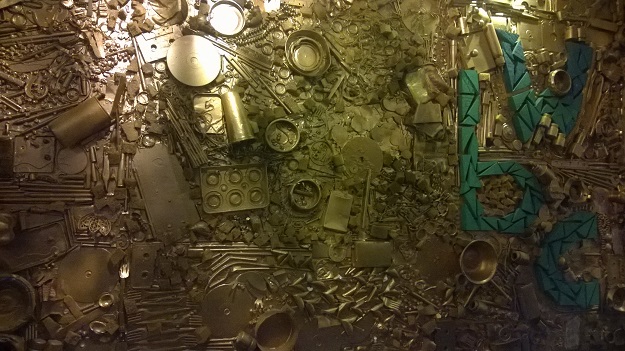 It seems the café is owned by interior designers whose cards you can get from the waiters. Everything is wooden and boxy, the condiment stand, the box that the bill comes in, the TV panel, the low height sofas. It pleasantly stops short of being too much.
The menu has a smiley on the right side corner – student prices. We didn't expect much and I wondered if enthusiastic students had pushed up the Zomato rankings. But we were surprised by the first thing on the table – a virgin mohito that's served in repurposed beer bottles. And, the drink was just right in terms of mint and lemon.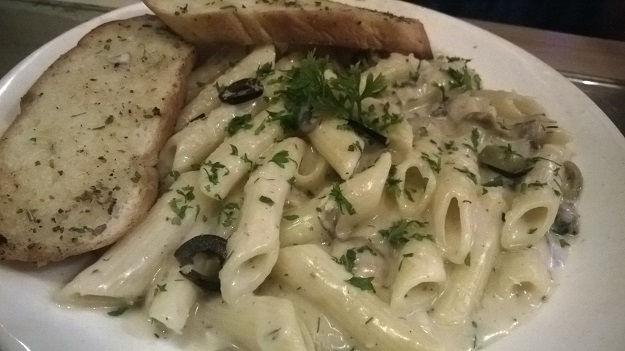 We had ordered a Farm Veggies Pizza, a Penne Milano and now that I am writing, I realise we forgot to order a dessert. The pasta came first. It seemed a little runny at first, but by the time we finished, the breads were put to use and the plates were wiped clean. There were little slivers of mushroom and a sprinkling of thyme – clean and simple.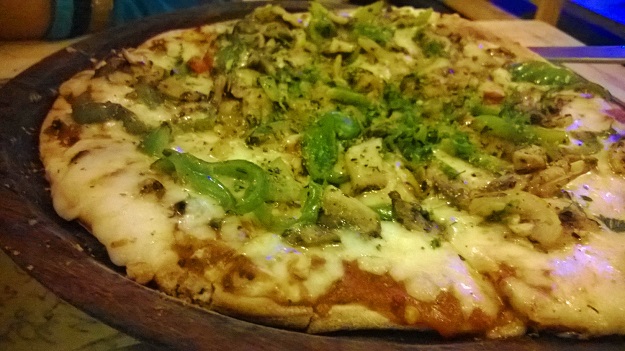 The pizza looked a little disappointing. There was an overdose of capsicum and it seemed to have been sprinkled with some spices, not herbs. But once I picked up a slice, I noticed how thin the crust was. There wasn't a cheese bath like the ones from Pizza Hut and Domino's have. I had gone ga ga about the crust from Amici in Defence Colony. This was as good to say the least.It could have done with a lot less of the capsicum, though.
I tried taking a few photos, but the restaurant was crowded. I avoid talking to the managers and owners as much as I can, so I just slipped away. But will be back for the amazingly cheap and good food.