Carnatic Cafe, New Friends colony
Categories
Food
I am the destroyer of South Indian food. Have written about quite a few of them: Jantar Mantar guy, Naivyedyam, Sarvana Bhavan, Tamilnadu house canteen, Kausstubh and may be a few more. I have been reading about the Carnatic Cafe for a long time but we end up in Naivedyam every time.
This Sunday afternoon, we decided to go ahead and try the place out. The reviewers were promising the moon, so it's not as if we were taking a risk. As always, we went with friends so that I could order more stuff, take more food photos and split the bill. I hope my friends don't read the blog as religiously as they say they do.
Anyways, we reached there at forty degrees. Inside is dimly lit, cool with hanging corn husks and an open kitchen. I was not bold enough to take a photo and I never have the guts to talk to the owners. This is what you see when you enter.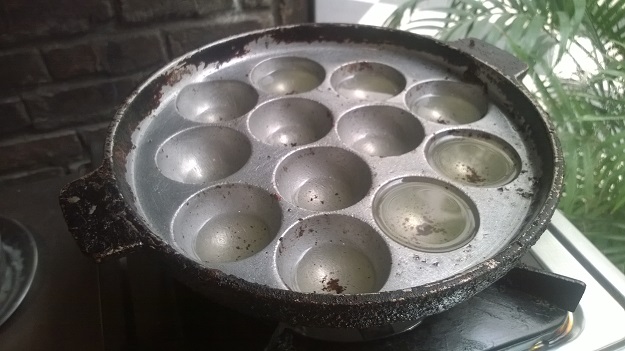 We quickly ordered a malleswaram dosa and a plate of puddu. The dosa is the most famous one and rightly so. I know how difficult it is for masala ingesting north Indians to come across one that does not have mashed potatoes in its belly. This one is a thickish dosa with a red spicy garlicky paste inside. Soft, spicy and very fragrant. If you liked this, you will also love the garlic dosa at Kausstubh which is equally delightful.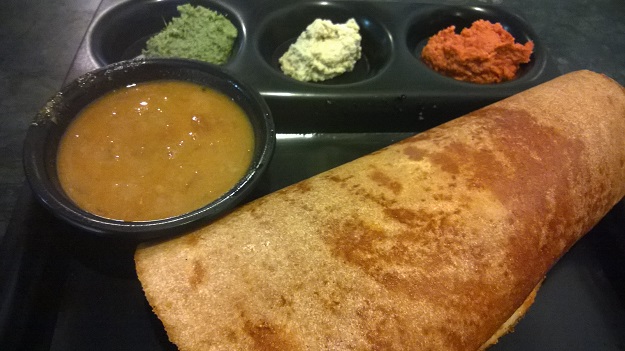 Next came the puddu. They were paniyanams or Unniappam. They were soft and delicious. We had cheese filled ones at Kausstubh and they were a lot less oily too. Worth a try, nevertheless.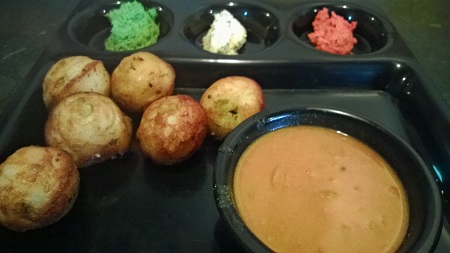 Next came the uttapam and we had also ordered a rawa coconut dosa. Both were good. No need to qualify that statement. They were good. The sambar was a mild, have by bucketful kind. I love the spicier, tangy, kick in your upper mouth kind. Good food, good service. We also wanted curd rice that they didn't have.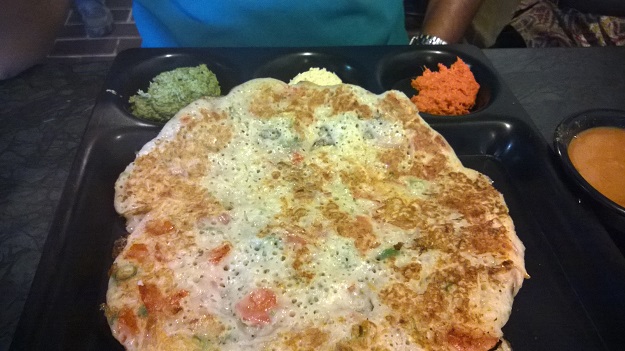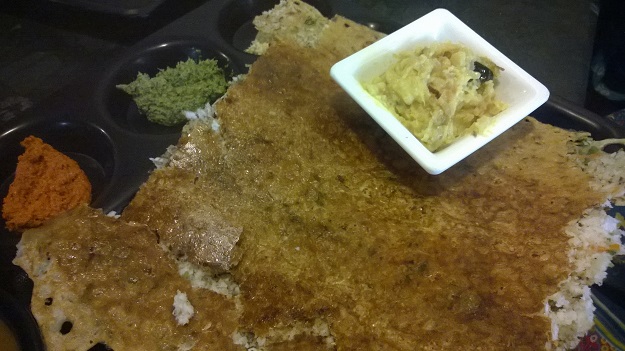 I wanted to take a few photos of the small but warmly laid out restaurant. But a young guy who looked like the owner looked at me angrily and I stopped.
Will I go there again? Yes.
Would I rant about anything? No.
Is this my new most favourite south Indian dig? No. I love Naivedyam for moderately extensive menu, great food and the ambiance. I would love Kausstubh when I want something really authentic.
I forgot about the buttermilk. It was good here, bolder than the normal bland stuff you get. But nothing close to the powerful, medicinal and invigorating concoction that you get at Kausstubh.
So, I am looking forward to a friendship with Carnatic cafe, flirt with Kausstubh and remain in loyal matrimony with Naivedyam.