Roots – Cafe in The Park, Sector 29, Gurgaon
Categories
Food
Gurgaon is another planet. A very remote and rough planet. It used to be inhabited by a species called jats before its discovery. I don't venture there. I avoid friends who live there. I block recruiters who call from there. I even refused to pick up my parents from the airport as it is halfway down on the road to Gurgaon.
But I happily drove down for food. I read reviews, I did my homework and was supremely excited. Finally, the planet has something good to offer, I thought. Roots – Café in the Park in Sector 29, Gurgaon. It was from the guys who set up Café Lota, of which I am an ardent fan. It's nestled inside a renewable energy park. It had all the crazy signals to set my alarm off and we went one afternoon.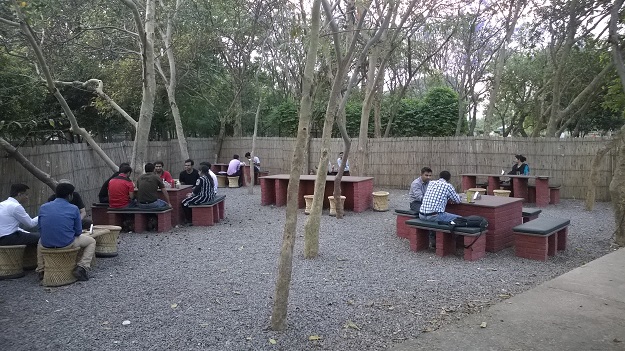 The place is a delight to look at. A large hut or shack inside of a very green park. Large humidifiers, wooden tables and comfortable sofas, hanging lights and an outdoor seating that resembled an arty café or a college canteen, depending on where you studied.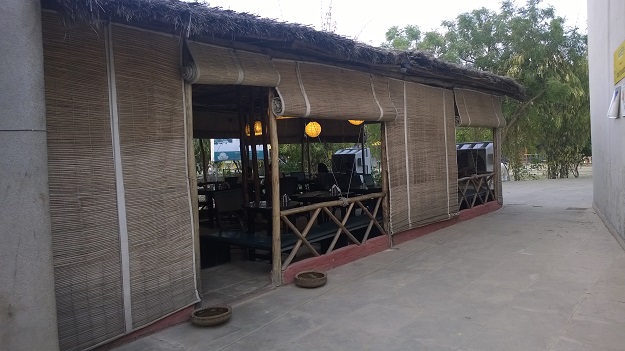 We sat inside. Felt tempted. Sat outside. A couple left. Changed tables. No matter where you sit, you will think the other guy is getting more shade, air, better view and will wait for him to leave. We settled down, though. People raved about the place but not many had great things to say about the food. So, we waited after ordering a Nepali platter, a Cheesy Baked Vegetables and a French press coffee.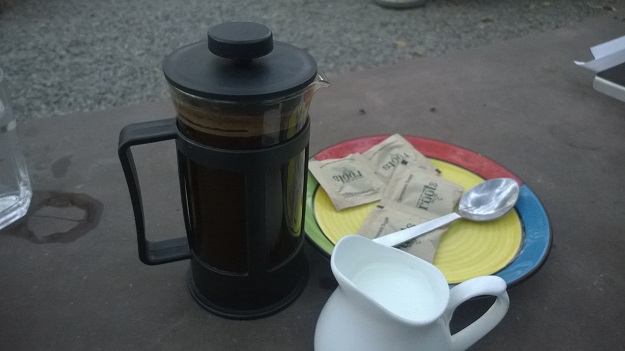 The menu was nothing compared to Café Lota and we were already missing the single estate coffees they served.   First to come was the Coffee. We didn't know how that worked but went ahead anyway. It was good, regular ground coffee. Nothing to lose our heads about, but nothing to keep you from ordering if you are there.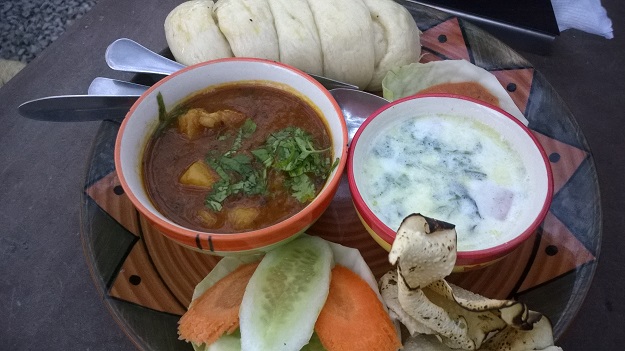 Next, the Nepali platter. The menu had said tingmo, traditional Nepali curry, aloo ki sabzi and salad. It was all there. Also a side of salad and some very good chutney served on a cabbage leaf.  It was good but gave rise to an internal debate.
Internal guy 1: There is nothing nepali about this.
Internal guy 2: This white curry in the small bowl is
Internal guy 1: Ah…but the platter is nepali, right?
Internal guy 2: So, there is the tingmo
Internal guy 1: Isn't that Tibetan? The food is so Indian…
Internal guy 2: Nepal is India, ain't it?
Internal guy 1: You should have reminded me right at the beginning.
Then came the Cheesy Baked Vegetables. The menu read served with soup and garlic bread. Wait a minute..that's not garlic bread. And, where is the rest of it. The baked vegetables looked good until we looked closer. The cauliflower had gone bad and no one had cared to remove the black patches from the top. They just baked the rotting vegetable. It was not an oversight, something was clearly wrong in the kitchen.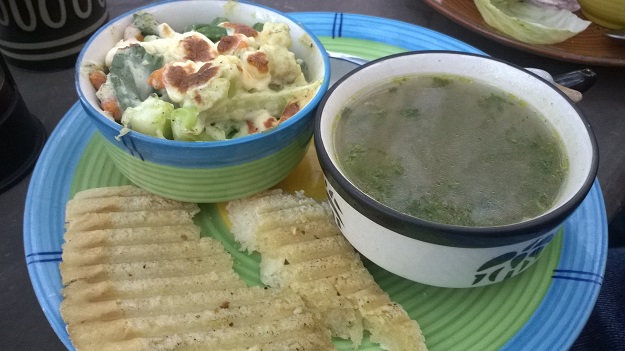 I must mention the birds. Inbetween bites, you must move a feet or two. The tables are directly under the trees and in the afternoon, while you are ingesting yours, they have digested theirs. They tried to drop a few garnishing on the plate but failed. This one, which came the closest, landed on the menu. Don't crib about the pic, I have posted a small one so you don't have to get into the details.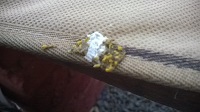 Mildly unhappy, we wanted to fix the experience and ordered a pizza. It does not quite go with the Roots theme, but we will need to remain profitable. Who are we to complain so long as the food is good. And, it wasn't. The pizza was proof that they shared their kitchen with Niruala's. Priced at two hundred bucks, it was the runny cheese, home made Punjabi pizza that you get at neighbourhood shops. They had no right to serve that. We wished that they would bring some of the café Lota experience here.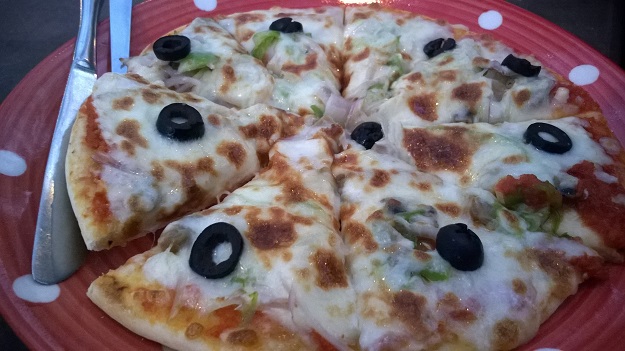 But the park was good, in case, you had to wait. They have lovely ambiance, the right set up, the right pedigree and great opportunity. It will be sad if all this can't become something bigger, if all this became a sad excuse for the food.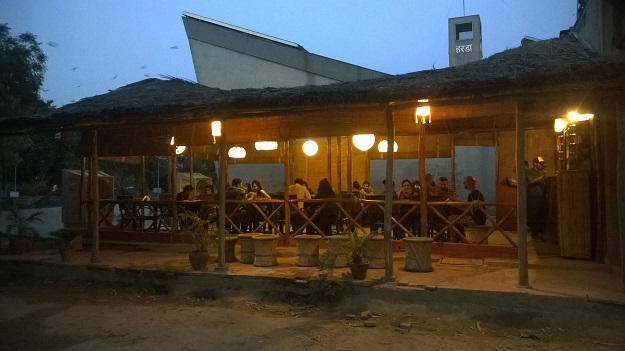 In case you are there, you can sit here and wait or find another place to eat.