Bayt al Arab, Lajpat Nagar – Another run in with authentic food
Categories
Food
B.S: The apology and the blame for the quality of photos is at the end of the post.
What general elections are to the politicos, authentic food is to the foodies. You have to face your toughest test and earn your credibility all over again. I wrote about our experiments with Afghani food at Afghan Darbar Restaurant in Lajpat Nagar. There are many other Middle Eastern restaurants around, Iraqi, Lebanese and now, an authentic Arab restaurant.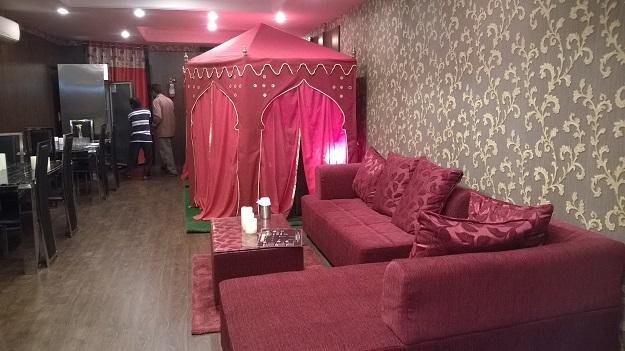 We were there the day after the restaurant opened. What had got our attention were the tents inside the restaurant, that we could see from outside. The doorman greets you with a saalam-e-walayqum. The server had a full beard and didn't know a word of Hindi or English. Thankfully, the owner, also with a full beard and a fancy headgear, knew both. We went through the menu, nothing made sense at all, we needed a lot of help and a lot of explanation.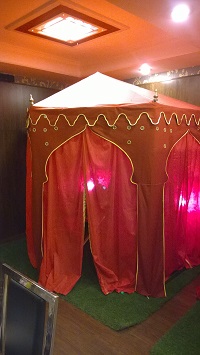 There are enough seats in the restaurant – smaller tables, bigger sofas and, of course, the tents. We chose the tents, of course. Red tents with red lamps inside, perfectly thematic and a disaster for photography.
First the food. We had a friend from Assam with us. One who knew a little about Arabic food and was also tired of North Indian food. What came fifteen minutes later is a whole roasted chicken, a sheekh kebab and breads that was a mix of tandoori roti and sheermal.
The main dish was a Rotisserie chicken. A whole bird roasted as it were, no salt, no spices, may be a little butter to keep the skin from burning, but nothing else. It was served with fresh cut capsicum and tomatoes. We had ordered a Dajaj Mashawi from the menu, we knew it was going to be a whole roasted chicken. But we were not anticipating something so bland.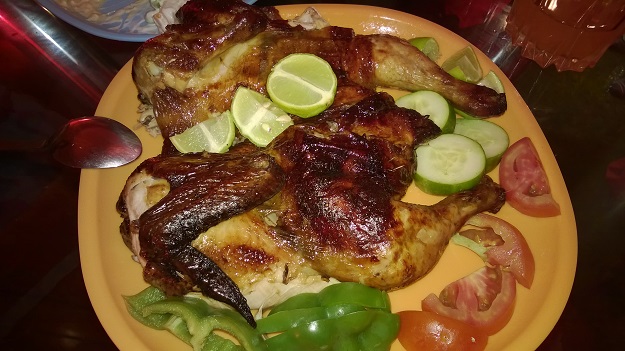 Last time I used the word bland a hundred times in a post was when i wrote about Afghani food in Afghan Darbar Restaurant. I knew the whole tandoor trail theory; the food is spiciest in Delhi and becomes blander as you move west towards Iraq and Iran. On the other hand, food becomes all the more spicy when you move east towards east Asia until you hit Japan and start again. So, bland food was expected.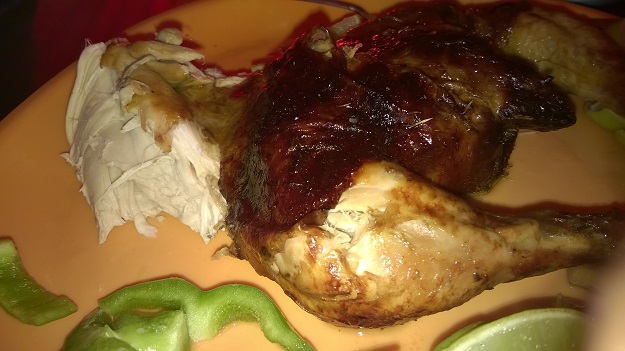 The chicken looked and tasted as if I were in a jungle and it had come straight out of a wildfire. Thousands of years of culinary evolution had not touched it. Our friend loved it. Jumped at it. Danced with it and ravaged it. I sat like a monk at a ritual – silent and unmoving. He sang songs about the purity of the taste and how he was going to marry the cook. I squeezed the lemons, added ground pepper and prayed for some gravy. There was none.
Then there was the Tikka Dajaj. Dajaj means chicken. The tikkas came out from the same school of cooking that the mother bird came from. Just that these ones came in smaller pieces. They were served with halved and roasted tomatoes and plain sliced capsicums. It was chicken, charcoal and taste of carbon in your mouth. Heaven for some. I wanted to hug daal, kiss chawal and sleep with raw, whole spices. We had also ordered a combo of starters that had pasta, hummus and a few other nibbles. We will talk about them some other year.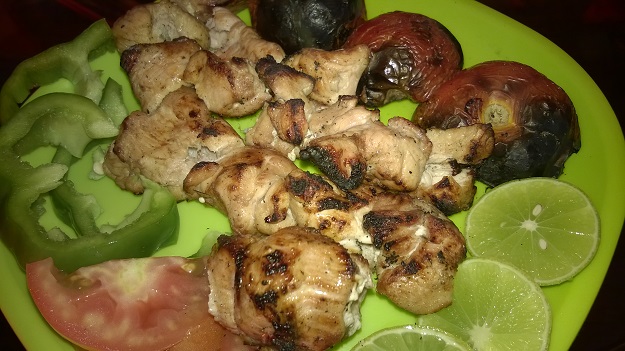 In an otherwise ecstatic evening, the only disaster was my Nokia Lumia 820. Each and every photo on this blog is taken with that, yes, a phone camera. And, it has been a good friend. Just this night, it gave up. The red tent and the red lamp inside make the photos look like they have come out of a Ramsay brothers movie.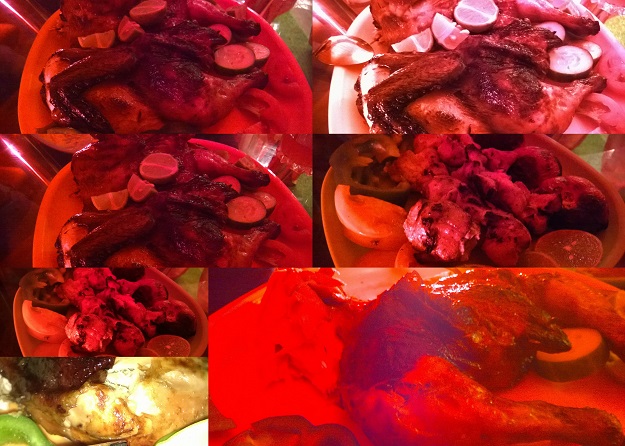 You should go there for the owner, superman t-shirt with a caveman headgear. But sounds passionate about food. And, that is all that counts.