Afghan Darbar Restaurant, Lajpat Nagar 2
Categories
Food
It had only been an hour since we discovered that our house had been burgled. A good friend had come over to help us. It was a Monday in Lajpat Nagar, the off day. We wandered around, looking to buy locks to replace the ones that the thieves had cut through. The market was closed but the restaurants were open. A row of Iraqi and Afghan restaurants had opened to cater to the growing middle eastern population in the area.
We didn't find any locks, but my friend wanted to check out the restaurants. It wasn't the most opportune day, so we went the next day. Of all in a row, we chose Afghan Darbar Restaurant, knowing fully well that it is only the beginning. The restaurant is small, with chairs in the front and full double sized bed in the back. It wasn't anything like the cots that you see at dhabas, it was a proper bed with mattresses and bedsheets. Obviously, we took the bed.
We were all famished and some of us tend to laugh controllably while hungry. So, we quickly ordered a lot of food as we debated whether Afghan food is more or less spicy than north Indian food.We had ordered a Borani Banjan, a Mantu, Mutton Qorma, Kadhai mutton and breads.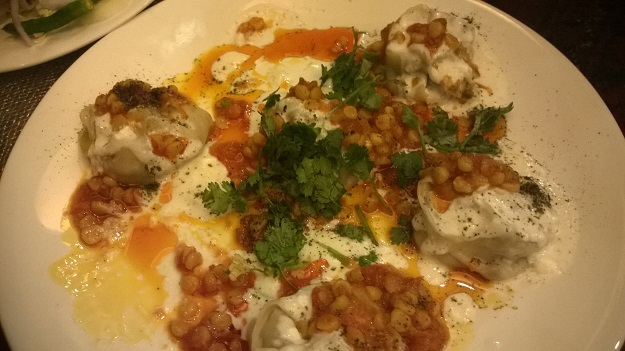 First, the Mantu. These were momos with mutton filling – steamed dumplings that were topped with yogurt, mint and what seemed like boiled chana dal. The first thing that comes to mind is bland. Neither the filling nor the toppings were spiced. I still liked it as the combination was very different from any other I had before. And, it was refreshing, a rare term to be used for a meat dish.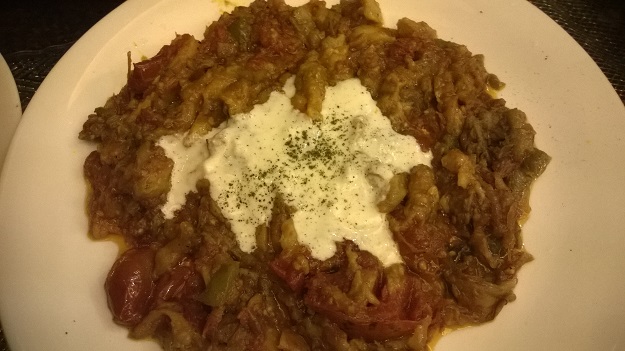 Now, the Borani Banjan. It's an eggplant dish with mashed eggplants and tomatoes, topped with garlic sour cream sauce and topped with mint. Again, it was bordering on being bland and I liked it. It was like a baingan bharta, but nothing close to the spicy version we are used to in North India. It was a good side dish but the meal needed some punch and it needed it urgently.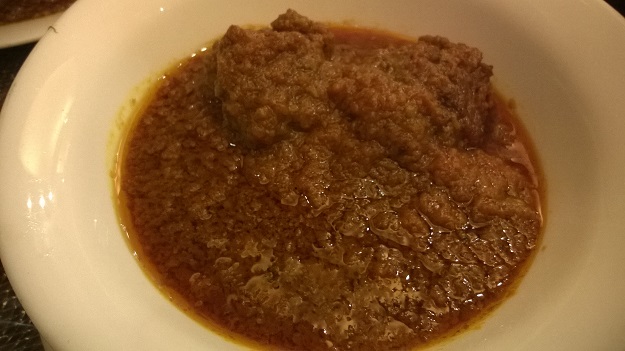 And, along came mutton qorma. The dish, again was very different from the way it is cooked here. There were a lot less spices. In fact, the version that you get in Old Delhi is loaded with whole spices. Though the gravy looked the same with a layer of oil on top, it was bland in comparison. I should stop using that word to describe every dish, but I challenge you to go, sample the dishes and find another a more appropriate word.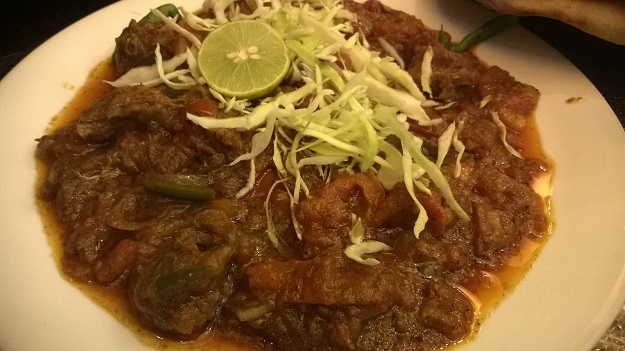 Then came the Kadhai Mutton. Going by the Kadhai prefix, you will expect something wholesome, spicy, rich. What came is what you can see below. It was ..hmmm…checking thesaurus…head scratching… bland. It had tomatoes and capsicum as in any north Indian kadhai dish, but there was nothing else. It's amazing to see how mutton can be cooked so plainly.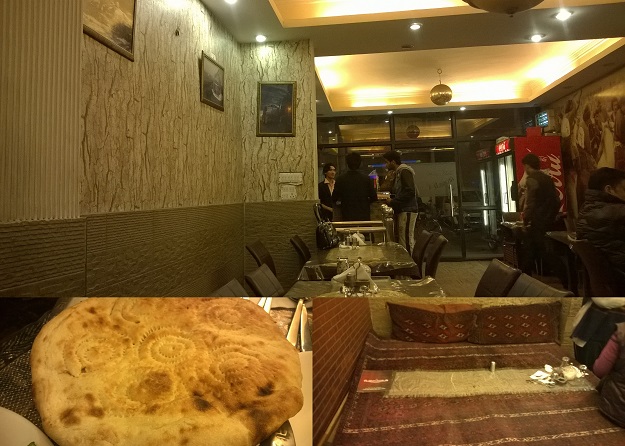 None of the dishes were bad, it's just that that it's not what we had expected. We kept debating if that was authentic Afghan food or we just walked into an average restaurant. But I will go with the former idea. Given that the restaurant caters to the Afghan people in the area, none of the dishes have been Indianised and it was time to accept that the fierce people of Afghanistan actually eat timid and bland food.