Kausstubh Restaurant, Saket – Fearlessly authentic South Indian food
Categories
Food
I was invited for a dinner. So, let me get a few things out of the way at the very beginning?
Did I pay for the food: No
Is this a paid review: No
Was there any hidden understanding: No
I have previously written about how bloggers do operate under food for work programme, but that does not extend to paid reviews. I am also known to overwhelmingly indulge in south Indian food, (Neivedyam, Tamilnadu House Canteen) So, that's a known Achilles' Heel. So, it will be a fair assumption that this one time my morals slipped. Here is a massive demonstration of why it didn't.
After I received the invite for a casual dinner, I wrote back saying that I don't do paid reviews. So, if they, somehow, felt that I would write positively no matter what, I am not the right guy. Usually, these mails land in some black hole and I never receive a response. I understand the approach was made for a paid review. The Kausstubh guys responded with a day's delay but they were ok with the condition.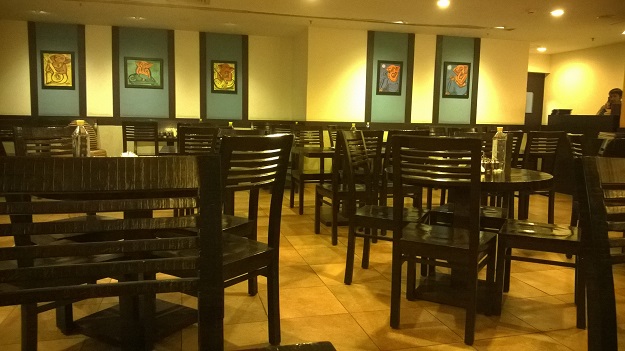 I visited their Saket outlet for dinner. I had checked their reviews earlier that evening and it seemed they had waded into troubled social media waters lately. The outlet has been there for a long time and I had heard generally good things about them. So, why the bad reviews? I was sure I will get some proof.
When you eat too much, your taste buds go to sleep. I made that clear and told them I can only eat a few items at best. The manager of the outlet, Kunal, took offence and insisted that the cook had planned the dinner already. We met the chef too – all sweet too. In my mind, I was already feeling a little bad about writing horrible things about such good people.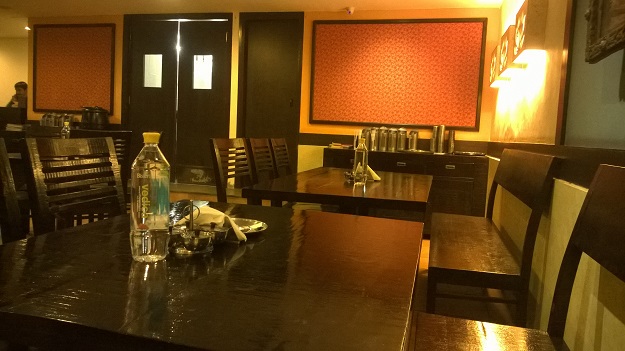 And, then the food came. The first to arrive was fried cocktail idli, two kinds of Kuzhipaniyaram (plain and cheese) and a tall glass of buttermilk. It was all good, but real surprise was the cheese Kuzhipaniyaram one. I have been scoffing at fusion food many times and idea of deep fried rice and cheese does not sound good. But it tastes better. A lot better.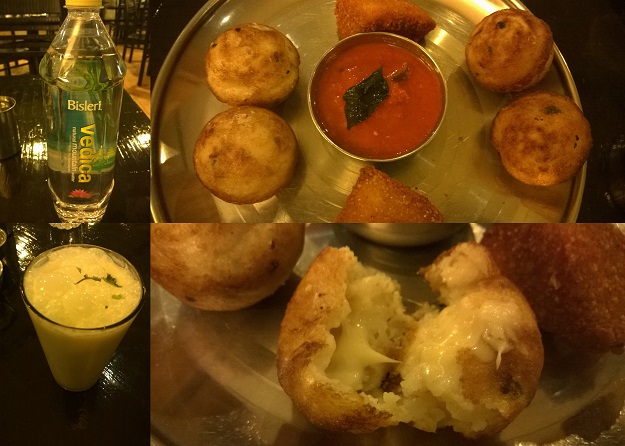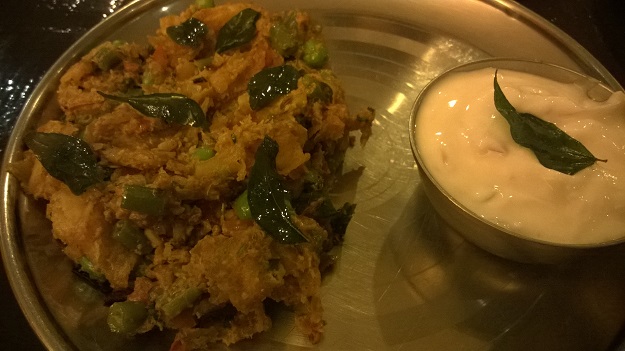 Next, Veg Kothu Paratha with curd. Kothu means minced and it explains the recipe. The paratha is crushed and mixed up with chettinad gravy and served with impossibly thick curd. The spicy paratha and cool curd combo was delicious. It was also the beginning of a theme that was seen throughout the rest of the meal – spice and combinations.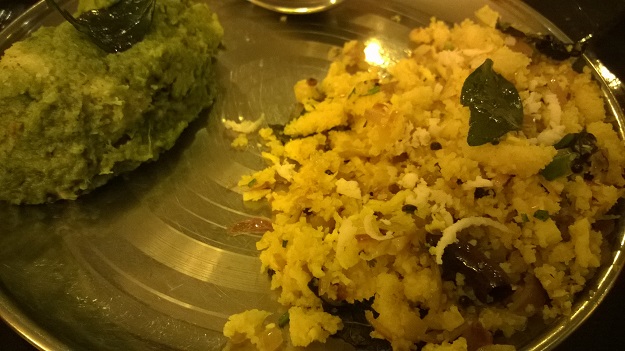 Next, we had the most unidlilike idlies – Podimas and Mirapakaya. Both the items on the platter didn't look like idlis and I begun to understand why the restaurant didn't go down well with a few foodies. Thankfully, Karan was with us and he explained each dish to us. He told us podimas means mashed and the whitish pile actually referred to a regular dish in South India. The dish is cooked with leftover idlis, the ones that a good housewife will never throw away. Instead, they are mashed up, a few curry leaves etc thrown in and served. The Mirapakaya one was wrapped in green chilly paste but wasn't all that spicy. I enjoyed both immensely.
The food wasn't bad. The service has not failed. I was getting worried. I knew I won't hide the fact that I didn't pay for the food. I was getting to realise that I may not be writing a bad review at all. Free food and positive review don't abide well for a blogger. I was very worried.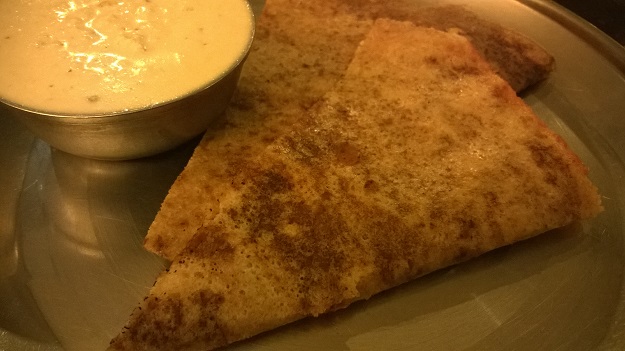 But there was no going back. So, I moved on to the next course. It was time for dosas. Three of them. Chettinad, Garlic and Urulai Podimas. First the Chettinad – this was another rendition and usage of Chettinad spice combo. It was dark, strong but not the best of the lot.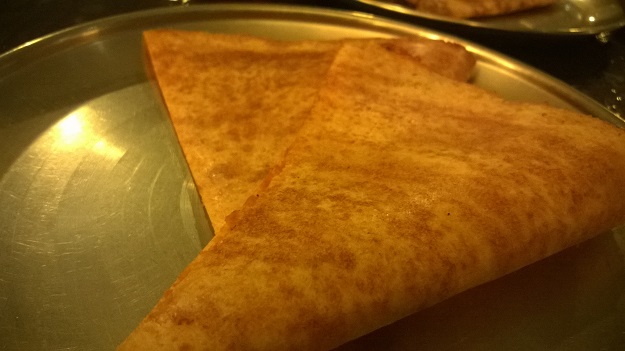 The star of the trio, however, was the Garlic one. Thin, soft and just fragrant with garlic – it was mild and sensual. In fact, I just said the kill word, soft. We have a misgiving about dosas. It's supposed to be soft. In south Indian houses, dosas are never crispy, especially the breakfast ones. But who cares, any dosa that is not crispy is stale.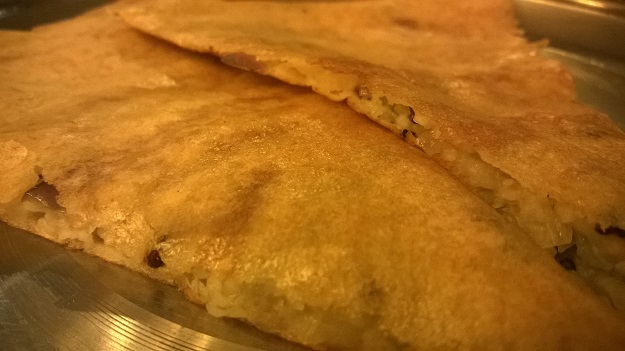 The Podimas dosa was another fine tasting. I smelled coconut oil and asked the chef about it. He confirmed it was cooked in coconut oil. My foodie credentials substantiated, I went on to enjoy my slice of dosa that was a little more stuffed and savoury than the other two.
I knew I was in trouble after the dosas. I told the manager that I can't eat anymore and would like to wrap up. He insisted that I must try the thali that the cook had already prepared. I gave a little lecture on the difference between foodies and gluttons/monsters etc. But when it comes to matters of food, as my mother used to day, I have always behaved like a starved street urchin. So, the thali came to the table.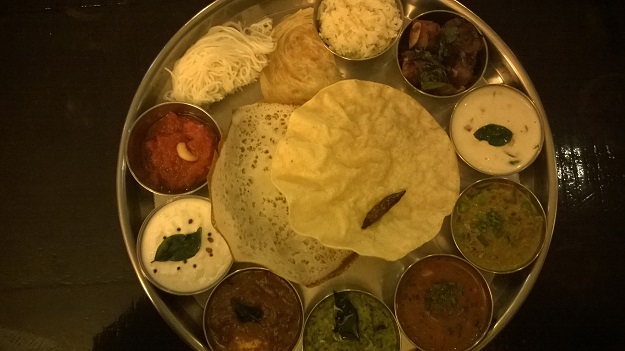 It was not a regular thali that you will get in the restaurant. It was one specially put together with all the different items for me to sample.  So, no matter how much you crave, you can't get this thali. And, it was a good one. The thali I got served had rice, appam, Malabar paratha, kerala veg stew, Andhra tomato pappu, tamil curd rice, tamil Urulai roast or aloo masala, tamil keerai kuttu or dal palak, chettinad kai kari masala or veg curry, Karnataka Kuruma and Ashoka or tajavur style Moong dal halwa.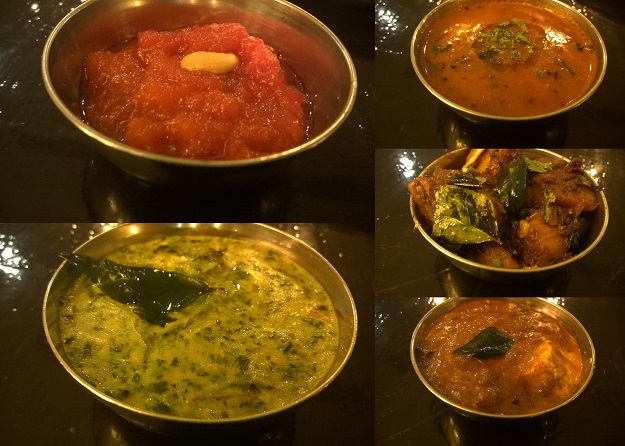 With a thali that monstrous, I had a little help from Kunal on what is to be paired with what.  Curd rice with urulai roast, Kurma with paratha, Idiappam with stew, rice with tomato pappu. Also, I had premium access to his deep knowledge about each of the dishes, how they are cooked, their origin, what spices were used and why. He seemed to be having as much fun feeding as I was by having it. Just like a mother, but a man, a lot younger, and a man, again. My taste buds had already gone to sleep from that food. So, I almost sleepwalked through the thali. But I remember the aloo masala, veg stew and the kuruma to be pretty awesome.
So, why did Kausstubh have any trouble? Negative reviews? They didn't have many. As it happened, a few prominent foodies had left average reviews. Also, they were having a hard time fighting the north Indian palette. Things needed to be less spicy, dosas needed to be crispy, customers wanted to eat dosa and vada, they were pushing them toward tring out main courses.
But none of the reasons seemed enough to break the bank. I asked if they changed the cooking staff or something as basic. Why did people have bad experiences where it seemed to have bad food. I asked for small samples, so, I am sure, they were not simply prepared for me.  I don't know if they were having more bad nights than an average restaurant but on the night I was there, all the food was spot on I can hardly think of any other place which has such an extensive south Indian menu. I hope they see a turn around soon, and for all its worth, they have the thumbs up from my side.