Indus Flavour – Delhi University, North Campus
Categories
Food
Times have changed. A decade back, when I was studying in North Campus, there were not many fancy restaurants around. Make that any. Zee restaurant in Vijay Nagar was everybody's favorite hangout. Even the restaurant was not at all expensive, it was a treat that we could afford only once in two weeks or so. On most days, we will pile up on rickshaws and make the trip to Majnu Ka Tila. There used to be a Rosy Restaurant and a Wangden House that we used to frequent.  Even that used to be a luxury. There were a few restaurants at Camp, but they were for families, both in pricing and appeal.
On most days, we would just settle for parathas at the Maurice Nagar police station. Next to it, to be exact. But times have changed. These days, the students have access to all sorts of treats. The international chains are there in Kamla Nagar, some quaint little places have opened in Hudson Lines and Vijay Nagar is nothing of the old one.
We drive all the way up to Momo's Point and other such places when nostalgia strikes. But I had heard enough about Indus Flavour and this time, I wanted to give it a try. It seemed a little unfair that we were going with so many expectations. It wasn't even starred places, so, how did they fare?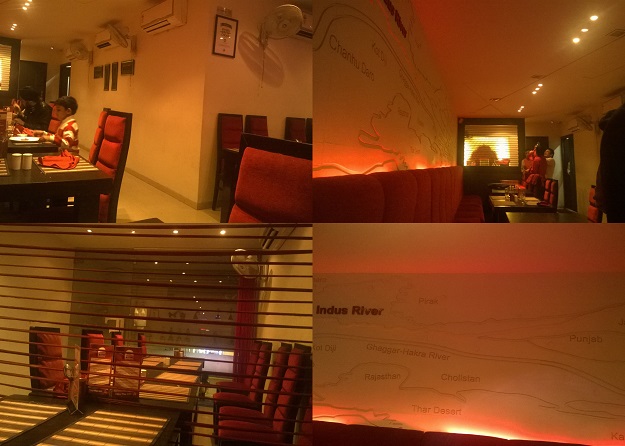 The theme colour of the restaurant is red. Everything is red, the chairs are red, the lights and …every thing. It's a small and long place. So, seating is not quite a choice, it's all in a row. So long as you are seated away from the billing, you will be alright. The walls have tasteful etchings of the northern rivers and the ambiance is warm and cosy for a winter evening.
Once seated, we were handed the regular paper menu. However, a few moments later, a server walked up with an iPad to place our order from. It was an Apple iPad, not just a cheap device. Like many other small, entrepreneurial restaurants that I have mentioned before (Colony Bistro), Indus Flavour is a social media bully too.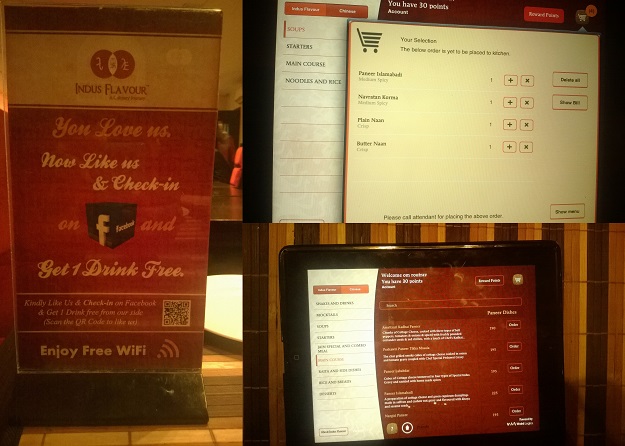 You can Like their page on Facebook and get a free drink – a cola or a  mocktail. They don't have a bar. They also run a reward program, similar to MoMark Rewards that I had written about. If you sign up via the iPad, you get 30 points free to redeem on the next visit. And, whatever you order, adds to the points too.
It was after ten when we placed the order. We were already the only ones in the restaurant. We waited for the food as the placed started to close. Thankfully, the servers didn't hurry us off.
We ordered a Paneer Islamabadi that the server recommended, Navratan Korma and breads and drinks. He also recommended a dahi ke sholay which I read about in the menu but didn't order. It has great reviews though. Nest time, may be.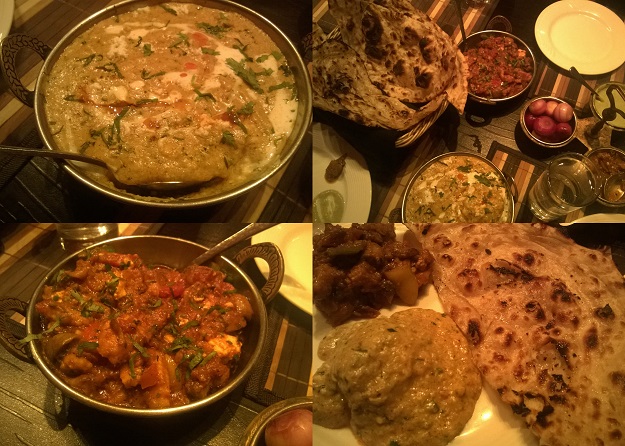 The serving portions were good and what we ordered was enough for three fully grown, normal appetite adults. The Paneer Islamabadi was as different as a paneer dish can be, but was definitely yummy. The Navratan Korma was good enough but all of us liked the Paneer dish better. The naans were crisp, the service prompt and best of all, the servers knew the dishes. The bill of around seven hundred rupees wasn't much for the size of the order.
So, even Indus Flavour is a long drive away, I am going to get back when university nostalgia hits me again.