Café Lota – National Crafts Museum, Pragati Maidan
Categories
Food
When it comes to restaurants, I, generally, try not to go overboard. Same way, that a bad experience does not motivate me to trash the place. It is good to be moderate and rational about experiences. But I am a human after all and it is natural to go overboard at times. Especially, given how badly those interested in the arts and crafts have been fed in Delhi. Triveni Kala Sangam canteen or the Mandi House chinese truck, a roadside burger patties guy – there was never good food around the art houses. There are a few good restaurants in Lado Sarai and Hauz Khas Village, but when was the last time you ate well in an Indian museum?
Finally, you can eat really well while indulging your indulgences. The amazing Café Lota is housed within the amazing National Handicrafts museum. Close to the Zoo, Pragati Maidan and Old Fort, this is probably the best place to eat in the area now. Few days back, a friend had posted photos of the restaurant on his facebook page and we had to go, soon. We did that yesterday, went with tons of expectations and weren't disappointed.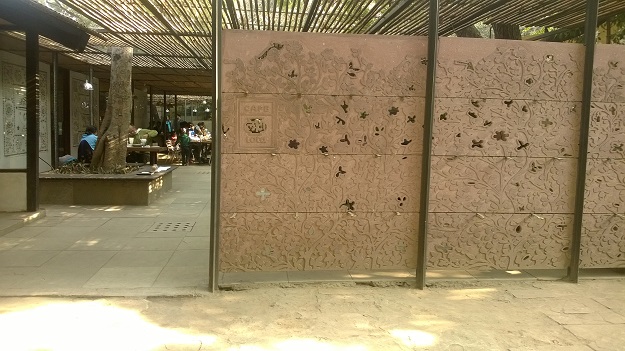 On a cold winter morning, the outdoor seating, the bamboo slat roofing and the relaxed ambiance came as a warm hug. The décor was minimalist yet impressive. While on the way, we had debated a lot about what the term lota could mean and what global language it was borrowed from. It seemed that the name referred to the humble Indian lota that many Indians still carry to the fields in the mornings.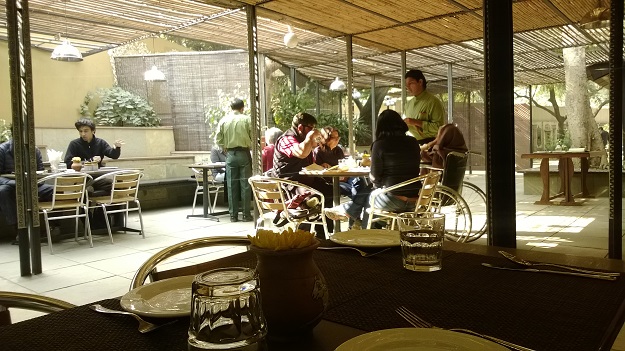 Anyway, there are a few terracotta statues, glasswork on the walls portraying the lota and relaxed seating arrangement that will only belong in a true blood café. Contrary to the ambiance, the service, the cutlery and the presentation were all upto snuff and deserving of a four star setting.
The menu, a few brown pages on a clipboard, though limited, is good enough go back to a few times. We were being vegetarians again and ordered a kerala stew with appam, sindhi curry with rice and twice fried potatoes, a kurkure bhindi raita, apple cinnamon jalebi for dessert and two specialty coffees.
The food came without much delay. The presentation showed solid training and pedigree but the serving sizes were small. The The kerala stew was brilliant, rich with spices and thick with coconut milk. But it came with a single appam, which will leave even a newborn hungry. As it had happened to us at another restaurant, we though the second one was coming. It never did, we ordered a bowl of rice and it was charged. At Rs.65 a bowl, it's nothing to complain about. But, you know, the Indian appetite and  a single appam….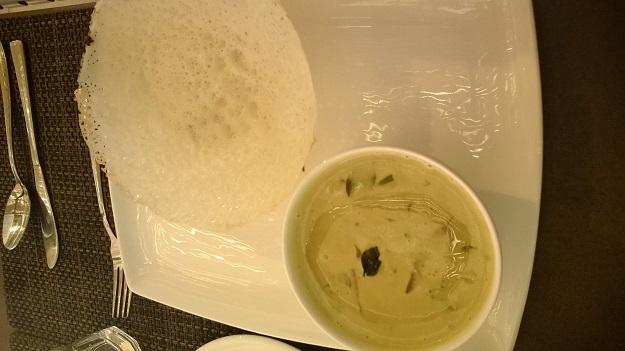 The Sindhi Kadhi was the only dish that didn't scream brilliance. It tasted like south Indian sambhar, may be, they do taste similar. I have no idea and will withhold judgment. The potato dish in the Sindhi platter was a surprise, though, we found ourselves fighting over a potato dish for the first time. There was one dish that we saw ferried out of the kitchen quite frequently – the palak leave pakoda and we will go back there for that only.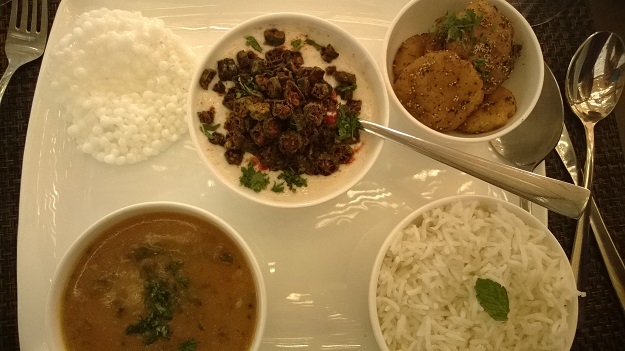 Coming to the coffee, they have quite a few single estate artisanal coffees. If you thought such things didn't happen in India, gently slap yourself a few times. We ordered one from the Balmaadi estate which was a organic and biodynamic coffee. That didn't make any sense, what did was that it had cinnamon aroma, earthy pepper flavor and a sweet finish. When the coffee came, we realised it wasn't a over-caffeinated copywriter. Even our hog noses could find hints of what was written and what it smelt like.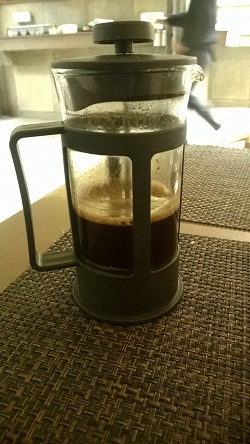 But wait, what if all their coffee were the same? We waited for mine to come, a m.s. estate Vienna roast from Chikmagalur in Karnataka. It was a full bodied Vienna roast, with fruity overtones, oaky, bitter and a dark roast to the core. Did it tick all the boxes? To the extent that my untrained palate could sense, it wasn't a wine hoax. I don't know about oak and fruit, but it was deep, dark and intense.
Aah, we forgot the best part of the meal – the apple cinnamon Jalebi with coconut rabdi. I was a little skeptic when we ordered, but after one bite, I could steal and murder for it.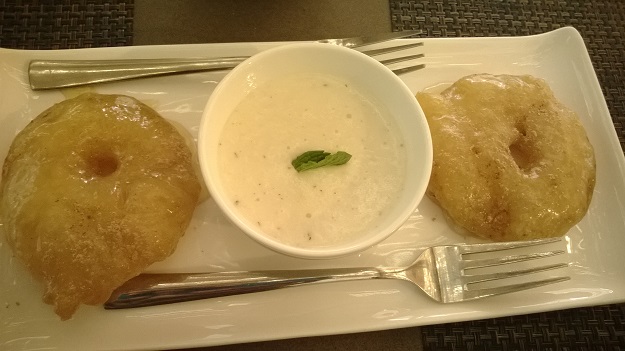 Our total meal cost a little more than a thousand bucks for two, which is not a significant amount when you are happy.  We were glad that there were no pizza and pasta on the menu, which has become synonymous with the word café.  And, lastly, Café Lota is not just a fancypants cafe, it is a fancypants cafe with good vibe and food.