What we ate on the banks of Ganges in Rishikesh
Categories
Food
Greed and gluttony are two cardinal sins. It's apparent why. But, you know, they are not that bad. I don't know about greed, but there are so many antidotes to gluttony that it is hardly an issue – Hajmola, anar dana goli, Limca with rock salt. Technically, so long as you are eating to satiate hunger, it's not gluttony. And, thus, you may escape hell sentence on a technicality.
Sitting on the banks of Ganga, many such thoughts crossed our minds. There was the mighty river in all its monsoon glory and all we thought of was our next meal. There is a marked difference between kind of food that you get in Haridwar and Rishikesh. Though, they are a few kilometers away from each other, they could not be further apart.
Haridwar is all chotiwala, shudh shakahari khana and bland boring food. Rishikesh, on the other hand, has a little hill station kitchen tucked somewhere in the back. In an earlier post, I wrote about the Devraj Coffee Corner a.k.a the German Café. It's not the only one around. In fact, it's not even our favorite one, at least, not till the last time we were there.
Before that, we used to go to the other German Café – Oasis Restaurant. If you are facing the Laxman Jhula, Devraj Coffee will be on your left and Oasis will be on your right. We always had good food – food soups, brilliant pancakes, fresh salads, hash brown potatoes and the cheese preparations. During breakfast, we will sit on the ground floor, where there are chairs and tables – you can see the river and there is light. We will have lunches in the lower floor, where you can lie back on mattresses, eat on low tables and go to sleep after you have hogged. But something changed last time. While paying the bill, we saw cockroaches crawling on a loaf of bread. They were really small ones and we have memories there…..but we are not going back.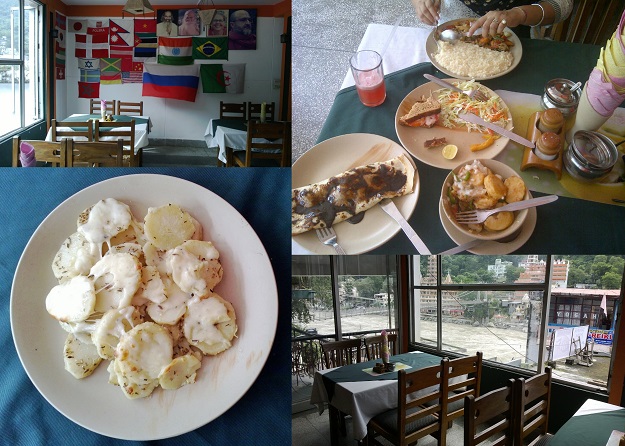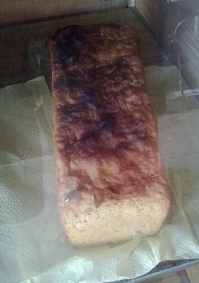 On the other side of the river, there are a few restaurants too. After the cockroach incident, we headed to the Ganga Beach restaurant. Of all three, this one is closest to the river. The server proudly showed us the places where the river had damaged the restaurant in the then recent floods. We ordered a chocolate pancake and a banana pancake. The ginger lemon tea was good but the pancakes were pretty average. We should have ordered Indian food here.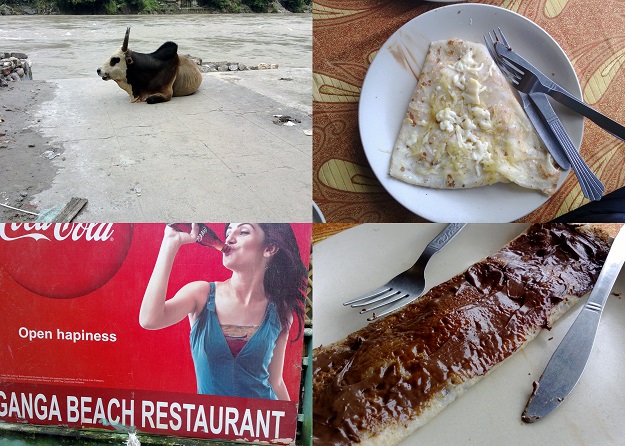 At the end of the day, there is just one we would like to frequent – Devraj Coffee Corner. Unless, we are in the mood for Kadhai Paneer, which can happen to the best of us anytime.