National Street Food Festival 2013 Is A Govt Conspiracy
Categories
Delhi
There is one going on in Delhi these days, at Jawaharlal Nehru Stadium. Like hundreds of other people, we went there expecting to be surprised. However, any man with average intelligence could soon decipher that it is a massive govt conspiracy. Here are a few speculations about where the idea came from:
• After having lost the Delhi elections so badly, Congress had planned a revenge on the city folks and this is one plan that was executed to perfection.
• American government wanted to create a gigantic diversion to take the collective Indian mind off the Devyani Khobragade case.
• Given that the sole Pakistani stall in the national food festival was the most crowded one, it was a Pakistani conspiracy to show how horrible our street food is. They won.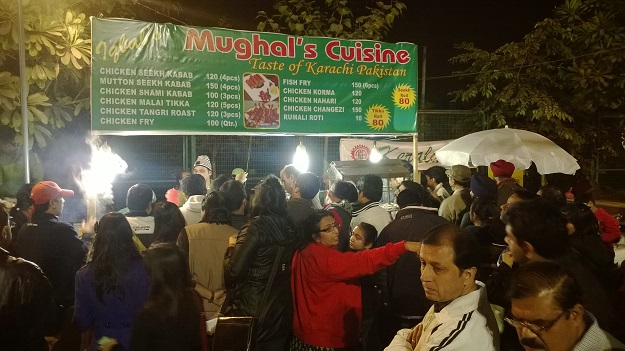 Anyway, we didn't know any of this when we skipped lunch, did digestive exercises, dressed up and drove to the event for an early dinner. We bought tickets for Rs.30 each and were ready to spend thirty times that amount on the food inside.
And then the dream shattered. By 7pm, the stalls had run out of food. The event was scheduled to go on till 10. We walked around the massive grounds to find something, anything to eat. There were a few Delhi stalls that were peddling everything from Chhole Kulche Bhature Momos and bread pakoda. All of them were prepared and left in oil tanks to fatten up. We gave it a miss.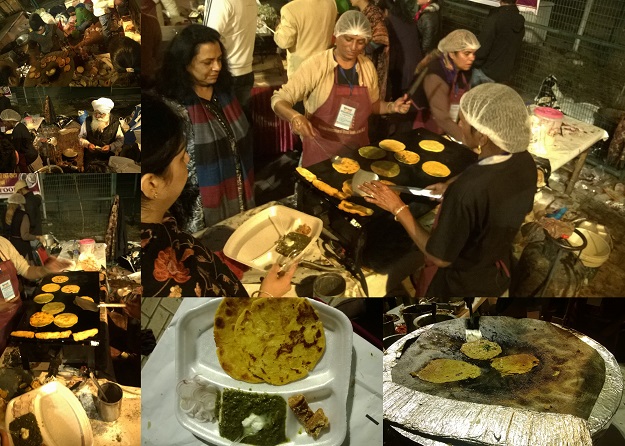 We walked past the Kolkata stall, the city needed to open up to food items beyond rolls. We ignored the busy Amritsari stall selling grilled sandwiches, pizzas and burgers and another Delhi stall selling grilled sandwiches. The Karnataka stall had sold out and shut shop, the second Karnataka stall had sold out and had only poha, the Haryana stall guys were gone, the Yamuna Nagar stall guys were gone too. But we didn't miss them, their street food seemed to be Burgers and Sandwiches too.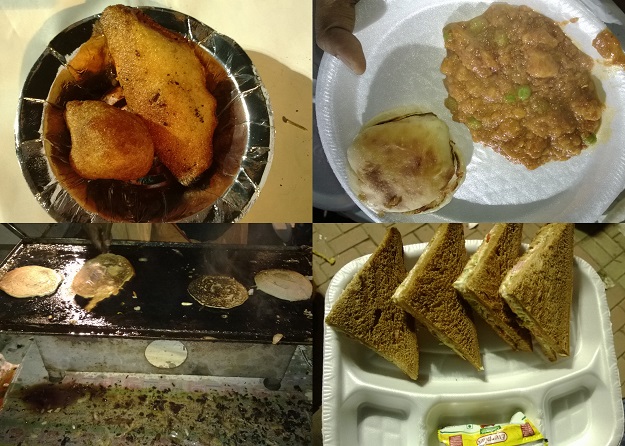 What happened to Indian street food? Did the Indian street people eat everything up?
After half an hour of searching for something edible, we came across the Oriya stall. The state is known for cheap and amazingly good street food. I am from the state. I know. Shouldn't this be the center of the whole festival? Then we saw what was on offer – differently shaped weird little balls that looking nothing like I had ever eaten within the boundaries of the state. First she said, one plate of this for thirty and that for forty. We didn't bolt. So, she corrected, one piece of this for thirty and one piece of that for forty. We took it and soaked it in the saliva of our mouth to soften as we planned how to bomb the state off the planet. Then we swallowed.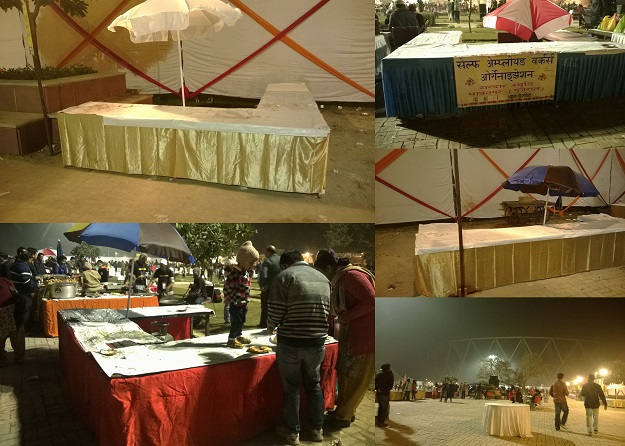 I had bought food coupons for Rs300 and it seemed herculean having to finish all those. So, decided to go in opposite directions and bring back some food, any food. Half an hour later, I got back with a Pao Bhaji, minus the slice of lemon and opnions (he had run out of those) and my wife got us a makke di roti and sarson da saag. Hers was edible, mine was not.
Still hungry, we decided to head to the only stall that didn't have a queue and still had some food left. Seemed the guy had run out of filling up for the grilled sandwiches. We waited around until he prepared more and threw a plate in our general direction. I called myself a foodie and was gorging on grilled sandwiches at a National Street Food Festival. Instantly, I had lost all credibility.
There was a dosa guy who had run out of idli, vada and dosa. He was selling burnt uttapams for fifty bucks each. A lot many others were there that I don't have the patience to mention.
Was I the only one who hated the circus? I overheard a mother rebuke her son "now, you will value what I cook for you". There was another mother asking her daughter "beta, Domino's chalein, beta?"
We should have. We all should have.
P:S:- While they sold crap inside, the outside of the Jawaharlal Nehru Stadium had turned into a urinal.