Hazratganj, Lucknow (I)
Categories
Travel
Old cities are like celebrities. You form a thousand preconceived notions about them even before meeting them. Sometimes, they are flattering, most of the times, not. For instance, I am a reluctant explorer when it comes to these relic towns. Though I have taken a thousand walks in Old Delhi, I love sitting around Connaught Place more. In spite of being amazed by the crowds and the 24/7 life of Cuttack, I have always preferred the orderliness of Bhubaneswar better.
So, I was not exactly jumping around in joy when I was informed about the imminent travel to Lucknow. There was not much time to research. No scanning, downloading, taking print outs of Tripadvisor reviews, no time to look for Lonely Planet Lucknow or making inquiries on Twitter. There was nothing to assuage the pervasive sadness that comes from visiting the ruins.
I had booked an accommodation in Hazratganj. And, that's all I am going to say about that. But the good thing was, once you are out of the hotel, you are in the Connaught Place of Lucknow, before the malls came about. So, you can imagine. All the branded stores, all the local names, food, clothing, chikankari shops and what not….it was one long road and I walked it a hundred times in two days.
The first thing that hits you is the ubiquitous blackness. All the store signs were in black. SBI black, Reebok black, Café Coffee Day black, Puma black, Bank of Baroda black, Allen Solly black (what colour is Alllen Solly, anyway?), Lotto black, Hush Puppies black, Khadim's black….I guess, they are originally black too.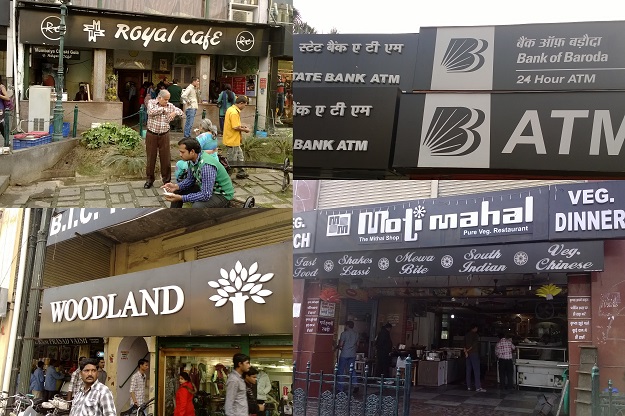 It seemed as if someone had wiped out the whole advertising community off the planet. Years of debating the fonts and the colours, millions spent in branding and rebranding, those massive manuals written on whether the logo font should be bold or cursive – it had all come to nothing.  As an ex-advertising guy, it was absolute horror, the 2012, the doomsday. How will we make a living if people decided to cut the crap we create out of their lives? Puma is nothing, their shoes are nothing, their existence is nothing minus the red colour.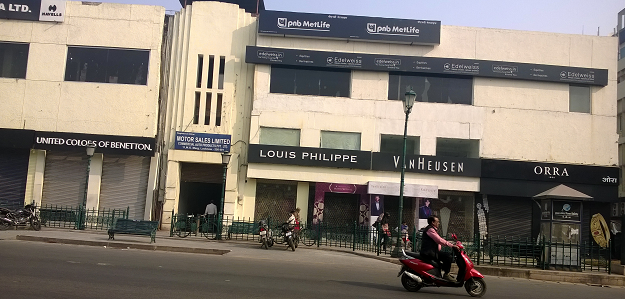 I clutched at my heart and sat down on one of the numerous benches that some smart town planner had installed. A few of them looked onto the road, a few inwards towards the stores, the guy was not that smart after all. Anyway, I had become extremely sentimental to see that someone cared enough for me, unlike our Connaught Place, which is designed to make you walk in circles until you grow disoriented, fall down and die like a chicken.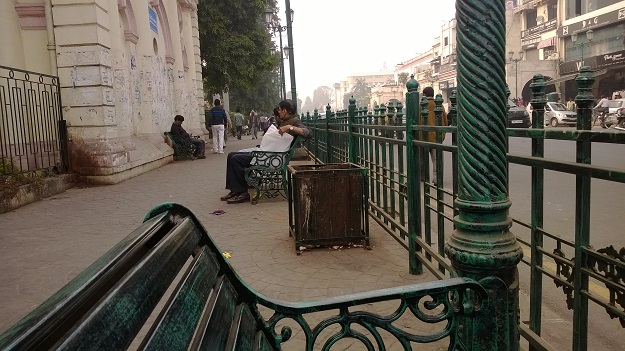 I loved the benches, the street lights, the multi-level parking that worked wonderfully – unlike our Connaught Place. There were restrooms outside the parking – unlike our Connaught Place. So, you could sit down and pee (not at the same time), the city was quickly winning me over.
As in all orderly public places, parking on the roads was not allowed. Not even if you sit inside the car and call it idling, waiting or whatever. There was this scary looking batmobile which was constantly coming into the streets, picking up vehicles and dumping them in the police station a few hundred meters away. It was remarkably efficient and absolutely inhuman. I was so mesmerized that every time I saw it, I would tear away the crowds and run at it like a madman, clicking all the time. Seems, I only got a couple worth sharing.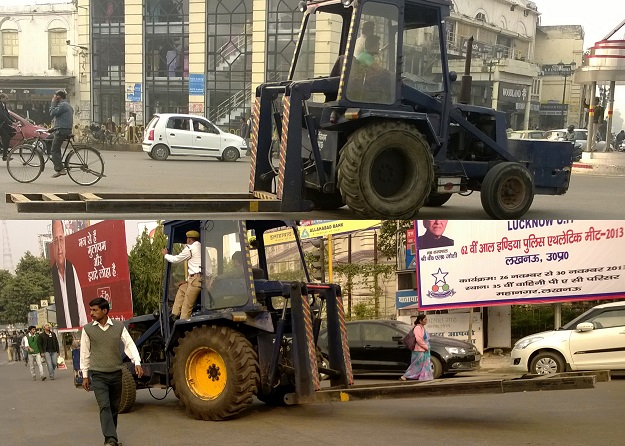 There is no way I can finish this in one post. So, I will finish it abruptly and keep you waiting for the next installment. There is nothing you can do about it.
You can read about the Bara Imambara and Bhool Bhulaiya and the Ambedkar Memorial & Park too.