Sarvana Bhavan, Connaught Place ( CP )
Categories
Food
I am the worst guy to write about South Indian food. It's like asking a teenager to write a critical review of the Twilight series.  I would rather write hymns and sing bhakti sangeet about dosa and rasam than write a review.
Part of the reason why, even after frequenting almost all the South Indian places in Delhi, I have never written about them. Oh wait, I have written about one – the South Indian stall at Jantar Mantar.
DiscIosure: I am not from South India. They can never love their roz ka khana so madly!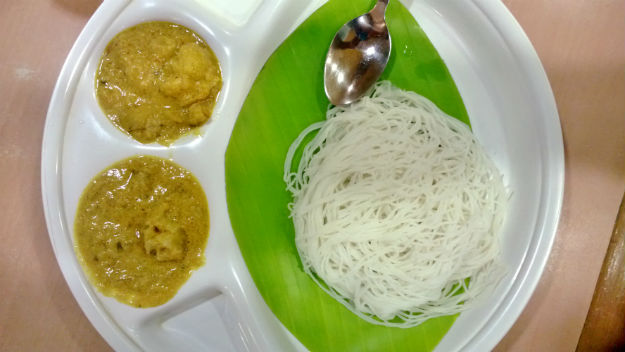 Last week, we were taking a professor from Cornell around town. We had earlier planned for lunch at the Rajdhani Thali restaurant, which sums the Indian food experience quite well. But the professor, having been introduced to South Indian food a few days earlier, was keen on reliving the experience. And, so we went to Sarvana Bhavan at Janpath, Connaught Place.
We were on our way to the cottage emporium, a world of wonders of sorts. It was 12.40 and my prediction was that when the clock strikes one sambhar zombies descend on that outlet. They hover outside the doors in hordes till after three. So, my take was we walk in right then and wife was of the opinion that I am a fear monger.
Anyway, I won. We went in at 12.45 and when we came out at 1.15, this is how it looked.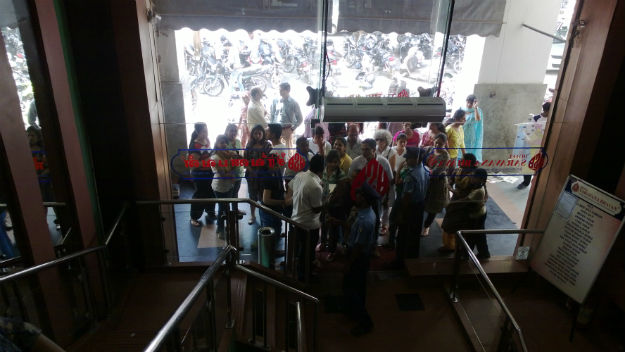 Now, coming to the food, I will be honest. Sarvana Bhavan is not my most favorite South Indian place in Delhi. Naivedyam is. The feel here is industrial, efficient and hurried. There was a woman with a tub who kept swooping down on our table to pick up plates as soon as it was empty. Other times, she just stood there and waited. There is none of this at Naivedyam and the ambiance is a gazillion times better. That's subject for another post.
We ordered food, too much of it. The professor was offended by the amount of food on the table. Fifteen minutes later, the plates were empty and he was all smiles like a thief who just hit the biggest pot of his life. There was a mini tiffin, a thali and a parotta. The first two were good, I don't know any other kind.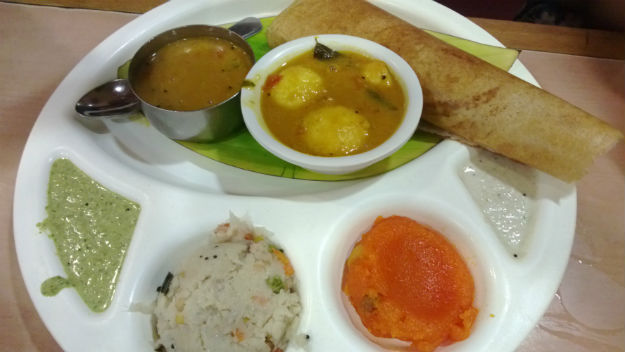 We dearly missed the complementary glass of rasam and roasted papad Naivedyam serves. The conversation steered toward the reasoning and composition of a Indian thali. There is always be a palate cleanser (rasam) which doubles up as an appetiser, a dairy item (dahi), a lentil for protein (sambhar), vegetables, grains (rice and puri) and sweets (kesar halwa), which, btw, is always awesome here.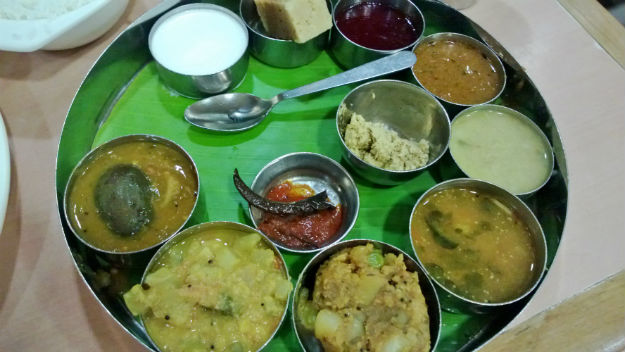 One item that thalis these days always miss on is the pita or the sour. Traditionally, it will be the bitter gourd or the neem which is used as a saag in many parts. While we have developed a taste for fool bodied beers, we have lost it for the pita.
Anyway, we love the South Indian parotta. Layered like a North Indian laccha paratha and the uncrushed version of a Malabar paratha, this one is served with a kurma. We had a South Indian neighbor who made kurma you would kill for. This one at Sarvana Bhavan was not too bad either.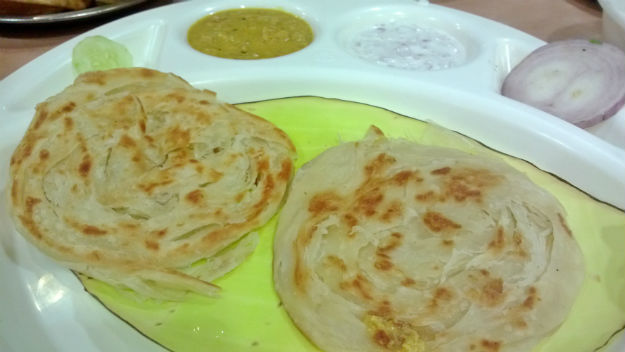 We finished the meal with the filter coffee and walked out into the sun, knowing fully well that you never feel guilty of binging on idlis and dosas.