The Idea Caravan – Giving away a million books
Categories
Opinion
In our country 3000 children die of hunger and malnourishment every day. The talk of books for children sounds like a cruel joke, or may be, frivolous one at best. And, therein lays the tragedy. We believe these goals are choices whose priority should be debated.
However, in a civilized world, saving the lives of few should never become an excuse to provide an inferior and deprived life for the rest. Thankfully, after years of apathy, a change in attitude seems to have come about.
There is less dependence on government initiatives and the hype about NGOs and their murky business has died down too. Just when change seemed impossible, a new sort of entrepreneurship and social innovation has come to provide the much needed hope. No freebies, no funding and no more smiling posters of villagers touted as outcome of development.
Globally, TED events have done a ton of good by providing such ideas, innovators and organizations a platform to reach across, to tell their story and to spread the hope that so many of us had given up on.
At the recently held TEDxGateway in Mumbai, I attended a presentation by Rohini Nilekani about "Giving away a billion books." The brilliant brilliant idea that underlies this ambitious sentence is that there should be a book in every child's hand.
Now, what's so great about this goal…didn't we all have books, more books than we could handle? We did, we all had textbooks. But those are not written for children, they are not written to fire up imagination, those are stories that one grows up with, they don't have characters that a young one carries in his/her heart well into his/her adult life.
In fact, compared to the developed countries, we had a very serious problem. Here are a few numbers to stir you up:
• There are more than 300 million children in India
• Every year, roughly 25,000 books are made available for children –
• These are published majorly only in two languages – English and Hindi
• There is about 1 book for 20 children.
In comparison, in UK, every child has access to more than 6 books. To improve this dismal scenario, Pratham Books was founded having the following goals:
• Produce quality content
• Get books written in local languages, with relevant content
• Make these books accessible at a most attractive price points
These were not books for free, they were not shipped by truckloads and dumped in distant villages. They were written, illustrated and printed with regional language and content in mind. Most surprisingly, they were taken to the farthest corners of the country by combining the innovative distribution avenues.
• Uniliver Shakti sales persons who usually sold Fair & Lovely
• People who sold solar lanterns
• Govt of Bihar put their books in 72,000 schools of the state
• Railways stations and post offices
So, what is the real impact that this creative collaboration had? How much of this enthusiasm and ambition were translated into real change? Here are a few facts and figures on that:
• Pratham has produced 245 unique titles
• Produced in 11 langauges
• A total of 10.3 million books reached children
• 10 million story cards (Rs.2 sachet story cards) published
• Total estimated readership of 25 million children
• Translated world over, into French, Spanish and German
Change, it seems to have been proven again, does not come from money, power or authority. It happens when people come together, when there is a will and when collaboration combines with innovation.
The idea of putting a book in every child's hand, potent as it is, is not new. Thankfully so, too. I have volunteered for an organization that worked toward the same goals in Orissa. Bakul Foundation, was established by Sujit Mahapatra, around same time that Pratham was instituted, with the aim of instilling a sense of volunteerism in the common man. To demonstrate the power of the theory, an initial project of setting up a children's library was undertaken.
No institutional funding and no monetary donations were solicited. People were encouraged to donate books and time, for book reading sessions that were held within the library and in slums and villages across the state. The no funding idea sounded radical and the nay-sayers far outnumbered the few who took up the cause as their own.
However, as someone had said, hope is contagious. The courage embodied within the idea was so viral that, to cut a short story digestibly short, people from Boston, Australia, France were either sending books or coming over themselves, to volunteer. Artists would come over to paint the library and create installations. Celebrities, such as Nandita Das and Shekhar Kapoor dropped in to hold story telling sessions for children. And, the movement spread its wings.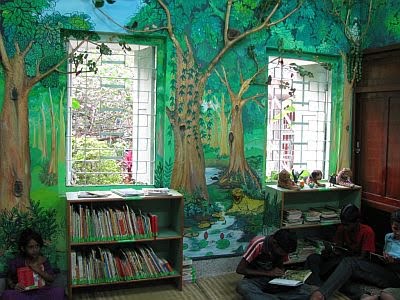 Today, Bakul is one of the biggest non-governmental children's libraries in the country. It boasts of the biggest collection of illustration books for children. More importantly, it has been able to provide a space to deprived children where they can read, interact and open up to world they didn't know existed.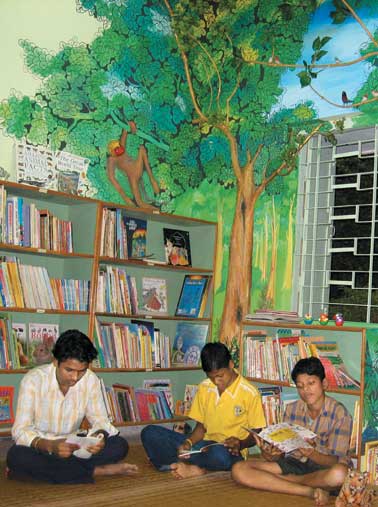 We all love to parrot the line that children are the future. And, it comes as a surprise how remarkably indifferent we are towards our collective futures. A child deserves more than a few polio shots, mid-day meal and the bare minimum that one needs to survive.
Every child must be given an opportunity to grow intellectually, to explore his/her imagination and to acquire the knowledge needed to pursue every dream. And, it all starts with a book in his/her hand.
Franklin Templeton Investments partnered the TEDxGateway Mumbai in December 2012.