The listing on Zomato shows the average cost for two to be Rs.300. It can never happen unless you are mutant hedge hogs. It is the cheapest food outlet in Connaught Place. That does not say much but trust me on this.
The dosas are good and the special Mushroom dosas cost just 60 bucks. I have never tried that and don't intend to, but, heck, two plates of gol gappas at any neighbourhood thela costs more.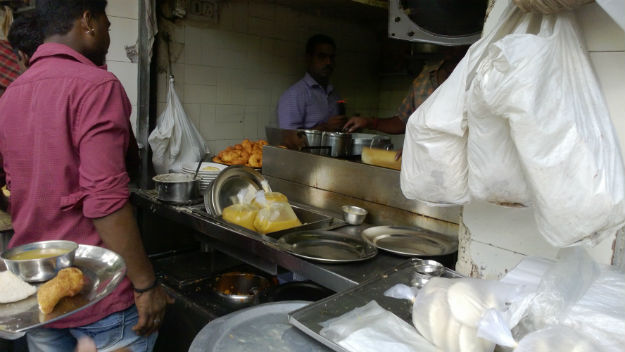 Like a true hole-in-the-wall south Indian outlet, they also serve amazing uttapams, dal vadas and vada sambhar too.  All in the price range of a decent chocolate bar. Now, before you head out, it is important to remember that it is not a restaurant. There are no chairs, no tables and no service. You got to hold your plate in your hand and eat.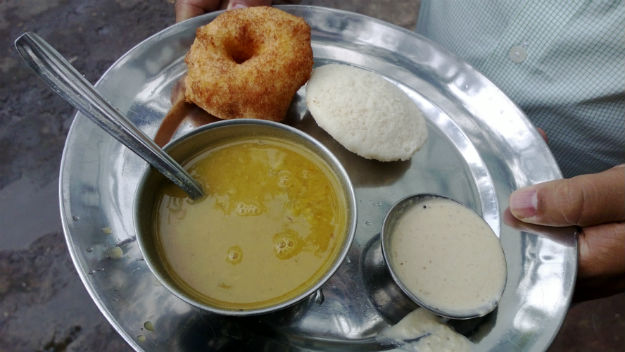 So, if you are thinking of a date, this is not the place, unless, you are too sure of your love. The guy at the counter is a heavily accented South Indian robot and just hearing him repeat your order is half the fun – yek plate wada sambar laganaa. Stand next to the huge boiling cauldron of sambhar, enjoy the smell of the open kitchen, don't look at the dented spoons while slurping and you may find happiness.
The location is easy; it's on the protest street at Jantar Mantar, right where the marching folks shake hands with the cops. On any given day, you will spot a few tents in front. But like all government offices, this place is closed on Sundays. All the more reason why, I suspect this to be a govt front to break the hunger strikers.
The huge chatter that this place generates is partly due to the sheer number of protesters for whom these idli vadas must be work-day lunch. It must be hell of a busy place on day of protests. There are a bunch of people waiting around all the time. But it is not haute cuisine, so preparation time is less and you never have to wait too long.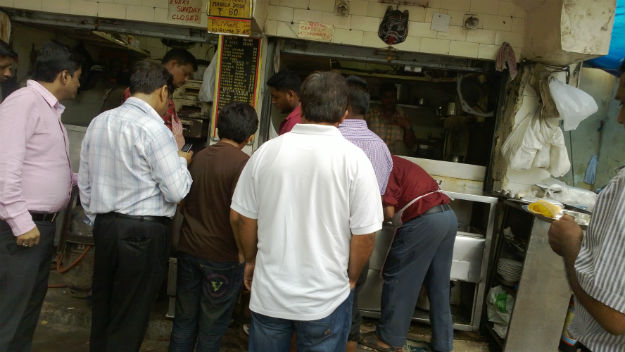 This place must be busy in the morning, I will recommend you drive down in the afternoons, park right in front and eat in your car. Air conditioned good food and a bill so tiny your driver won't mind footing.