Yes sir, Mr. Mohandas Karamchand Gandhi was a fine real estate agent
Categories
Midnight City
You must be wondering that how I grew the guts to say something like that in font size twenty. Let me tell you, I am one who will fear driving a beat up Maruti 800 on a bandh day. It's just that in this country, we have the birthright to say anything about grandpa Gandhi.
Try doing that about Madam Sonia, I won't try that. Try poking your finger into a certain Hedgewar, a Thackeray, a Modi or an Imam. These guys don't believe in threats, they believe in setting examples. And, I don't I want to be used as a tool to explain thoughtless and violent theories.
But before I defend, I must clarify. I mean no affront to Grandpa Gandhi, I, actually, said it as a compliment. No one can deny that he had the foresight. He knew bad neighbourhood takes property prices down, so he agreed to dissect the troublesome western portion. And, then there was his masterstroke of an advice that will put today's wealth managers to shame – Go back to the villages.
But like all free advice, no one gave two hoots to this one. They thought the man had gone bonkers. After decades, we have come to know the worth of his advice. Ask the villagers in Delhi's Hauz Khas Village or Lado Sarai or any other in Gurgaon and Noida. Their narrow streets are clogged with Audis, grandmothers wish to buy Land Rovers and their kids don't have to be a part of the rat race.
In Delhi, every village has its own art gallery, designer showrooms and fancypant pubs. These are the Lal Dora areas where government has endowed the poor villagers with property tax and construction plan exemptions among a whole lot of other benefits. But who says, villagers can't have Page 3 neighbours!
Mumbai has its own story. There is a thin line between the villages and slums. They all look the same, don't they? If it has been around for a long time, it's a gaon. If it's a relatively new entity, it's a slum. Or, is it that simple? We will let the municipality decide.
Some time back, some one in Mumbai came up with a brilliant idea. They took back the slums from the squatters and build concrete apartment complexes for them. No, it wasn't a welfare project. The idea was to build malls and premium highrises, separate them from the apartments with a wall and Bingo. It's a complex subject and I will not try to simplify it. But if you have the curiosity, here is a little more chewing gum for your thought.
Not to say, there are no villages in the city anymore. There are quite a few fishing villages in Mumbai which are just that. If you have been to the Worli Fort, you may have noticed the village next to it. Here are  a few pictures of the village (taken by Sid, of course!).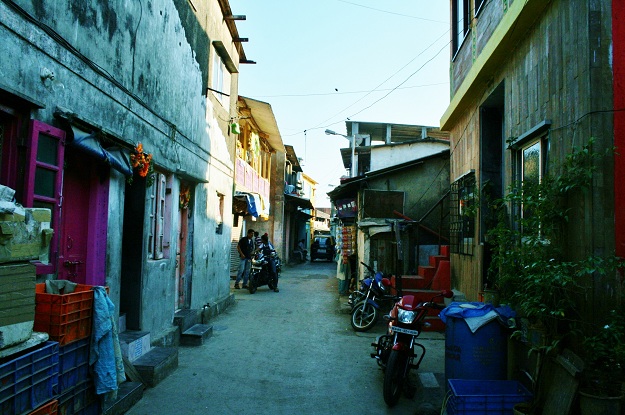 It is one of the original seven island villages of Bombay and remains a village till date.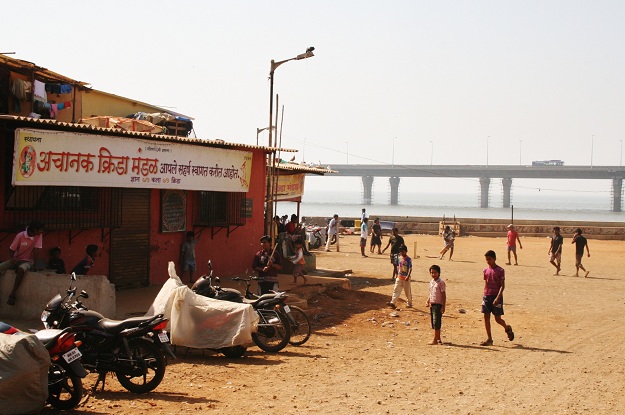 It is a prime sea facing property. Right on the other side of the sealink, there is a five star hotel and houses of the filmstar Khans. How long will the village hold off?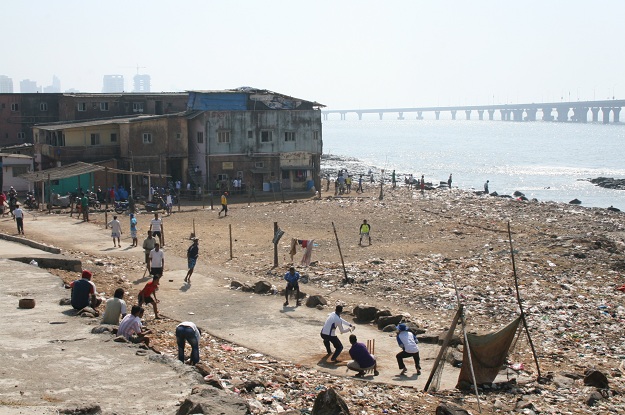 Standing at the village, you can see the highrises on the other side of the pond. I wonder what the kids in the vilage must be thinking – do they want to preserve the relic or will they prefer to trade in for an apartment like many others in Mumbai have done?