Lost and found in Mussorie!
Categories
Travel
2 days, 1 night, interesting observations & a little insight
The need to get away might not be a basic need. But, at times, the urge exceeds even the most powerful instinctual drives. Part of the reason why, my trip to Mussorie began by foregoing food and sleep.
Delhi was going through the weirdest monsoon ever in its history. Rain and the sun had alternately peaked with the understanding of two seasoned batsmen. Consequently, Delhi's reputation for dry weather had gone for a toss. Getting outdoors meant getting wet, either with rain or with sweat. The choice was never yours.
It seems only ironical that my means of getaway from this oppressive weather was not even air conditioned. Having reached the bus adda at ten in the night, riding the metro and my whim, I frantically looked for escape routes. Jaipur would be too hot. Haridwar would be too frequented. Mathura would be nice, but some other day, may be.
Shining bright amongst all this dull imagery came the bus with the signboard Dehradun/Mussorie. White and blue, non air-conditioned and fitted with hard upright seats, this UP Roadways bus was indistinguishable from any other. It was 10.30. I quickly got the tickets, bought a bottle of water, took a window seat (which everyone else wanted too), opened my half-read An Equal Music and looked forward to a great trip.
We jostled through the mid-night Delhi traffic for what seemed like an eternity. The city was acting more like a jail. Punishing those within the premises and punishing harder the ones who tried to escape. 16 hours, two punctures without jacks and spare tyres, 4 nightly hours by the roadside, 2 cups of tea at dhabas and twenty pages of Vikram Seth later, I reached Dehradun.
Without a guidebook and a clue at the bus stop, help came to me in the form of a young lad from Indian Military Academy, whom I had befriended on the bus. Full of enthusiasm and a certain sense of determination, he was more decided about life at 18 than I, who was nearly a decade older. He gave me a lift in his hired auto and an idea of the places not to be missed in Dehradun.
At the top of the list was FRI, famed for the museum that was strongly recommended by others too. At second place was Sahashradhara, literally meaning a thousand streams. At third place came the Sai Baba temple known for the generosity of the deity and the temple builders.
Already deprived of eight daylight hours in a two day trip, I had to re-plan with some ruthlessness. However, I must admit that it was not such a heartless job after all. I had no natural affinity for natural artefacts and tended to avoid religious sites with all religiosity. So, the choice was easily made.
The weather methodically stuck to a steady drizzle. Just 2083 feet above sea level, Dehradun is not exactly a hill station. The roads slope, so as the roofs of many houses. It has the ubiquitous small town feel to it, complete with shared autos, pedestrian traffic, school children in every corner and people generally whiling away. The large number of hotels and guest houses indicate the tourism-centric economy. It's all there, but not enough to be called a hill station. Not enough feet to its height.
Coming back to the road, I took a local bus to Shahashradhara. As the bus started its slow climb and I pulled out my camera to capture the rain washed scenic beauty of the surrounding hills, I felt a pang of guilt for being such a stickler with Dehradun's hill station status.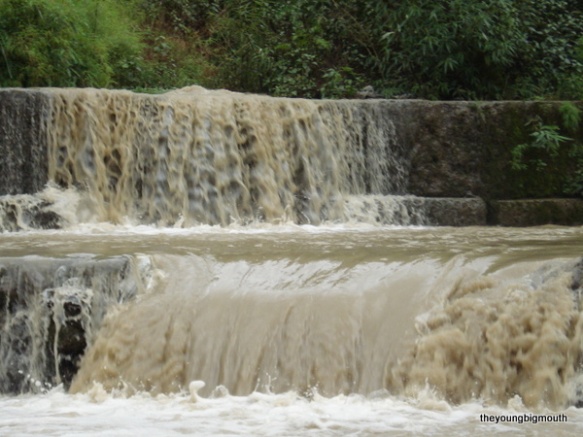 Twenty minutes later, I had arrived and I was happy I came. Surrounded by hills and flooded with water, the sight was as stunning as overpowering. Hundreds of rivulets poured down from the hills and gushed from the ground forming a river, giving the impression that probably the earth itself was leaking here with a thousand perforations.
Being a sulphur spring, a dip was well advised. Not many ignored it either. On the banks, numerous shops provided change and changing rooms to bathers. However, I fell for their other irresistible offerings, namely, maggi noodles, pakora and tea. Sitting there, under the tarpaulin, I watched the dark clouds, the raindrops and the springs unite in one watery embrace.
I was well advised by many to spend the night at Mussorie, which being 4000 feet above Dehradun, offered a spectacular view. Being short of time, I bid farewell to Sahashradhara with the promise to come back.
Back in town, I walked through the busy Paltan Bazaar and the posh Rajpur Road. It was a long satisfying walk in the rain. I was surprised not to spot the Golden Arc anywhere. Had the omnipresent Mc Donalds really given a miss to Dehradun?
Burdened with such thoughts of global relevance, I boarded the last bus to Mussorie. Brimming with excitement, I didn't know what to expect, much like a child's first trip to the zoo. The roads snaked though the hills, slowly winding up. Thirty kilometers by road, it was a long steep and almost a spiritual climb.
My nose pressed against the window, I peered out, prepared to be awed. I didn't have to wait too long. The bus circled the hills on its way up. One moment, I sat facing the hills; next, I could see the city lights of Dehradun gleaming through the rain and evening darkness. With the climb, the vision expanded like a grassy field beset with glow worms.
My first few hours in Mussorie were spent in feverish excitement. The clouds had blocked out the stars above, but, looking down, one could see what an inverted sky would look like. I walked around in rain, lost in reverie, 6000 feet above sea level, closer to heaven than to earth.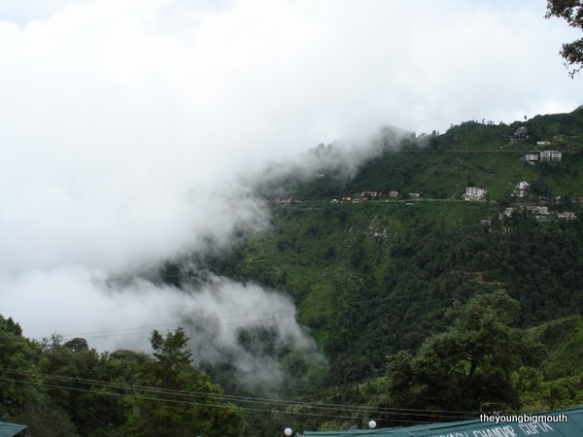 Looking for accommodation, my descent to earth was rather hurried. Every room in town was occupied by honeymooning couples and Delhiwallas on a weekend holidaying trip. A lone traveller like me could not expect to be entertained. However, I didn't also expect to be turned out of a hotel because the proprietor suspected lonely boarders were prone to commit suicide in the hotel room!
Many nods-in-the-negative later, I got lucky. Rs.600 for 10 hours in a room that was damp, cold, had no running water, no geyser and one power point for my phone, camera and the color TV provided by the hotel. I alternated between talking to my concerned friends/family and watching the only channel that the TV was tuned to deliver: soap opera Sony.
A little while later, I was climbing down to Mussorie's fashion street, Mall Road, for dinner. Undaunted by rain, Mall Road was bustling with activity. Every restaurant was filled, each gaming parlour was stuffed with kids as well as grown ups and every person who was selling something was surrounded by people eager to buy.
As I walked through the shops, dinner seemed less like what I would like to eat and more like what all I can afford to miss. There were north Indian food joints, Idli-Dosa places, Gujurati, Chinese and Tibetan restaurants and an a la carte menu to choose from that included burgers, hot dogs, kebabs, tikkas, chaat papris, omelettes, specialty sandwiches, rolls and many more. However, the conspicuous absence of any local cuisine was a little disappointing.
Undecided about food, I chose to go by the ambiance. A multi-cuisine restaurant, Le Chef, caught my fancy. Softly lit, spacious and with a subtle appeal in its character, I stepped in only to be overwhelmed by an elaborate menu. However, my eight years in Delhi reared its ugly head as I ordered a naan platter for two. The Sardarji who ran the place certainly didn't have loners like me in mind when he finalised the menu. The food was better than the average serving in Delhi. I gobbled up the naans and dal makhni, came down heavy on the plain rice, shahi paneer and mixed vegetables and relished the roasted papad and salad. A neat 170 bucks for the dinner. I was well-fed, content and felt all was ok with the world. An espresso coffee in hand, I walked back to the hotel and went to bed in the same state of bliss.
Anyone who has been to Mussorie before would vouch for its splendid mornings. I was not warned. So, I was stunned by the clouds that enveloped me as I casually strolled out of the hotel in the morning. The clouds were everywhere. They were busy swallowing a hill here and playfully chasing each other across the valley there. A thin veil of mist covered the town throughout the day apart from the times when it condensed and poured down heavily.
As I went clicking one master screensaver after another, I thanked digital technology. Nothing came between appreciating a scenery and capturing it in your camera. It was cost effective, hassle free and offered instant gratification. The world of photography might be split in two over the issue but I won't be re-converted.
Thanks to the numerous conversations I had with people on the bus, on the roads, over tea, at hotel, during requests to click my pictures, I had a clear idea of how to spend the day. However, the first task of the day was to find this excellent south Indian joint which was close to this excellent Tibetan restaurant. The task was given to me by a friend in typical Chasing Time fashion, through an sms. The only other clue was that the place had the age old stone apparatus to grind its barter, fresh in the restaurant.
As the contestants in the show, I hastened through the streets looking for any sign that could lead me to the destination. I didn't have to look too far. The slab of iron was steaming outside the shop and barter was being ground in the stone grinder. I had found my target. It was named Kasanga. I went inside, ordered a dosa and coffee and took pictures of the grinder for my friend. The food was worth the search and the coffee would have won over the best cappuccino hands down.
After such a fine beginning to the morning, I set out on foot toward the bus stop for Kempti Fall. However, as I realised many times during the trip, the best part of travelling alone is that you make your own plans and can deviate from them at your own will and convenience. So, when I read the signboard 'Gun Point, 10 minutes on foot,' I chose to exercise my free will and walk, giving the rope-way cars a miss.
It took me a few more minutes to realise the worst part of travelling alone, which is, when a plan goes wrong there is no one to blame or yell at. The reason for this sudden enlightenment being that the '10 minutes on foot' was the biggest municipal lie, a hoax waiting to be exposed or a sadist plan hatched by some anti-tourist minority group to wreck vengeance on innocent, unsuspecting travellers. In reality, the path turned out to be a concrete walkway, almost vertical in slope and made more treacherous by rain and slime. No wonder, I was the only gullible tourist, the sole victim that day.
After almost half an hour, I reached the summit, panting and relieved. Had it not been for the numerous magic toy shops forming a perfect circle at the top, it would have been a truly breath-taking view. One could still escape to the edges and watch the march past by an army of clouds. It was then that I finally forgave myself for the self-inflicted horrors wrought upon by the chapter on clouds in my class nine geography book. How could they expect me to understand all about the shapes and shades of clouds sitting in a claustrophobic class room?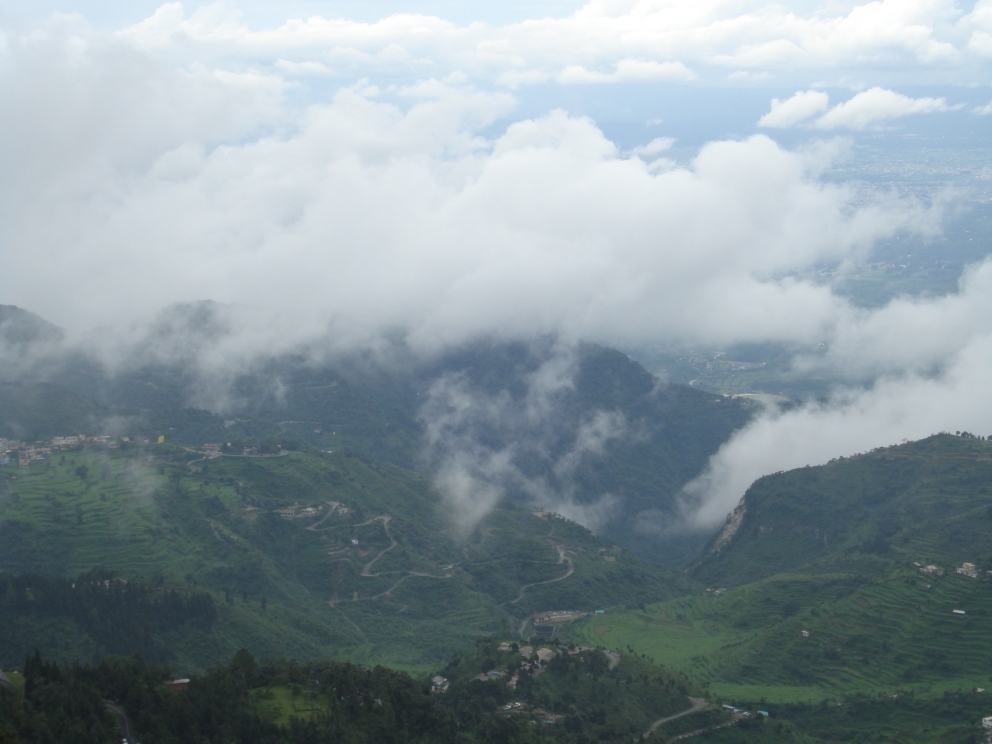 Half-an-hypnotised-hour later, I climbed down the way I had gone up and continued on my way to the Kempti Falls. The road signs said it was 14 kilometers to the fall. Shared taxis and buses were the only means of getting there. Though for the able-kneed, a trek would seem more appealing. In fact, the IMA guys confessed to have done that many times over. I walked for around five kms before hopping onto a shared Mahindra Maxx.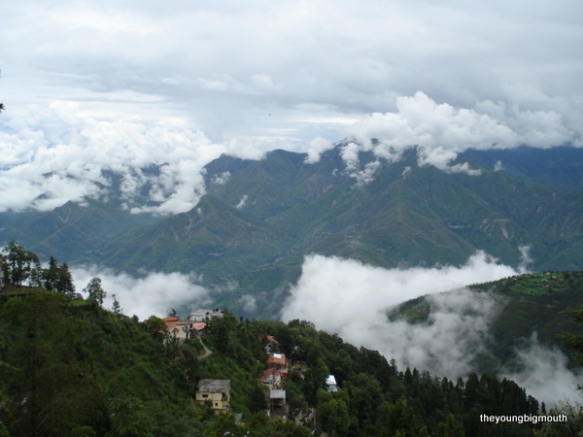 The driver was a native and plied on this route many times everyday. It was probably my fault that I was a first timer. He accelerated, swerved, braked and screeched all the way. For nearly twenty minutes that the ride lasted, I felt as if I were a part of the vehicle itself. I responded to every acceleration with bulging eyes and every brake with clenched fist. It was nice to get down and feel like a human again.
In fact, if you can help to become less mechanised during the ride, you can see the fall from afar. Resembling a long white stitch on a deep green pattern, the beauty of Kempti is relished best from the hill in front, car parked and bum rested on ground. However, the taxi dropped me right at the fall. The road crossed Kempti as it rushed down the hill, its water flowing down an iron bridge that joined the roads.
Standing on the bridge, I could see the fall both above and below me. At the foot of the hill, there is a water park which is accessible only by cable cars. Though I have been paragliding trips before, my vertigo won't allow me to ride in one of these claustrophobic, hanging-by-a-wire caricatures. So, I climbed up, first by stairs and then from rock to rock.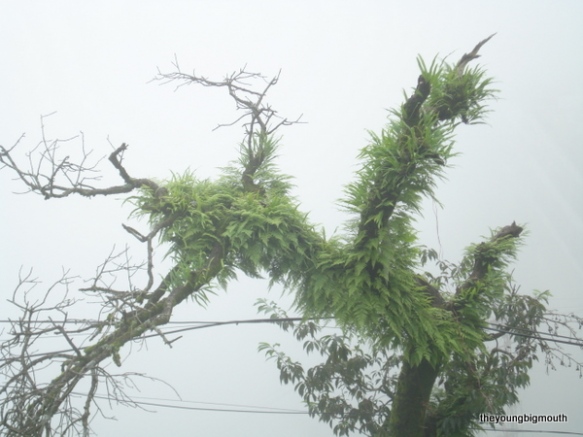 Half-way-up, Kempti forms a pool which seemed to have become a favourite among couples and families who could neither climb up nor take the cable down. They acted rather like sitting ducks in water, and to serve to such captive clientele, few shops had come up by the poolside. Maggie and tea seemed to be at the forefront of the region's hospitality.
I decided not to disturb the amorous couples and climbed further up. There, tucked within huge stones, were smaller pools and puddles. Gushing down from the hills and jungle, this was also the first point where Kempti became so easily accessible to human touch. Groups of young men bathed in the fast flowing water and explored the surroundings.
Sitting on a large rock in relative solitude, I was greeted by a young holidaying group from Delhi. Unable to resist the temptation anymore, I changed and lunged into the water. As I lectured on about the multi-pronged privileges of solo trips to a group of eight, one gentleman asked for my camera and took my pictures with professional enthusiasm.
Surrounded by deep green hills, shadowed by dense canopy and washed by bone chilling Kempti, the spot was any recluse's dream come true. Huge rocks had sprouted like mushrooms from ground, giving the water its force and ferocity. I was having a good time with the young lads, and before the situation could escalate to a group therapy session, I said my good byes and started back for Mussorie.
Back at top, the second task of the day waited for me. Now, I had to find the excellent Tibetan food joint. Having solved half of the puzzle in the morning, I didn't expect too much solving the other half. There were a couple of Tibetan restaurants in proximity to the south Indian place, but one had the kind of interiors my friend described.
It was not a very big restaurant. There was seating for around 20 people on the ground floor and less on the first. The interior, much praised by my friend, though not distinctive, had a certain spirit and character to it. Lamps hung low from the ceiling filling the restaurant with gentle pinkish light, large windows opened onto the street and varied artwork decorated the walls.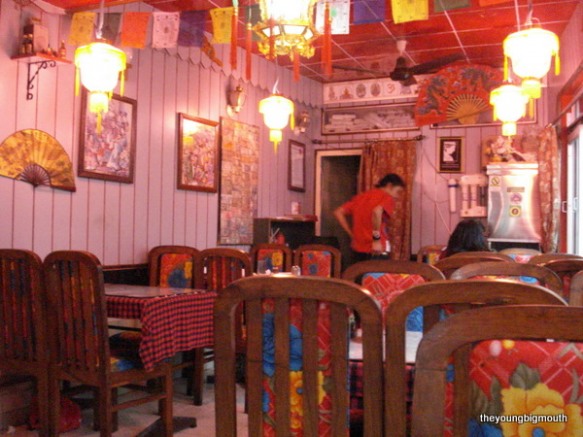 However, what got my eye was on the table. It was not food. Not yet, though. Every table was glass topped and between the glass and the table cloth were testimonials written on tissues, left behind by visitors from around the world. "Great place, great music, great food" summarized the experiences of a Brazilian. "I tried to eat with chopsticks and one of your guys helped me a lot," wrote Trisha from Mumbai. Enough of recommendations, I grabbed the menu and decided to see it for myself.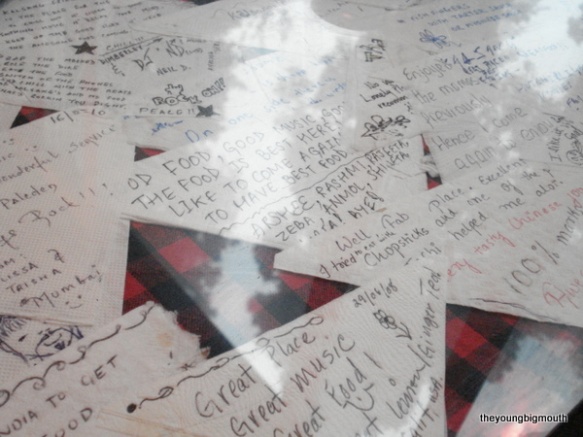 The menu was confusing to say the least. There was Thai, Chinese and Tibetan food to choose from and they all seemed irresistible on the menu. Going by the extensive recommendations, the place seemed surprisingly inexpensive. Frustrated with the weak character of my palette, I settled for peanut noodles, a mixed vegetable basket and a ginger & honey tea.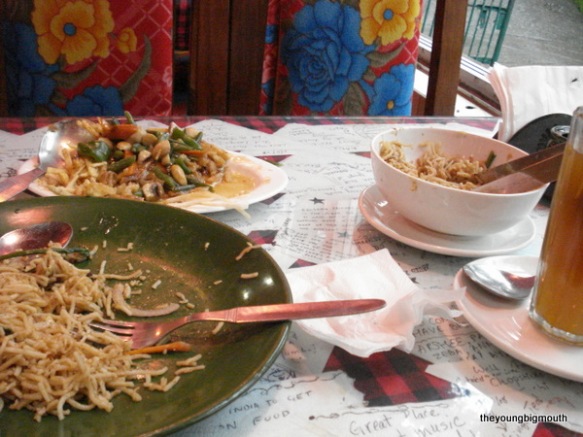 The rain was playing its torrential downpour version outside. John Lennon was singing Imagine in the background. The food was served. The peanut noodle was a satisfying novelty. The vegetable basket was still better. Boiled beans, carrots, cauliflower and almonds in light gravy were served in a knitted basket of French fries. This was the kind of food that could make a lone traveller sentimental.
There was no end to the rain god's generosity and under its cover the evening approached slowly and steadily. I knew I will not be able to say the kind of goodbye to Mussorie that I wished for. I wished to look into the valley and take it all in with a powerful drag, much like a greedy smoker pulling at his dope for one last time before it flickered out. I had a bus to catch and even that seemed difficult without getting wet.
I assumed that's the way the script was written. Entry in the rain. Exit in the rain. I have had the trip my way so far and I was only eager to hand myself over to more powerful forces at last. That's what I had learnt from the hills and I would not be forgetting it in a long time.